The #MeToo movement may have been kicked off by activist Tarana Burke a decade ago on MySpace but in a world now driven by hashtags, it became a driving force for women who want to stand up to the injustices against them.
The Harvey Weinstein controversy from last year was a gust of wind that led the charge, giving several women the courage to step up and openly speak about their experiences. Well, the #MeToo campaign is now gaining momentum in India and women from media, as well as the entertainment industry, have revealed their experience of abuse, sexual assault and rapes.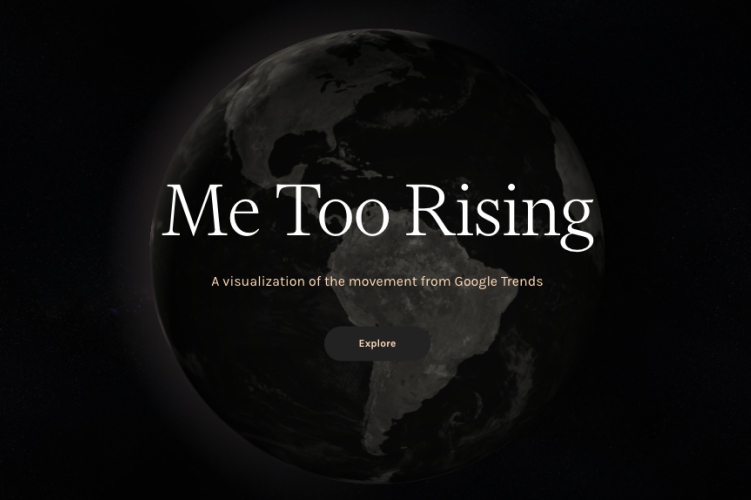 We have already heard accounts of harassment against Nana Patekar, Sajid Khan, and politician MJ Akbar, among several others. The startup industry has been affected by a number of Me Too allegations as well, but if you think that's the extent of it. Well, think again? Because its reach extends beyond metro cities and Google's "Me Too Rising" visualization tool helps shine a light (literally!) on it.
Google: Me Too Rising!
Launched during Sexual Awareness Month in April earlier this year, Me Too Rising is a simple yet striking visualization tool that uses recent Google Trends data to display interest generated in the search term 'MeToo' around the globe.
When you access the platform, you're shown the world map where you can observe the areas that are seeing a high number of searches for MeToo as they're brightly lit. Google also lists the top five cities where the search term is being used more widely in real-time.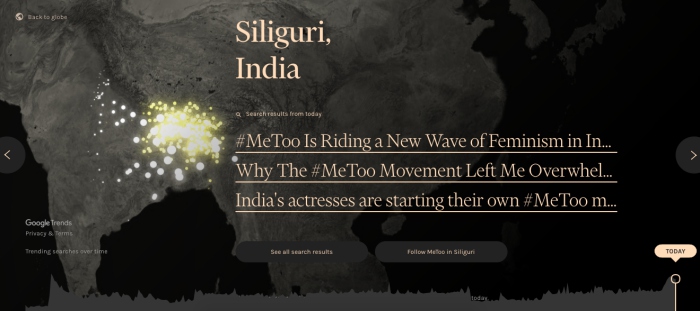 India shines extremely bright on the globe, brighter than any other country in fact. You can visit the 'Me Too Rising' website to see four of five cities, including Bikaner, Vasco De Gama,  Udipi, and Ratlam being from India right now. Most of the towns and cities that are searching the term are not metros, as you can see for yourself. This data represents global trends of people searching for the movement from the top 300 searching cities every day.
If you take a look at the screenshots attached below, you will see how Me Too movement has gone from being talked only in pockets of India (only few cities lit up) in mid-2018 to the entire nation right now. It's alarming to see the whole country light up for searches of Me Too campaign but it also shows that everyone is reading up on it and the issue has most visibility now.
Since the platform is backed by Google Trends, you can click on the name of the city or town where "Me Too" is being searched to view related stories from that location. While popular cities may display trending stories, smaller towns give you the option to explore more search results and see the reach of the #MeToo movement.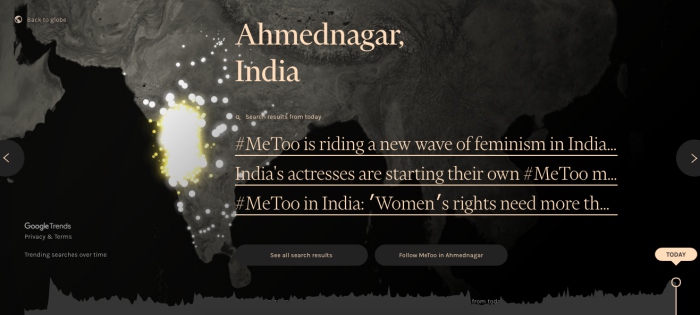 Sexual Assualt Resources
#MeToo Movement is not just about creating global awareness about sexual abuse and harassment but also help survivors overcome the stigma and the guilt that goes with it. Burke, in a recent interview with the NY Times, said that the movement was started to connect survivors and she doesn't want to lose sight of this goal.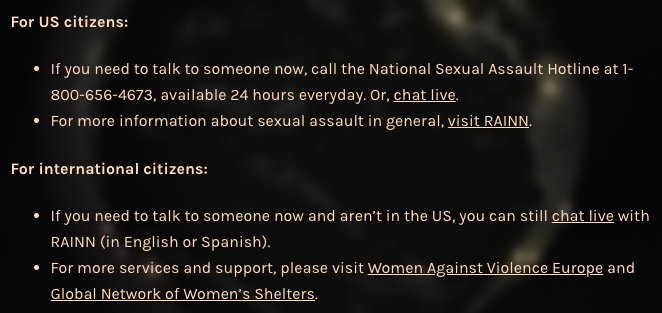 Burke is going to unveil a number of initiatives to create a hub for survivors in the near future, but Google has also worked with her to compile a long list of resources for your utility. There aren't just hotline numbers in there that you can use to speak to or share your experiences but also access resources for legal recourse, male survivors and more.
India is a country long bound by orthodoxy and traditionalism. The largely patriarchal society in India dictates that women behave and act in a certain way, with protesting voices often suppressed. The #MeToo movement challenges this notion and women are bravely talking about their horrific experiences. The participation of internet users around the country, especially the smaller towns, is heartwarming, and one hopes that those who have suffered get some justice through this increased awareness.