If you are an admirer of cinema, you must have often come across the IMDb listing of the movie you just searched for on the web. Among the host of results pulled by the search engine, the IMDb database of the movie is somewhat placed among the top results. IMDb is no doubt a great resource for movie enthusiasts to view the cast, plot summaries, trivia, release dates and more from the movies' IMDb listing. But there is something more about IMDb that is plain sight – The IMDbPro. Launched as a subscription service in 2002, IMDbPro offers a lot more value for people in Showbiz and the media industry.
Launched over 24 years ago in 1990, IMDb has over 3,109,500 titles, 6,263,500 personalities in its database and 57 million registered users. These staggering numbers support the case for IMDbPro and its value as perceived by people in Showbiz. Here we will be taking a deeper look into the IMDbPro network, to see for ourselves the importance of it in Showbiz and if it will benefit you in some way.
What is IMDbPro?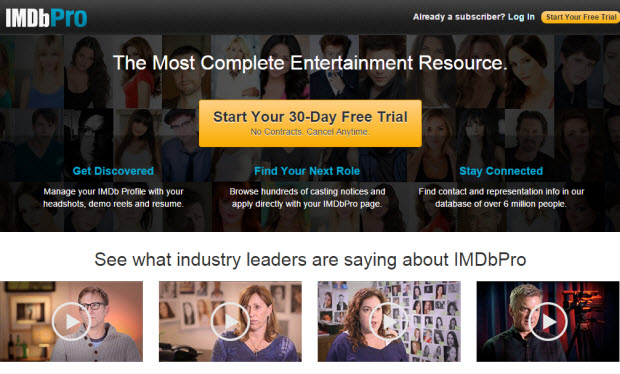 Active since more than a decade, IMDbPro has become an act of daily habit for many Showbiz industry professionals including screenwriters, film-makers, actors, journalists and movie goers alike. What IMDbPro exactly does is that a professional, subscription-based network to get deeper insights and invaluable information into the Showbiz industry, which you wouldn't be able to find from some place else.
Its unrivaled database and contact listings make it best placed to be a powerful tool for connecting to people from the Showbiz. The media industry is well built around contacts, and who you know matters when it comes to grabbing the next script-writing deal or bagging that coveted film role of yours. This network holds more to for journalists and enthusiastic movie goers alike with daily insider industry news and complete filmography. IMDbPro in a nutshell is a must have industry standard network for people already in or looking to pursue a career in the movie or television industry.
Features & Usability
Pro Casting for Actors
Back in March 2014, IMDbPro announced the launch of Pro Casting for making the process simpler for actors to discover and apply for casting roles. Potential actors can browse the listings for any relevant listings of auditions and castings for film and television.
Actors can find their next dream role by browsing through the listings and applying for those roles by submitting their customized IMDbPro profile page.
Demo Reels and Resume for Actors
While IMDbPro definitely helps actors to search for role listings, it also helps them in creating their customized IMDbPro page listing their past experiences, resume and an option to add headshots and demo reels. The customized IMDbPro page is submitted when you apply to listings through IMDbPro.
This feature makes it worthwhile for wannabe actors to find relevant roles up for auditions and casting into film and television shows.
Creating Casting roles and listings for film-makers
For film-makers, Pro Casting feature of IMDbPro lets them find the right actor suitable for a specific role. With unlimited casting postings, film-makers will find it easy to leverage the vast database of IMDbpro for the better.
By narrowing down to specific skill set and previous experiences, finding the right actor for a specific role is the reason many top directors still use IMDbPro for finding the next big thing in Showbiz.
Comprehensive Database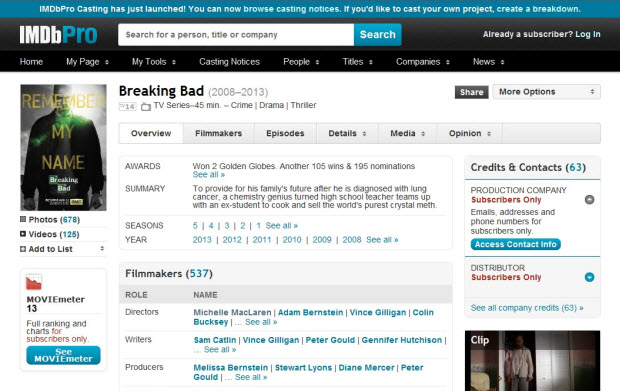 IMDbPro includes a comprehensive database of over 6 million people, ranging from filmmakers, actors, journalists and movie enthusiasts. Apart from the database for people, it also includes vast databases for upcoming movie and television show titles.
For movie enthusiasts, a lot of information like movie box office collections, movie trivia and other insights could easily be established.
Finding Representatives & agents
Most people in the Showbiz are represented by agents and finding who represents someone is made possible with IMDbPro. Screenwriters can use this information to find similar writers to them and look out for who represented the writer as an agent and contact them.
Industry news
For journalists, IMDbPro is a boon for latest insider industry news. IMDbPro delivers daily fresh entertainment news. These details can also be used for further researching of articles and getting the facts straight on upcoming releases. Information like film delays, location, cast and crew and other such updates are delivered directly to one's IMDbPro account.
IMDbPro Pricing & Account Log In
IMDbPro membership with inclusive Pro Casting, costs $19.99 per month or $149.99 per annum. You can simply head over to IMDbPro's official website and choose a 30-day free trial to explore the network and see for yourself if you would be requiring its paid monthly subscription.
IMDbPro Mentions
Here we will be looking at some of the industry's most prominent individuals having their take on IMDbPro.
"IMDbPro is probably the single most helpful tool in the tool box when I'm casting one of the leads in a movie," said Richard Hicks, casting director (credits include Gravity, Zero Dark Thirty, Game Change).
President of The Casting Society of America said, "There's nothing better. It's the encyclopedia of actors. It's changed the way I do the job."
Neil Edelstein, Movie Producer/Director (Haunting Melissa, Mulholland Drive, The Ring, The Straight Story) said, "I use it as a quick reference for current film details as well as researching older films. If you want to drill down into older films and research credits it's wonderful."
Sean Hood, Professional screenwriter and director (Halloween: Resurrection, Fear Itself, Masters of Horror), said, "As a screenwriter, I find IMDBpro useful because it allows me to look at "in development" projects, which are precisely the ones I get hired to write/rewrite. "
Final Thoughts – Is IMDBPro worth it?
So, now that we've established that IMDbPro is a great tool for people in Showbiz, does that justify the monthly recurring fee of $19.99? The answer is both yes and no. Depends on who you are and what you expect from the network. If you are a wannabe actor, screenwriter or an extreme movie enthusiast, it justifies the price tag for what it has to offer.
If you are not sure whether it would be a smart move to get on IMDbPro, sign up for a free month trial and see for yourself if it helps you with some valuable data you would need to succeed in Showbiz. With an ever increasing database, IMDbPro will only grow better and you should make the most of its premium subscription to get yourself embedded seamlessly into Showbiz.
So, that was us, what about you? Do you consider entering into Showbiz and have you taken IMDbPro ever for a spin? Let your thoughts and comments known below.
SEE ALSO: 15 Best Motivational Movies of All Time
---
Load More