All of us have gone through the hassle of resetting our passwords at least once in our lives just because we forgot them. There are just so many different accounts we have to manage that there is no way you or I can remember the passwords for all of them. A simple solution is to use the same password for all of your accounts, but I don't think I need to tell you how unsafe that practice is. It is in your best interest to use strong and different passwords for all your accounts. However, this practice although secure and needed, also makes remembering passwords that much hard. A good solution to this problem is to use a password manager.
The folks at the Icecreamapps are known for creating some very useful and awesome apps for the Windows ecosystem. Not only the apps are excellent, they are also free. Their latest offering is aptly called Icecream Password Manager, an app which not only helps you in managing those pesky passwords on your Windows machine but do so much more. So, before you forget and have to reset one more password, let's check out the app, shall we?
Key Features
Even if used just as a password manager, the app is excellent. You can save all your logins inside its vault and access all the passwords on your browser (Mozilla and Chrome) by entering the master password. As mentioned earlier, saving your logins is just one of the many functions it performs, the app also has many other useful features. Let us have a look at the best of them.
Before we get into what this app does, the first thing to do is to figure out how secure the app itself is? After all, no strong password can protect you if your password vault is broken into. Well, I am happy to tell you that the app follows the industry standard "AES-256" bit encryption. What that means is that it offers the best-in-class encryption making it breaking into its vault next to impossible.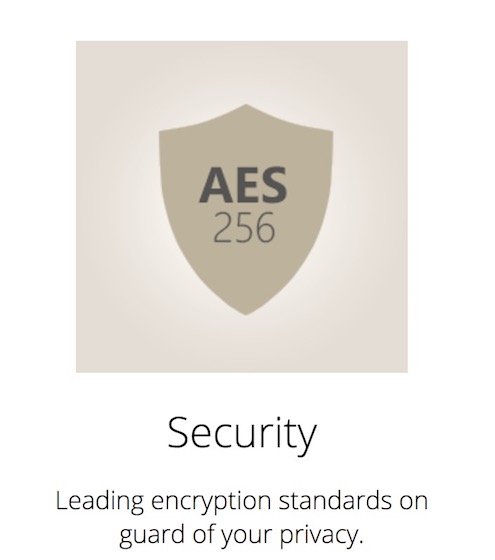 The primary function of this app is to manage your logins and passwords. When you install the app, you will have to create a vault with a master password which will contain all the information. Inside the vault, you can either manually save your logins or let its browser plugin save it for you. When you will log in to any account, the plugin will automatically detect it and will ask permission to save the login information. Once you have recorded all the passwords, from the next time you will not have to enter the site specific password. Whenever you are at any login page, just click on the plugin icon and enter the master password, the account specific password will be auto-filled and you will be logged in.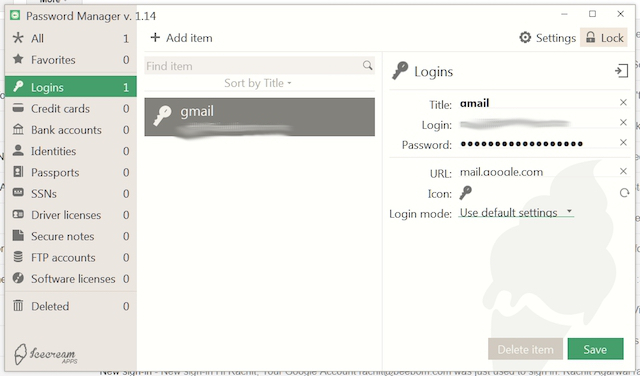 One other thing you can use the app for is generating a strong password filled with random alphanumeric characters. When you have time you should use this feature to change the password for all your accounts. This will keep them safe and secure. Anyone who tries to hack your account will have a hard time cracking your password.
The app also lets you save your personal information securely in the vault. This is helpful when auto-filling any online form. Whenever you are filling an online form just click on the app's plugin and select the Identities option to autofill the form.
You can save an unlimited number of cards inside the vault. Click on the add item and select the "Credit cards" option. Here, enter all the requisite details and hit save. Now, whenever you are making an online purchase, you can fill the credit card information using the app's plugin. This allows you to securely save the credit card's info while removing the hassle of taking your credit card out every time you want to make a purchase.
You can also save different identity proof documents to keep them securely in the vault. You can add your Driver's License as well as the Passport. It's a good practice to keep a digital copy of your important ID proofs, as they come in handy when you lose the original by chance.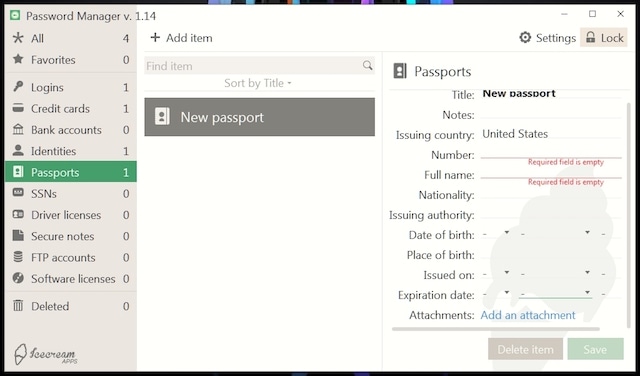 The app also lets you save secure notes inside the vault. There's a separate notes section where you can write and save your notes. The notes will be accessible only to those who know the master password which in this case will be you.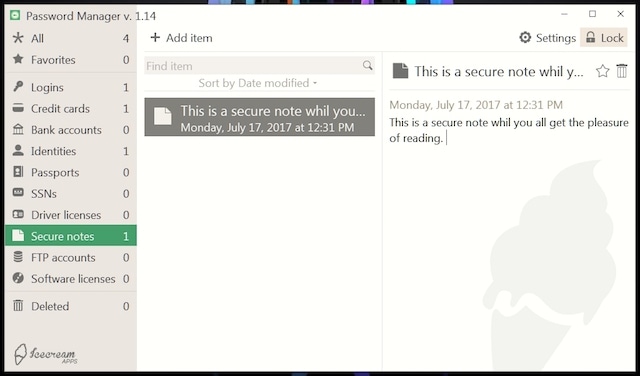 It is always best to keep a backup of all your passwords in case your hard drive fails. You can sync all your data to your Dropbox account and save everything on the cloud. All the data is encrypted so you don't have to worry about anyone accessing it without knowing the password.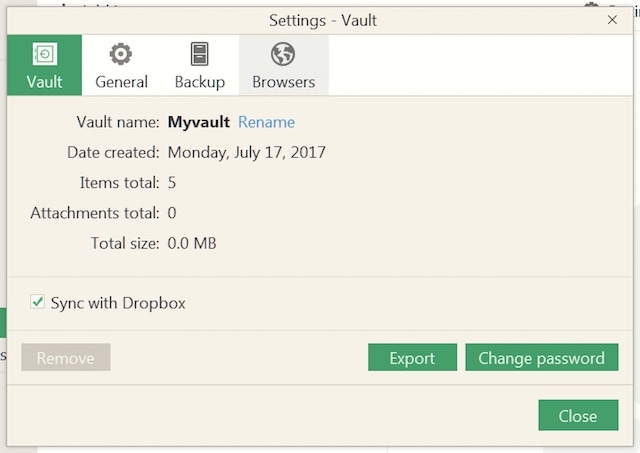 How Icecream Password Manager Works
I have explained the workings  of the Icecream Password Manager a bit in the previous section. Let us go over them in detail. Once you have saved all of your information (login, personal information, and Credit card information) in the vault, accessing and using it is just a click away. Whenever you are in your browser and want to use the saved information, just click on the app's extension icon and a popup asking for the master password will emerge. As soon as you enter the password, you can select the required data to use it on the browser.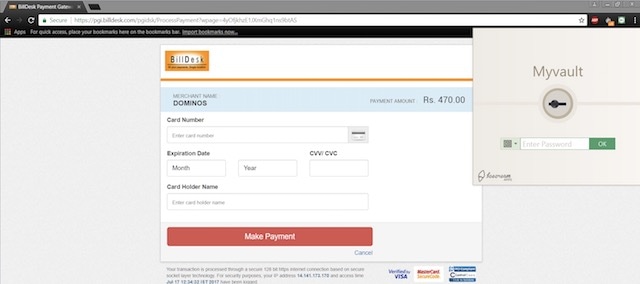 For example, I used the credit card auto-filling feature. Once I was on the payment page, I clicked on the extension, entered the master password and selected the credit card option. If I had more than one card saved in the vault, I would get the option to choose between the cards.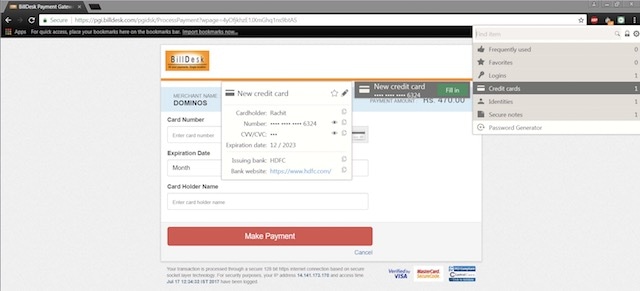 Selecting the card will auto fill all the details as shown in the picture.This is the same process you will use for everything including the login and the form filler feature. By the way, if any of you is wondering, the card information shown in the picture is fake.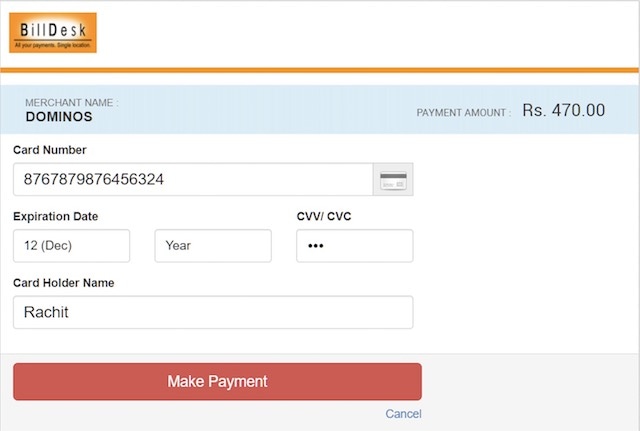 Ease Of Use
As with every password manager software, you will have to invest a little bit time in configuring Icecream Password Manager. First, you will have to create a master password secured vault and then you will have to save all your login information along with credit card details and personal details to fully utilise the app. To add a detail, just click on the "Add item" button and select the relevant option from the drop-down menu.
Once you have configured the vault, using it as easy as clicking on the extension icon. It works perfectly and in my time of using it, it has never failed me anywhere. I could easily log in, fill up forms and make payment through my credit cards at all the websites I tested it on. The only problem I encountered was while saving the login details. Sometimes, the plugin was not able to identify I was logging in and didn't ask me to save my password. Thankfully, there's a way to save your login credentials manually. However, I do hope they fix it in future updates.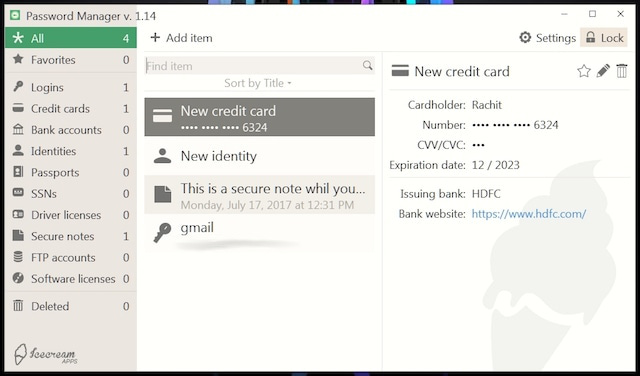 One feature I love about this app is that it automatically categorises all your information in different sections making it easier for you to access the data. There's also a search bar at the top making it easier to search for the items you are looking for. All in all, the app is really intuitive and easy to use. Dropbox syncing and back up is easy to setup and instantaneous. The fact that the software is free to use without any ads acts as a cherry on top.
Pros:
Works everywhere and every time.
Offers AES-256 bit Encryption.
Free to use without ads.
Easy setup process with an intuitive interface.
Serves multiple functions including password management, automatic form filling, securing credit card information, and secure notes among others.
Cons:
Automatic password detection to save the login is finicky.
No cross platform availability of the app.
Remember Only One Password For All Your Accounts
Managing Passwords is something we should not worry about. What we should worry about is creating strong and different passwords for all our accounts. Icecream Password Manager takes away both of these worries by allowing you to create secure and strong passwords and accessing them by remembering just one master password. The app is also completely free to use. So don't wait up and install the app right now. Also, let us know your thoughts about the app in the comment section below.
Check Out Icecream Password Manager here