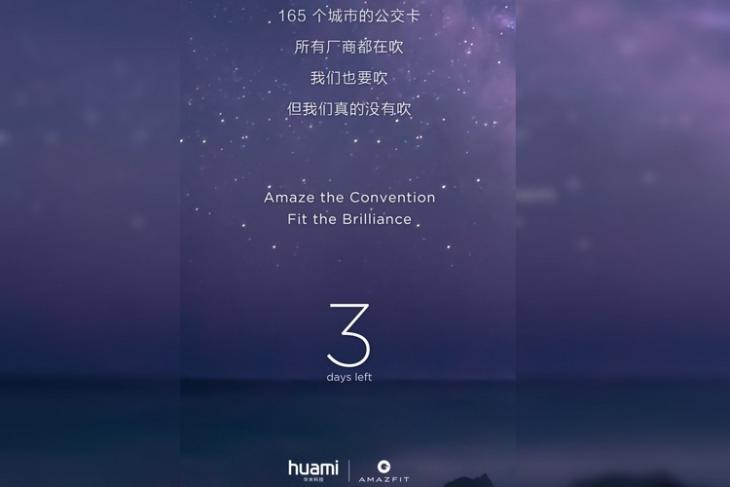 Following the success of the Amazfit Stratos, Amazfit Bip, and the new Amazfit Pace and Amazfit Cor launches, Xiaomi-backed Huami is all set to bring an all-new smart wearable to the market. The company on Friday announced that the device will be launched on September 17, and confirmed that it has partnered with Territory Studio for it, but didn't elaborate on the subject any further.
However, given that Territory is best known for its on-screen graphics and user interface design in blockbusters such as Guardians of the Galaxy, Ex Machina and The Martian, it won't be totally unrealistic to assume that the London-based creative design house will be behind at least some of the UX aspects of the upcoming device.
Huami has also revealed some of the hardware aspects of the upcoming smartwatch, including the fact that it will come with an embedded NFC chip. According to multiple posts on Weibo, Huang Wang, Founder and CEO of Huami Technology has also claimed that the company will continue to incorporate the fledgling technology in its future products as well.
Just prior to the announcement of the Apple Watch Series 4 earlier this week, Wang also suggested that the company may offer the ECG feature in its upcoming device. According to his Weibo post, the company has made 'striking breakthroughs in 24-hour real-time monitoring of cardiac health problems such as arrhythmia, including atrial fibrillation'. Wang said he was making the announcement prior to the Apple event to avoid accusations of copying the US tech giant.
Meanwhile, on its official website, Huami has put up a timer that suggests the smartwatch will be launched on Monday morning. While most of the details about the actual device remain under the wraps for the most part, a recent leaked image, said to be of the retail box of the upcoming device, seemed to suggest that it may be called Amazfit X.
The image seemingly showed an all-white packaging with the company's logo on top along with the Amazfit X name inscribed in the center. Earlier leaks also suggest that the smartwatch could carry a price tag of 1,599 yuan (around $232), although, there's no official confirmation about that just yet.