Calling the Snow app Snapchat-like is an understatement. The app, developed by Camp Mobile (the same folks that brought you the LINE Messenger), is a blatant rip-off of Snapchat but does that make it bad? Well, certainly not! The app has been gaining a lot of traction over the past few months, especially in China, where it's one of the most downloaded apps ever. The reason behind this, is the fact that Snapchat is banned in China. While Snow might be heavily inspired by Snapchat, the app is a pretty capable offering. So, if you are looking for a Snapchat-like app because it's not available in your country or if you are looking for a Snapchat alternative for any other reason, you can give Snow a shot.
Well, let's get into the details of the app and find out if it's just a Snapchat rehash or it brings something unique to the table. Here we go:
Setting up Snow on your iPhone or Android smartphone
You can download the Snow app from the Google Play Store or the Apple App Store for free. The first time you open Snow on your smartphone, the app will ask you to login via Facebook or Line or you can sign up with your email account. After you are signed in, the app will ask you to set up your username and enter your phone number.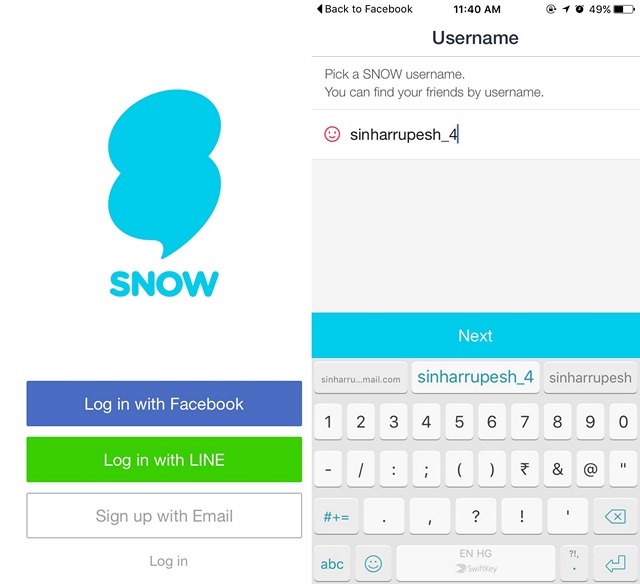 Once done, the app will search your contact list for friends that might be using Snow. Then, the app will show you a very cool video showing off the app's skills. You can just tap "Start" to skip it and go to the app.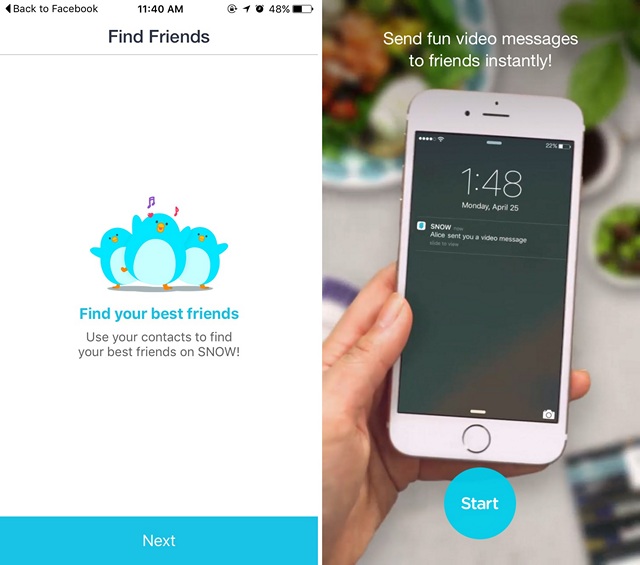 Use the Snow app
The moment the app opens up, first thing you will notice is the app's UI, which is almost identical to Snapchat with a few minor changes. Similar to Snapchat, the app opens up with the camera. It also features pages for stories & snaps, which are available at a swipe to the left or right. The only major difference in the UI is the fact that the Settings page on Snow is available from the chats page. That's innovation!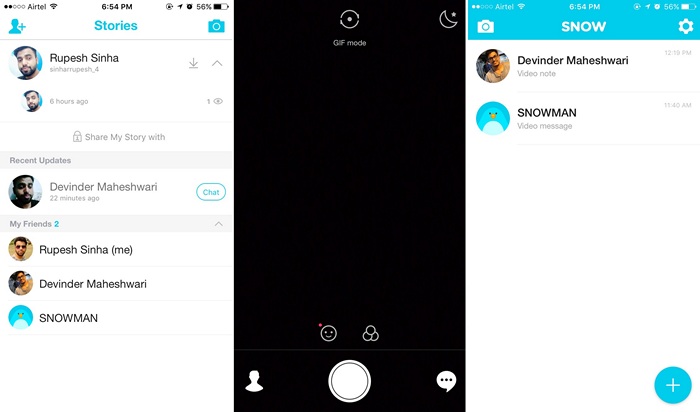 Now that we have talked about the Snow UI in brief, let's get to using the app:
Like Snapchat, you can just tap on the capture button to take a snap or press hold it to capture video. You can even add filters and check out cool, funny lenses. The good thing is, Snow features a ton of original lenses along with lenses similar to Snapchat, like the dog lens or the face swap lens. Moreover, the app also features various data filters that you can apply on the picture along with ability to add text, emojis and doodle on a photo. Snow also features a cool GIF mode, which is great considering GIFs are the trend these days on social media.
Snow lets you share your snaps or videos to your friends or add it your "story" but the good news is, the app even lets you share snaps to social networks like Facebook, Twitter, Instagram and Line. The snaps added to "My Story" are available for 48 hours, compared to 24 hours on Snapchat. You can also add videos to "LIVE", which makes them available for 24 hours, after which they disappear from the feed with no history.
The snaps send to friends are self-destructing in nature and you can set the timer, just like you would on Snapchat. Also, the app notifies you when a screenshot is taken.
Even the messaging features of Snow are pretty similar to Snapchat. You can send texts, video notes, snaps, stickers but you cannot send pictures from the Gallery. Also, you cannot make video calls from Snow, which is another feature that's available on Snapchat.
SEE ALSO: How to Take Screenshot on Snapchat Without Notifying Sender
Try the Snow app, if you want a Snapchat clone
Well, you must have noticed how similar Snow is to Snapchat when it come to user interface as well as the features. While Snow lacks a few features when compared to Snapchat, it also brings some of its unique touches. However, Snow's unique touches are far and few. Well, if you have free time or you really want a Snapchat alternative, give Snow a shot and you might even end up liking it.