The much-awaited iOS 17 Journal app has finally arrived, and it is wonderful. Apple's new Journal app lets iPhone users record their daily thoughts and activities. Unlike other journaling apps, the Journal app in iOS 17 incorporates data like photos, music listened to, workouts, and more. Moreover, while it's known that the Journal app offers you personal suggestions, the steps to turn on journaling suggestions in the iOS 17 Journal app are still unknown to many. Well, we are here to help you with that.
While the Journal app asks if you want to turn on personal suggestions during setup, it is very much possible that you might have skipped it while setting up the app. If you are one of those users, here's how you can turn on personalized journaling suggestions on your iPhone:
Open the Settings app on your iPhone with iOS 17.2 installed.
In the settings, scroll down and tap on Journal -> Journaling Suggestions.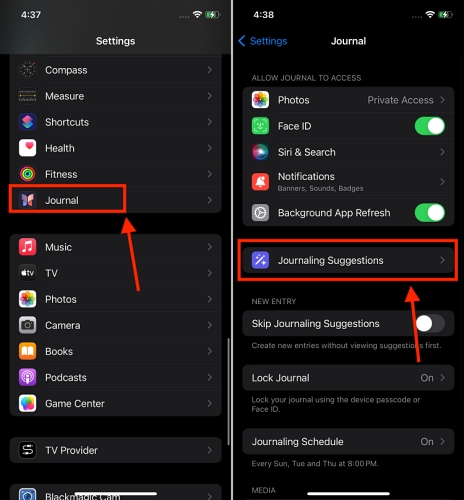 Now, tap the Suggestions Privacy Settings option. Here, you will find toggles for Activity, Media, Contacts, Photos, and Significant Locations. Enable all the toggles to see journaling suggestions in the app on iOS 17.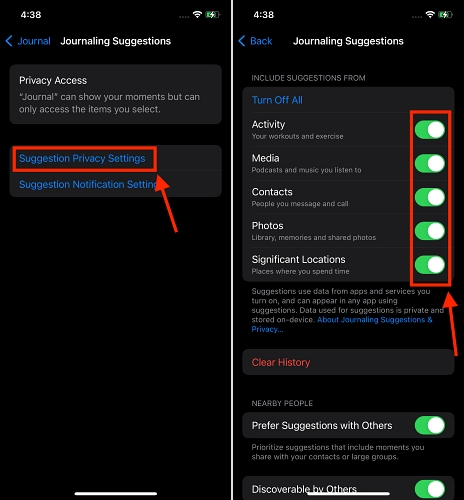 And that's it. This is how you can turn on journaling suggestions in the native Journal app in iOS 17. Remember every suggestion uses data from apps and data services you have turned on, but be assured that your data used for suggestions remains private and gets stored only on your iPhone. If you are starting with journaling, we suggest checking out all the new features that the Journal app offers here.
---
Load More