Fingerprint scanners are part of almost all smartphones these days, be it the low end or the high end. While they are extremely handy when it comes to authenticating transactions or unlocking your smartphone, they can be used in a lot of other ways, as showed by the new Pixel devices. On the Pixel, you can use the fingerprint scanner to bring down the notification shade and on Xiaomi Mi devices, you can use the fingerprint scanner as a shutter to capture photos. The latter especially comes in handy when you are taking a selfie and if you have been wondering if you can get this feature on your Android smartphone, the good news is, yes you can. Without any further ado, here's how you can take photos from fingerprint scanner on any Android smartphone:
1. You will have to install an app dubbed Dactyl – Fingerprint Camera from the Play Store. The app is available in a free trial, which offers 10 usages, after which you will have to buy the full version ($1.99) of the app.
2. Once you have installed the app on your device, you can open it and the app will welcome you with different slides informing you about the app.
3. The main page of the app shows you the various camera apps it supports along with a button to "Open Settings Page" to give it accessibility permissions.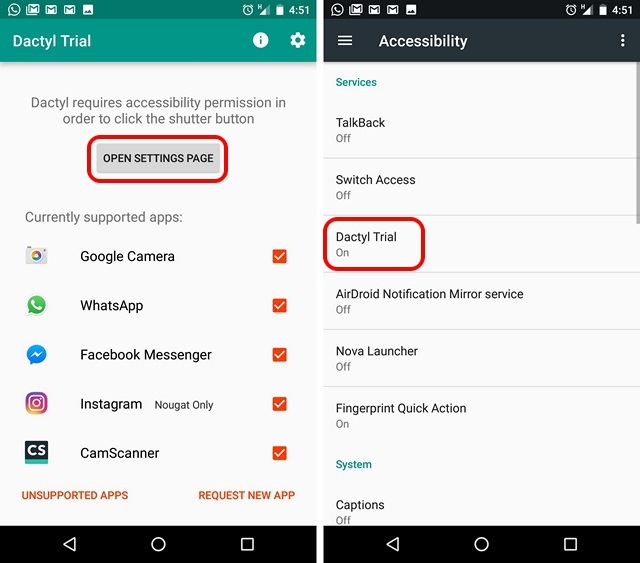 4. You can scroll down to see the camera apps that are supported by Dactyl and you can even tap on the "Unsupported Apps" button to see the apps not supported by the fingerprint camera app. You can also request the developer to support your favorite camera app through the "Request New App" button.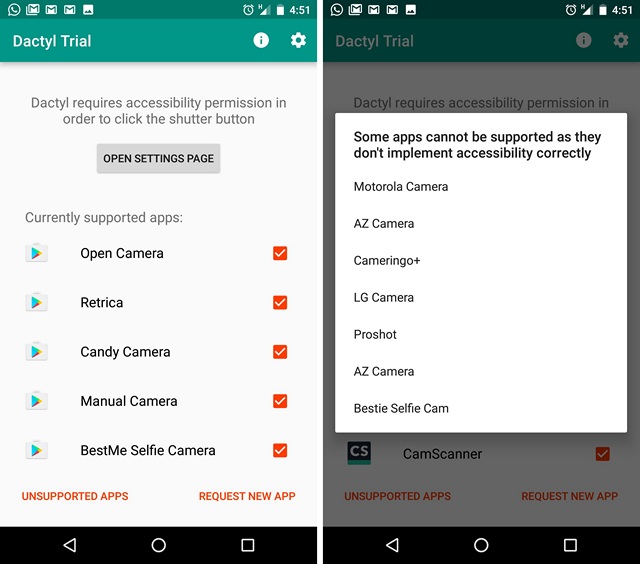 5. After you have given the app permissions, you can open the camera app on your device and you should see a message saying "Dactyl service running".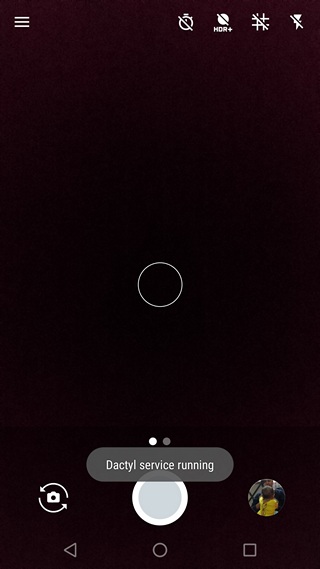 6. Then, you can just rest your finger on the fingerprint sensor, like you do to unlock your phone, to capture a photo.
The Dactyl Fingerprint Camera app works pretty well and it certainly comes in handy when you are taking a selfie, especially when the fingerprint scanner is located on the back of your Android smartphone.
SEE ALSO: How to Get Pixel's Fingerprint Gestures on any Android Phone
Use fingerprint scanner as a shutter on your Android smartphone
Well, that was pretty easy, wasn't it? You can just install Dactyl and start capturing photos from your fingerprint scanner. While it's simple, if you do run into some problems, do let us know in the comments section below. Also, if you use your smartphone's fingerprint scanner in more cool ways, do let us know.
---
Load More