WhatsApp has always been criticized for not having native client apps for desktop platforms but that changes with the Facebook-owned company releasing Windows and OS X apps. The move has been expected ever since WhatsApp released its WhatsApp Web platform early last year. It also makes sure that everyone's favorite instant messenger is now available on all major mobile, as well as desktop platforms. The good news is, using the new WhatsApp desktop apps are as easy as it gets. However, if you don't know where to start, here's how you can set up and use WhatsApp desktop apps:
Download and Install WhatsApp on Windows and OS X
The new WhatsApp desktop app is available right away for Windows and Mac users. You can just head over to WhatsApp's official download page and download the apps. Once downloaded, the setup file does not bring the same old setup process and instead, opens the app after a few moments of loading.
The WhatsApp desktop app is only available for PCs running Windows 8 and higher or Macs running OS X 10.9 and higher. The size of the app's Windows version is 61.4 MB, while the OS X version weighs in at 51.7 MB.
For people running Windows 7 or previous versions of Mac, you can always make use of apps like Bluestacks to run Whatsapp on PC or Mac, or keep using Web version of WhatsApp.
Start using WhatsApp on your Desktop
If you have been using WhatsApp Web all this while, you will feel right at home with the WhatsApp desktop apps. The desktop app is almost identical to WhatsApp Web, with a similar UI and UX. Moreover, the process of connecting your WhatsApp account is also the same. You open the WhatsApp desktop app and you will see a QR code that you need to scan from your smartphone's WhatsApp app.
Also, like WhatsApp Web, the desktop app mirrors chats from your smartphone, so you will have to keep your smartphone close and connected to mobile data or WiFi for the desktop app to work. So, if you have been hoping for a standalone WhatsApp app for Windows and Mac, you'll be disappointed.
Once you scan the QR code from your smartphone, you will see all your chats in the WhatsApp desktop app. The desktop app does bring in a few additional useful features like the ability to get beta updates, use keyboard shortcuts, zoom in & out to increase/decrease size of text in chat and desktop notifications (also available with WhatsApp Web).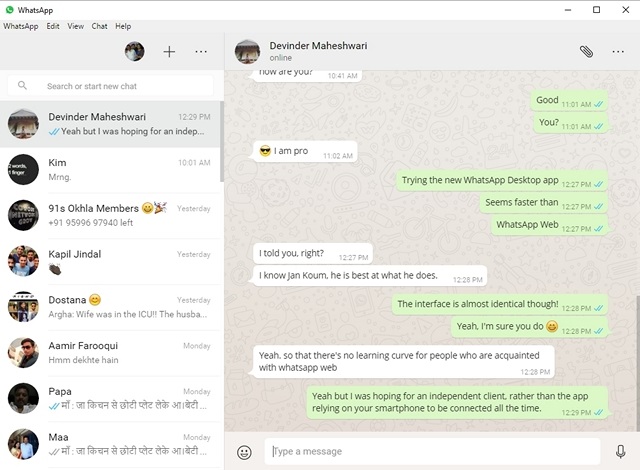 SEE ALSO: 32 Cool WhatsApp Tricks To Chat Like A Pro
Ready to use WhatsApp on your PC or Mac
This is certainly good news for people who have always wanted a PC/Mac client for WhatsApp but it would have been a whole lot better had it been an independent app. Still, we quite appreciate its arrival and in our usage, we found the desktop app a lot faster and smoother, compared to WhatsApp Web.
So, what are you waiting for, download the WhatsApp desktop app on your PC or Mac and let us know your experience. Sound off in the comments section below.