Whether you are a content creator or a casual Instagrammer, you will often see your follower count fluctuate. And every time that happens, it makes us wonder, who unfollowed me on Instagram? Was it one of my close friends? Well, Instagram doesn't show you any notifications when someone unfollows you. But if you know the right steps, it's not difficult to see who unfollowed you on Instagram. So, let's find out if your friends still follow you or not.
How to Manually Check Who Unfollowed You on Instagram
There are two ways to know if someone unfollowed you on Instagram. First is the manual way where you have to search for the person's name to confirm if they have unfollowed you. This is slightly tedious and works only if you have a name in mind. Secondly, you can use a third-party app to pinpoint exactly who has unfollowed you on Instagram recently. We will get to that later.
In this section, let's take a look at how you can manually find an unfollower on Instagram. Follow the steps below:
Log into the Instagram app on Android or iOS and head to your profile.
Here, tap on the follower count at the top.
Next, tap on the search bar to manually search for specific followers that you feel may have unfollowed you.
If they don't show up in search results, you will instantly know that they have unfollowed you.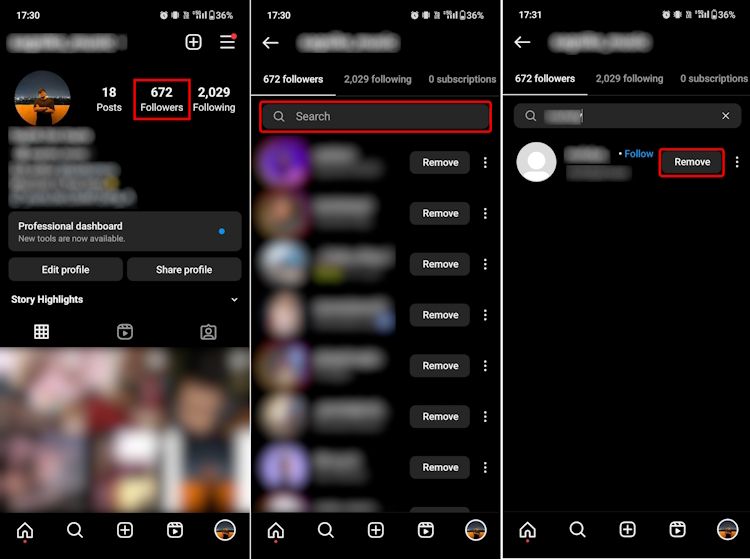 You can also use the steps above to find and remove followers from your account. Search for an account and tap on the "Remove" button beside their name to remove them.
Third-Party App to See Who Unfollowed You on Instagram
Now, for the third-party app method, we tested out a couple of apps, and in our experience, FollowMeter (Android and iOS) worked the best. Here's how you can use the FollowMetter app to see your unfollower list on Instagram:
After downloading the app, you first need to log into your Instagram account.
As soon as you log in, FollowMeter will start analyzing your account to extract data.
Once that's done, tap on Unfollowers in your Profile Activity panel.
Here, you will also see the total number of people who have unfollowed you.
Now, if you don't wish to see their posts and stories as well, tap on Following to instantly unfollow them.
To see the latest data, simply tap the refresh icon in the top right corner of the app's homepage. There are a bunch of other things that you can do in this app, like finding out users who are not following you back or the ones you aren't. You can also get a list of new followers that your Instagram account has received as well.
Note: Remember that third-party apps are not licensed by Instagram in any way. So, be careful while using such third-party apps and download them only from the official app stores, as malicious apps can pose a threat to the security of your Instagram account.
With that, we have reached the end of this guide. Do let us know in the comments if this guide was helpful for you or not. Moreover, if you ever feel that the security of your account is at risk, immediately change your Instagram password with our step-by-step guide. If you also want to know if someone has blocked you on Instagram, we have an easy guide for that in place too.
---
Load More