Ship customization is one of the best features in Starfield, and it is only natural for players to rename their spaceship. You know, to give it a personal touch. However, the process is buried under menus and options that any average gamer might find confusing. While mods can fix the issue by remaking the menu and customization screen, for now, most players will have to rely on the official in-game method. Fear not, as we dug through the menus to track down the option to rename your Starfield ship. So, if you want to make a Millennium Falcon or SR1 Normandy in Starfield and then rename it accordingly, you are at the right place!
Renaming Your Starfield Ship Is Easy!
The option to rename a ship in Starfield is easy to use. However, the problem arises from the fact that most of it is buried under confusing menus and options. And I am not making it up, it took me quite a bit to figure out how to rename a spaceship. Nevertheless, to rename your spaceship in Starfield, follow the steps below.
First, ensure you land at one of the big three settlements – New Atlantis, Akila City, and Neon City. The best choice to do this is at New Atlantis on the Jemison planet in the Alpha Centauri system.
Right after you land, you'll be greeted by the ship service technician. If you cannot find him, he'll stand on the right side of the landing pad.
Go and talk with the ship service technician, who will present you with various options.
Pick the option to modify your ship – "I'd like to view and modify my ships."
Choosing this option will bring you to the ship customization menu of the game.
Then, press E on the keyboard to enter the ship upgrade screen in the ship customization menu. As the name suggests, this is where you upgrade your Starfield spaceship.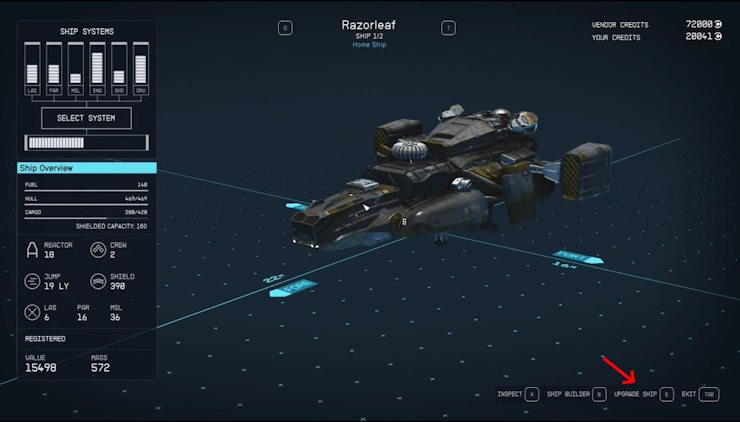 Then, press C on the keyboard to bring up Flight Check. This option allows players to check and confirm if the parts they upgraded work.
When you enter the Flight Check in Starfield, you will see an option called "Rename Ship" at the bottom right. Bingo.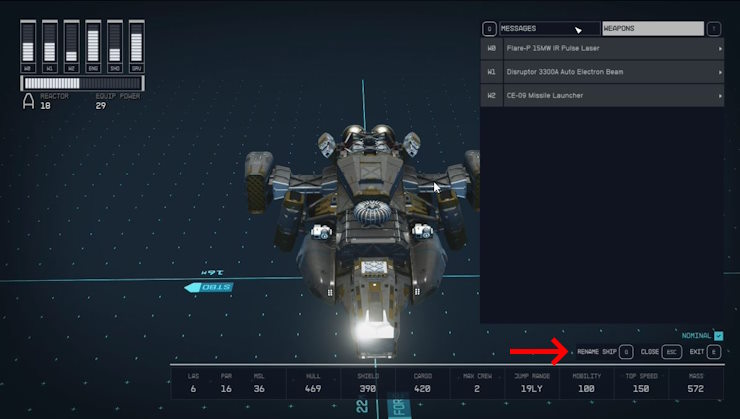 Press G to bring up the "name" textbox and rename the ship accordingly. I named my ship "Vanguard" here.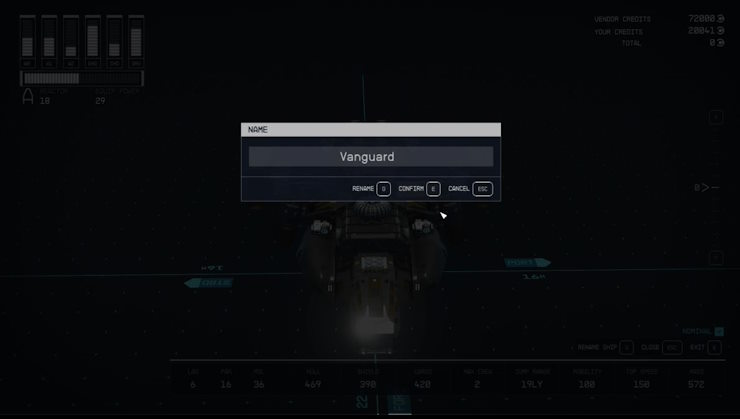 Confirm the rename by pressing E on the keyboard and exiting the menu.
To double-check, press Tab on the keyboard and check on the bottom left.
I don't know why Bethesda decided to hide something as simple as renaming your Starfield ship under so many options. However, we hope they fix it through an update in the future. If they don't, we have to rely on modders to customize the menu. We have already started getting many cool mods for Starfield, so the possibility isn't out of the question.