Looking at the recent trend, Roblox's popularity seems to be on a roller coaster that only goes up. And now, we even have physical evidence of the platform's success in the form of merch (aka Roblox toys). And the best thing about toy codes is the free virtual items you can get by redeeming them. In a way, they are a gift to celebrate your love for the game. That said, let's figure out how to redeem Roblox toy codes, so you can reap the rewards.
Redeem Roblox Toy Codes: Step-by-Step Guide (2023)
We will first cover the basics and mechanics of Roblox toy codes and gift cards. But if you are only interested in learning how to redeem the codes, use the table below to freely skip ahead.
What is a Roblox Toy Code
Roblox toy codes are unique randomly generated codes that appear on the boxes of physical Roblox toys. At times, you can also find virtual versions of these Roblox toy codes. Each toy code can be redeemed for a virtual Roblox item that you can equip in-game. You can expect to receive accessories, clothing items, and holdable gear.
In case you are wondering, Roblox physical toys consist of a series of collectible figures and similar items that resemble in-game characters and experiences. You can purchase them online and offline at various popular retail stores.
How to Redeem Roblox Toy Codes
Before we jump into redeeming the codes, here are a few basic mechanics you should be aware of:
Roblox toy codes are redeemed on the official website and not the app.
Some Roblox toy codes have an expiration date, so it's best to redeem them as soon as possible.
Each code can only be redeemed on a particular account once. Moreover, you can't redeem another copy of an item you already own.
The redeemed items cannot be traded or sold.
Lastly, you have to make sure to redeem the toy code in the correct Roblox account. Once redeemed, you can't transfer the item from one account to another.
Steps to Redeem Roblox Toy Code
Follow the steps below to learn how to use a Roblox toy code and redeem your virtual item:
1. First, open your browser and visit Roblox's official website (visit). You can do so on any device, including Mac or Windows PC, iOS or Android mobile phones, and even a console.
2. Then, if you haven't already, log into your Roblox account. You will find the login button on the homepage itself.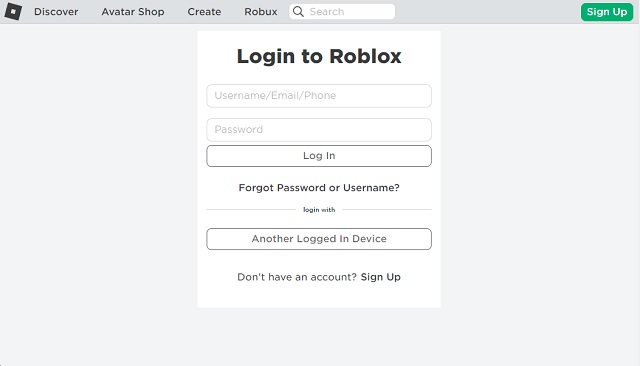 3. After logging in, move to the Roblox code redemption page (link). Alternatively, you can click the hamburger menu (three horizontal lines) at the top left of the website and then select the "Gift Cards" option.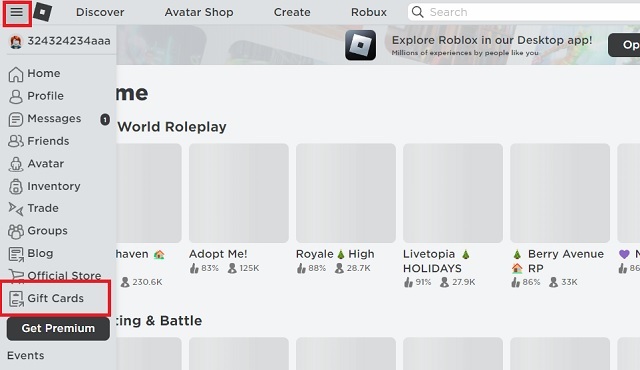 4. Finally, enter the Roblox toy code in the textbox on this page and click the "Redeem" button. If your toy code card is physical, you will have to scratch its covering to reveal the code.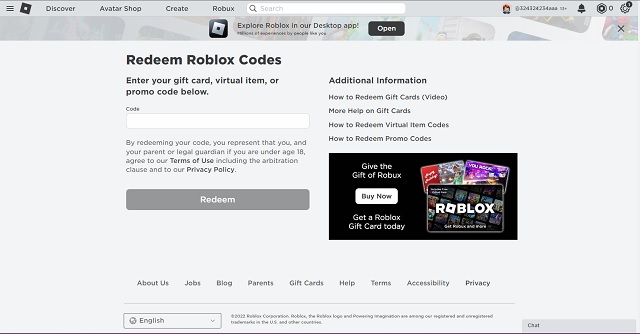 5. Once the virtual item is redeemed, it will show up within your avatar's inventory. You can learn how to create and customize your Roblox avatar through our linked guide. We have explained how you can use virtual items easily in this guide.
Roblox Toy Codes FAQs
Do Roblox toys come with Robux codes?
The Roblox toys often come with codes that can unlock virtual items. Though, they are usually not for Robux. Instead, you can expect to get accessories and clothing items from toy codes or gift cards.
How to get Roblox toys?
You can get Roblox toys on their official Jazwares website. Use this link to access the same.
Can Roblox toy codes expire?
Most Roblox toy codes have an expiry date or a limited redemption period. It's best to redeem them as soon as you get access to the toy codes.
Redeem Roblox Toy Codes or Gift Cards
And just like that, you are now ready to unlock some of the most exclusive items for Roblox. But they are of no use until you can flex them by joining Roblox games with your friends. Though, not everyone is a fan of ready-to-use items. If you are one such person, we suggest you try your hands at the Roblox shirt template and Roblox pants template to create an item that exclusively represents you. Having said that, which Roblox virtual item did you get through the toy code? Tell us in the comments below!