One of the greatest things that a smartphone manufacturer can do is to provide timely software updates. While Google's Pixel and Nexus devices get these almost instantly, other OEMs often push the updates for their devices a couple of months later on. Well, not Nokia. After merely a month of its release, Nokia has announced the Android Oreo 8.0 update for its flagship Nokia 8. While still in the beta version, the update works great. So, if you're wondering how to get the latest Android version on your device, read on, as we show you how to install Android Oreo 8.0 on your Nokia 8:
Install Android Oreo 8.0 Nokia 8 Via Nokia Beta Labs
Note: The following method might erase your user data, so ensure to backup your data before proceeding. Also, do note that this Android build is currently a beta build, so bugs might be present.
To begin with the installation, you need to enroll yourself in the Nokia Beta Labs program. To do so, head over to the Nokia Beta Labs registration webpage and log in with your Nokia associated account.
Upon login, you might be redirected to the Nokia forums website. Find the "Join Beta Labs" link at the top of the forum page, or click here to directly visit the page.
Now, you'll be required to validate your device. Enter your IMEI-code and your Network Operator. Once you're through with that, agree to the beta software license terms and click on "Register for beta labs".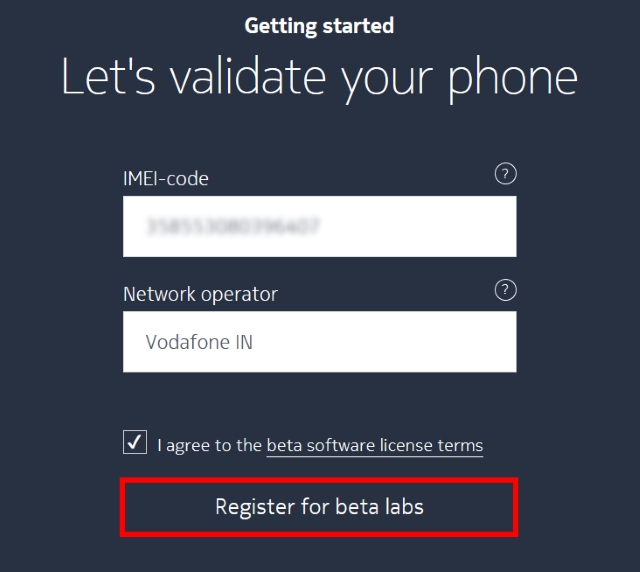 Note: In case you're having trouble with the above steps, click here to find out how to find your IMEI number. Also, you can head over to Settings->About phone->Status->SIM status->Network, to check your Network Operator.
If you've correctly entered your credentials, you'll get a message on the screen that your phone has been validated, as shown below.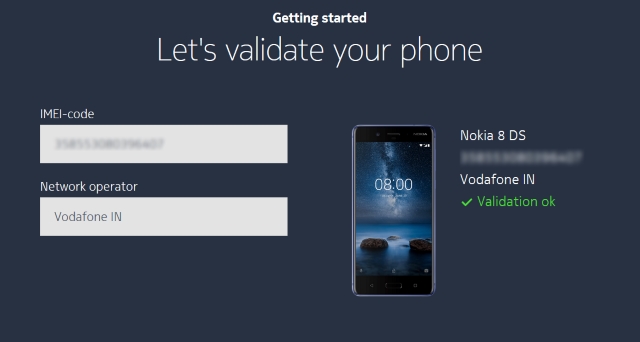 Now that you've validated your device, you can request an update to your smartphone. Simply scroll below to the "Get the beta software over the air" section. Check the box next to confirmation for instructions, and click on "Request OTA".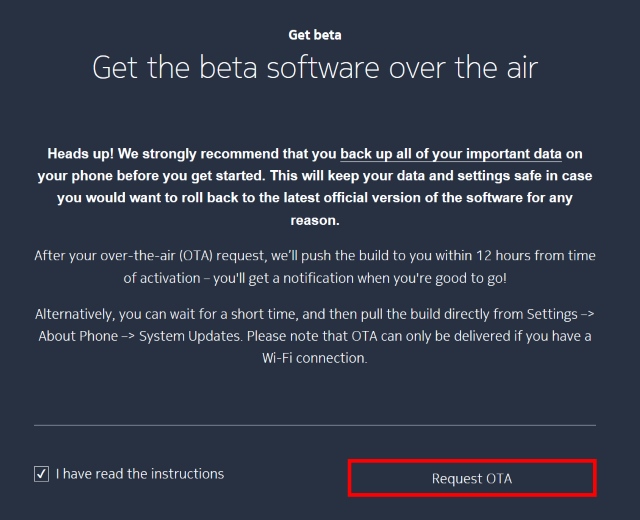 And that's it. Your Over-the-air request should have been approved now, and you'll get a message on the screen similar to the one below.
Now, on your Nokia 8 device, head over Settings -> About phone -> System update. Here, tap on "Check for updates".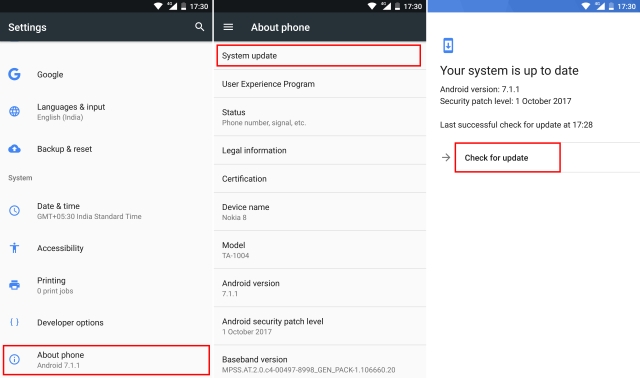 You should now receive an update for the Android 8.0 Oreo build, which will start downloading automatically.
Once the update has been downloaded, it will automatically start installing. Upon successful installation, you'll be prompted to reboot the device.
And that's it. Android Oreo 8.0 is now installed on your Nokia 8 device.
Note: While Nokia has only released the Beta Labs program for Nokia 8, it will soon be made available for the Nokia 3, Nokia 5, and the Nokia 6. As such, the above procedure shall remain the same for the above-mentioned devices.
SEE ALSO: 12 Cool Android 8.0 Oreo Tricks You Should Know
Update Your Nokia 8 to Android Oreo 8.0
With just over a month after its launch, Nokia has announced the latest update to Android for its flagship device. While still in its beta version, the ROM does work well. It gives its users the chance to experience all of Android Oreo's features on their Nokia 8 device. It goes on to prove that Nokia is actually bothered about its customers. With timely updates and a great customer support, Nokia might actually make itself a customer-favorite brand once again. But what do you think? Did you update your Nokia 8 to Android Oreo 8.0, and do you think Nokia has what it takes to capture the market? Let us know your thoughts in the comments section below.