Low internal storage space is something that has become synonymous with almost every smartphone owner. While most phones these days come with at least 16 GB of storage, it's not enough, considering phones record 4K videos these days and the graphics intensive games are pretty huge in size. An 'insufficient storage space' error is quite annoying, especially when you have a cool new app or game to download. So, today, we'd like to share with you a complete guide on how to free internal storage space on Android.
So, this guide will contain tips for both rooted and non-rooted users. You can actually use this tips as a checklist whenever you feel you want some free space available on your internal memory. Let's dig in.
1. Clear Cached Data
The first and quickest way to get rid of that 'Insufficient storage space' error would be to clear the cached data. We'll recommend you to clear the cached images and files from social media apps and web browser.
In order to clear the cache, get into the Storage Settings of your device and tap on the Internal storage option. It will show you the amount of data taken by different media types including the cached data. Tap on "Cached Data" to clear the cache. Hit OK when prompted.
However, you need to be careful if you completely rely on mobile data for the internet, because cached data will actually be helpful to save you that extra bit of data.
2. Find Large Files and Remove Unnecessary Files
The next thing you must do is to eliminate the useless and the biggest files. Mostly the big files might be movies and HD videos which should be moved to an SD card or other storage devices. But, you need to first find if there are any. It would be quite a tedious task to find such files in various folders. So, to ease down this process you should use a storage analyzer app.
I recommend you to use the Storage Analyzer & Disk Usage app (Free). It will easily show you the 10 biggest files that are present in your internal storage.
After you have installed the app, open the navigation drawer and you must see the option for "Biggest files". Tap on it and you'll get your result. Now, to remove the required files you just have to long press on a file and you'll get the option to delete it.
You can even use some advanced file manager apps, which give similar options to sort out the biggest files in your storage.
3. Remove Duplicate Files and Photos
Duplicate files are mostly produced when you have used an Android smartphone for a long time and they mostly consist of APKs and PDFs. Even photos get duplicated when we take 2-3 pics together to get the best shot but we always tend to forget to delete the bad photos. Thus, causing duplication in photos.
You can easily delete duplicated photos by using a popular app called Gallery Doctor (Free). It automatically finds the bad and duplicated photos and gives you a quick option to delete them all at once. You can even review them before deleting if you want.
Open the app and at the start, it will first prompt you to scan the photos app. After it completes the scan, it will show you a complete health report of your Gallery. Now here, it will show you the "Bad Photos" and "Similar Photos". All you have to do is review the ones you want to keep and delete the others. It makes the task easy for you by picking the best photos, you might want to keep.
Gallery doctor is mostly for the photos but if you want to search for the duplicates in documents and other files, you need to download Duplicated Files Finder app (Free).
This app checks the naming convention of files to figure out the duplicates. Here too, you can review the files and check the ones you want to keep. It displays the number of duplicates present for a particular file and it also shows the file location, to further ease the process. After you're done sorting out the files, hit the Delete button to remove them.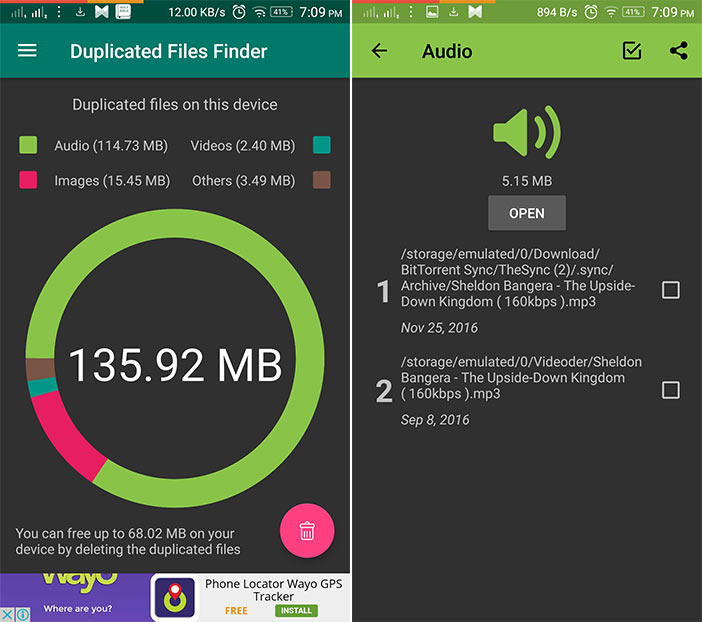 4. Batch Uninstall Useless Apps
If you're an Android Enthusiast then trying out new apps and games is something that you must be doing on a daily basis. Chances are, your device does have a number of useless apps that you no longer use. Well, it's time to remove them for good.
Now, there is no way available in the Android system that allows you to uninstall multiple apps at once. So, we'll have to use another app to achieve this task. We can use the Simple Uninstaller app (Free with in-app purchases) and you can check out our complete article on how to uninstall multiple apps on Android for more details.
5. Transfer Files to SD Card
Well, this is a no-brainer. Images, videos, music files, and other documents should be transferred to an SD card if you're running low on internal storage. You can do this easily using the file manager app you use. You can also use your computer do this. Just connect your phone to your computer via USB and perform a cut-paste for the selected files.
6. Remove Offline Areas in Google Maps Or Move to SD Card
The Google Maps' offline feature is pretty amazing but it does take up a lot of storage space. So, if you have saved areas that you don't really need, you should consider removing them or moving them to the SD card. First, let's see how to delete them.
Open the navigation drawer in Google Maps and tap on "Offline areas". Now, among the list of offline areas, tap on the one that you'd like to delete. On the next screen, you'll get the option to Update or Delete the area.
Now, to move your Offline Areas to SD card, you just have to change a setting. In the Offline Areas page, tap on the Settings icon in the top-right corner. Then, tap on the "Storage preferences" and select the SD Card option and tap "Save".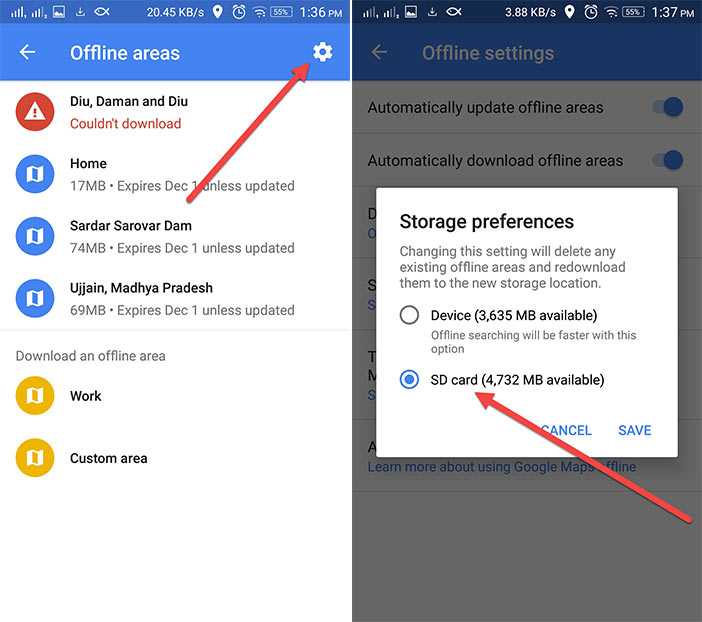 7. Opt for Cloud Storage
Well, if you're blessed with a high-speed internet connection then you should probably opt for cloud storage. Now, choosing a cloud storage service comes down to your own preferences. You can check out our article on the most reliable cloud storage services to choose from. Once you have installed a cloud storage app, you can consider moving your files to the cloud to save internal storage space on your Android smartphone.
8. Adopt SD card as Internal Storage
Now, this tip is specifically for people using a device with Android 6.0 and above. Android Marshmallow brought in a new feature that allows your phone's external memory to be adapted as internal memory. This is certainly handy, as you cannot move some files, apps, app date to the SD card. With adoptive storage, you will effectively increase the device's internal storage. Well, let's see how you can do it.
First, you'll need a speedy SD card. While your normal SD card will work, the read write speeds will be on the slower side. So, make sure you get a high-speed SD card. If you choose to work with your already inserted SD card, then make sure you back up all of its content because the SD card will be formatted to be used as internal storage. A new drive will be assigned to the already present storage.
Once you are ready, go to Settings->Storage & USB on your phone and tap on the "Portable storage" that you have. On the next screen tap on "Format as internal storage". Next, you'll be asked to erase all of the content on the SD card and format it as internal storage. Tap on "Erase & Format".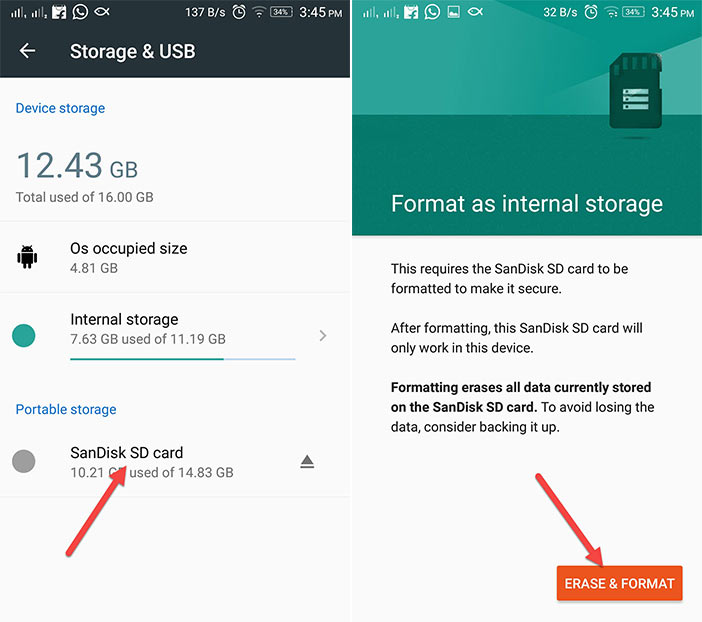 So, now you have a bit more of internal storage to fill in. You should be able to install more apps and games. However, be sure that you don't remove the SD card without formatting it back as portable storage. Also, it's an SD card after all and it won't perform as well as the internal storage.
9. Clean the Junk in One Tap [Root]
The junk I'm talking about here, are the leftover files and folders of uninstalled apps. Such files usually don't get cleaned up by the Android system and you can't remove them until your device has root access. Yes, this tip does require a rooted Android device.
The app we'll use here is a well-known app dubbed SD Maid (Free version). It removes all 'Corpse' files in just one tap. Apart from that, it also cleans the database, giving you sufficient amount of free memory space. Well, let's see how SD Maid can be helpful.
Open the app and in the Quick Access section, start the scan. It will start finding leftovers, cached files, and other needless data. After it's done scanning, tap on Run Now to clear that data.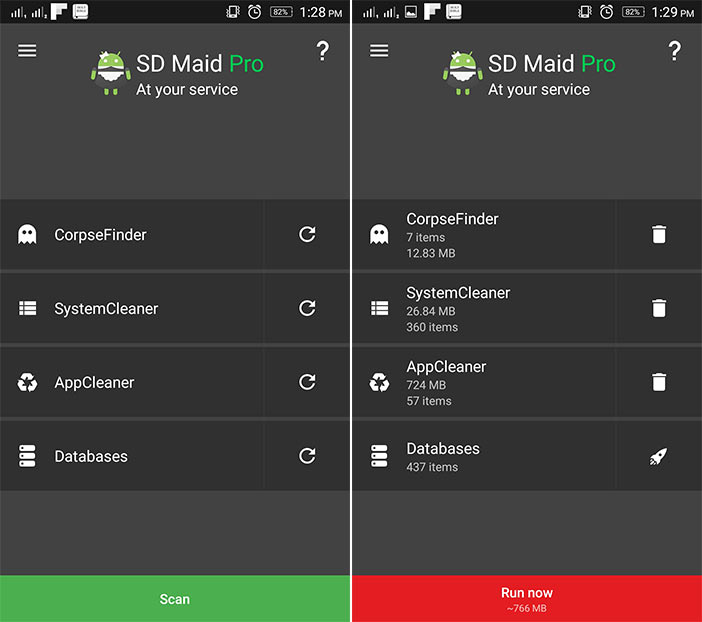 Well, the app also you schedule scans if you opt to buy the Pro version ($3.49). In my opinion, this root method is more effective and quick than some of the other no-root methods mentioned above.
10. Uninstall Bloatware and Other System Apps [Root]
If you aren't using a device running stock Android, you must have noticed various bloated apps taking up precious internal storage. Uninstalling bloatware is one of the best things you can do to free internal storage space. However, you can only uninstall system apps on a rooted Android device. We can use the very popular Titanium Backup (Free version) app, which is known for its ability to backup apps and their data but you can use it to uninstall system apps too. There are other similar apps that can help us achieve the task but I think Titanium Backup is better. So, let's see how to remove some unnecessary system apps that come pre-installed on your device using Titanium Backup.
Open the app and switch to the "Backup/Restore" Tab. Here, you'll get a complete list of all the apps that are installed on your device, including the system apps. Now, just tap on one of the system apps and it'll pop out a dialogue box. Here, you will get the option to uninstall it. You can even Backup the system app if you want or you can just Freeze it. Freezing the app will make it non-usable, but, it will still be on your storage.
You can also check out our detailed article on how to remove bloatware from both non-rooted as well as rooted devices.
SEE ALSO: How to Change or Fake GPS Location on Android
Use these tips to free internal storage space on Android
Well, with these aforementioned tips, you should now have enough internal storage space available on your device. As I mentioned earlier, you can use this tips as a checklist whenever you run low on storage space. That's all from our side but let us know how these tips worked out for you, down in the comments section below. Also, any queries are welcome.