There's no doubt that the Galaxy S8 is an amazing smartphone. It features a great, innovative new design coupled with top of the line specs like the latest SoC from Snapdragon, along with 4 GB RAM, and a lot more. However, the S8 only features a 3000 mAh battery, which is quite a bit less than what it should've been. Especially since the S8 packs in a large 5.8″ display, with QHD resolution. It's no surprise that the S8's battery usually only lasts a day. So, if you're looking to improve the battery performance of the Galaxy S8, and squeeze some extra time out of the 3000 mAh battery that it packs, here are some ways to fix battery problems in Galaxy S8:
1. Reduce Screen Resolution
The Galaxy S8 comes with a gorgeous QHD Super AMOLED Infinity Display with a resolution of 2960×1440. However, driving so many pixels definitely puts a lot of load on the battery. That's exactly why the Galaxy S8 comes with Full HD as the default resolution, out of the box. While it's understandable that you cranked up the resolution to max just to adore the beautiful screen, reducing the screen resolution will actually improve your battery life a lot, and you'll be able to notice any difference in the screen quality for normal usage.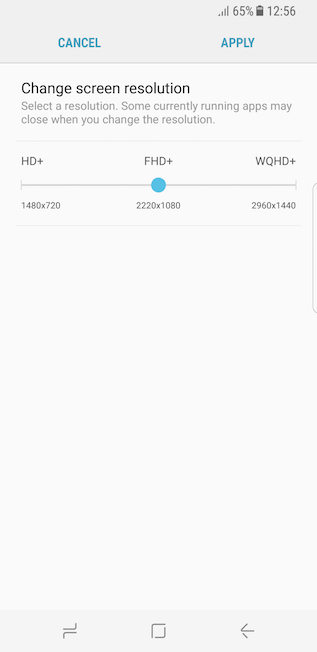 You can adjust the screen resolution by going to Settings -> Display -> Screen Resolution and setting it to FHD+, instead of WQHD+.
2. Custom Battery Saving Profiles
Samsung has included some really customisable, and quite effective battery saving profiles in their latest flagships. You can use these profiles to get some extra time out of your device when you're running low on juice. There are two profiles you can choose from:
MID: Reduces brightness, limits CPU speed, and sets screen to FHD+.
MAX: Reduces brightness, limits CPU speed, and sets screen to HD+.
However, if the default settings in the MID/MAX profiles don't suit your need, you can just tap on "Customize", and customize how these battery saving profiles work, and the settings that they tweak in order to get more screen on time out of the remaining battery in your phone.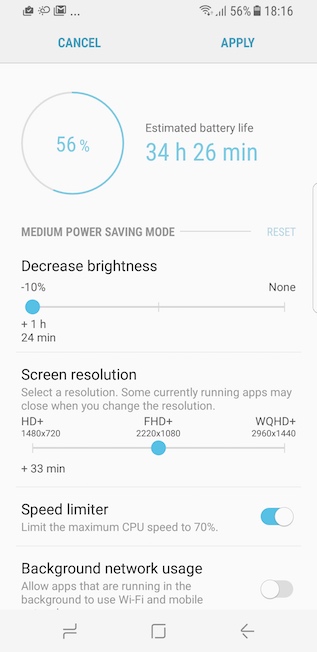 3. Disable Some Battery Hogging Features
The S8 brings a lot of features to make it easier for users to use their devices, and that's a good thing. However, these features drain quite a bit of battery, and if you're looking to get the most screen on time out of your Galaxy S8, you should consider disabling these settings unless you really need them.
Always on Display: Always on Display is a handy feature that keeps the screen on, displaying some crucial information that users may need to access at a glance. Things like time, and the latest notifications are show on the Always on Display. However, it does affect the battery life of the device, so, if you're trying to get more battery life from your S8, you can consider disabling the Always on Display, by going to Settings -> Lock Screen and Security, and disabling "Always on Display" from the toggle.
Smart Stay:Smart Stay is a cool feature, that makes sure that the screen remains on as long as you're looking at it. The device checks whether you're looking at the screen or not, by using the front camera to detect your face. This can also be a huge battery drain, and it's recommended to keep this setting off. Just go to Settings -> Advanced Features, and disable Smart Stay.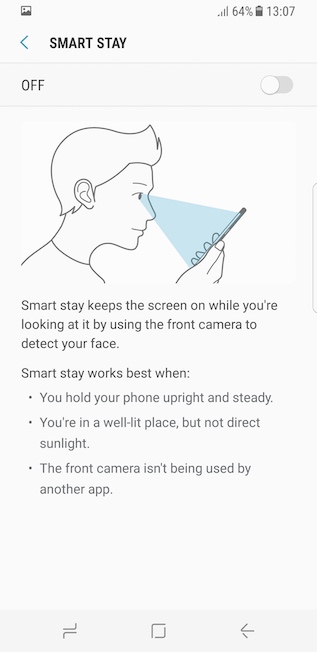 4. Device Maintenance: Optimization
Another really useful feature that Samsung includes with the Galaxy S8, is the "Device Maintenance" settings page. You can simply head on to "Settings -> Device Maintenance", and your phone will automatically analyse itself, and let you know the condition it is in. You can tap on "Optimize" to optimize the device as much as it can. This removes cache, and does a couple other things to make your phone perform better. Using this optimization feature can also help your battery life a lot.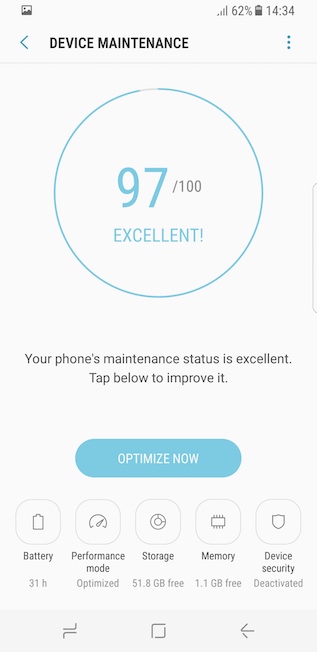 5. Put Apps to Sleep
The Galaxy S8 has another great feature that you should definitely use; especially for apps that drain a lot of battery, and aren't quite as useful. You can simply press and hold on an app icon to open the contextual menu. Here, you'll see a "Sleep" option. You can just tap on that, and the app will go into sleep, which will stop it from draining your battery. The option is not available for all apps, unfortunately, but it's still a good option to have for the apps that it supports.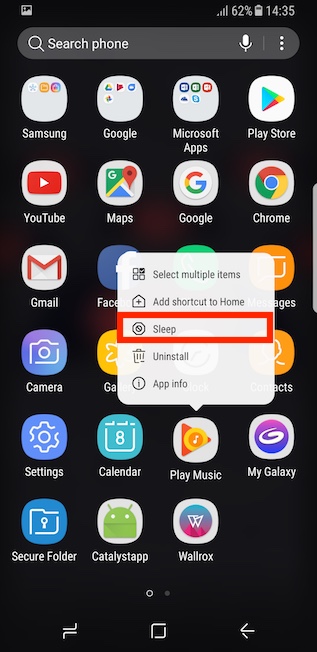 6. Tweak some Settings and Features
Another common way that you can increase the battery life of your Galaxy S8, is by making tweaks to some common settings and features. You can turn the GPS off, or if you don't want to do that; you can even try setting it to a lower accuracy.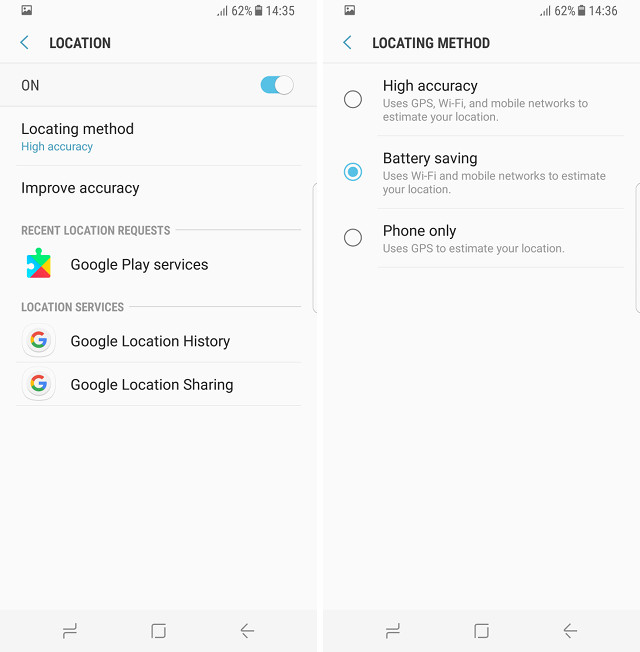 Another thing you can do, is lower the timeout for the screen. Quite often, we check our phones, and just put them back on the table, without putting them back to sleep. This results in the screen remaining on for a longer time, eating up a lot of battery. Lowering the screen timeout can definitely increase the battery life of your Galaxy S8.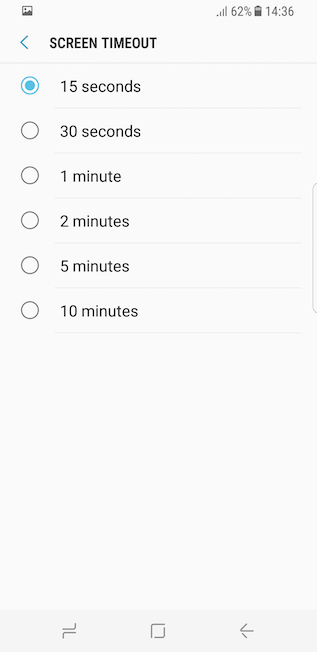 7. Use a Battery Pack
If you need a lot of extra power for a trip you're taking, or a long drive outside the city, you should definitely consider getting a battery pack. These things come in quite affordable, and (depending on their capacity) can recharge your phone multiple times, helping you stay connected throughout your drive, trip, or whatever else it is you need a lot of battery backup for.
Samsung has official power banks with Type-C and fast charging support that you can get for around $50, and charge your phone from 0-50% in about 30 minutes.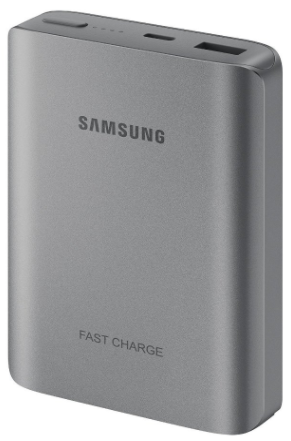 If you'd rather get a third party power bank, which usually come in for quite a bit less, you can get one like the Vinsic Power Bank ($34.95) as well.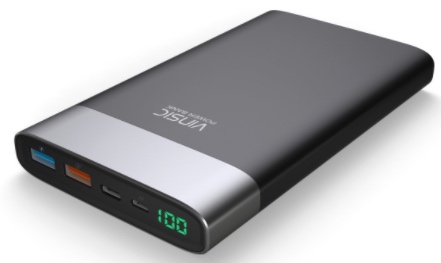 SEE ALSO: 15 Cool Galaxy S8 Tricks and Hidden Features You Should Know
Fix Battery Problems in Galaxy S8 with These Tips
The Galaxy S8 does pack in some of the most advanced features in any smartphone, and couples it with a great design to turn itself into the best smartphone we've seen in quite some time. However, the only-okay battery life with the Galaxy S8 really needs some attention, and these are some of the things you can tweak on your Galaxy S8 to improve the battery life of your smartphone, and have it go on for longer than it otherwise would. As always, we'd like to know your thoughts on the Galaxy S8, and everything that it offers.
Also, if you know of any other methods to fix battery problems in Galaxy S8 that you think should be on this article, do let us know about them in the comments section below.