Apple announced iOS 17 at its WWDC 2023 event in early June, and it brings a few new features to iPhone users. This year, Apple seems to have focused on adding features to improve overall user experience instead of bringing significant changes. One of the most underrated iOS 17 features is called Screen Distance, and it reminds you to hold your iPhone or iPad at a sufficient distance. This feature is targeted at users who use their iPhone or iPad while holding it extremely close to their eyes. So, listen up parents, it's time to understand what is the Screen Distance feature in iOS 17 and how you can use it to reduce eye strain.
What Is the Screen Distance Feature in iOS 17?
The new Screen Distance feature in iOS 17 is a part of the slew of health-focused features that Apple has introduced this year. Viewing your screen at a distance of less than 12 inches for prolonged periods can lead to myopia or near-sightedness.
Screen Distance, the new iOS 17 feature warns users to hold their iPhone or iPad at a safe distance for risk-free usage. The Screen Distance feature uses the TrueDepth camera system aka Face ID on iPhone and iPad to measure the distance between the users' eyes and the device. Importantly, the camera will only be used to measure the distance between the screen and your eyes, and no photos or videos are captured throughout the day.
Furthermore, Apple confirms that iPad Pro 12.9-inch (3rd-gen and later) and iPad Pro 11-inch (3rd-gen and later) with TrueDepth camera systems support the screen distance feature. All supported iPhones running iOS 17 will have this feature.
How to Enable Screen Distance on iPhone & iPad
Before we begin, it is important to note Screen Distance is an iOS 17 feature. You will have to install the iOS 17 developer beta, which Apple is now offering without a developer account. Once you have installed the iOS 17 Developer Beta, follow the below steps.
1. Open the Settings app and scroll down to the Screen Time menu.
2. Here, you will see the Screen Distance option. Tap on it.
3. Now, you will see a welcome screen introducing the Screen Distance feature. Tap on Continue.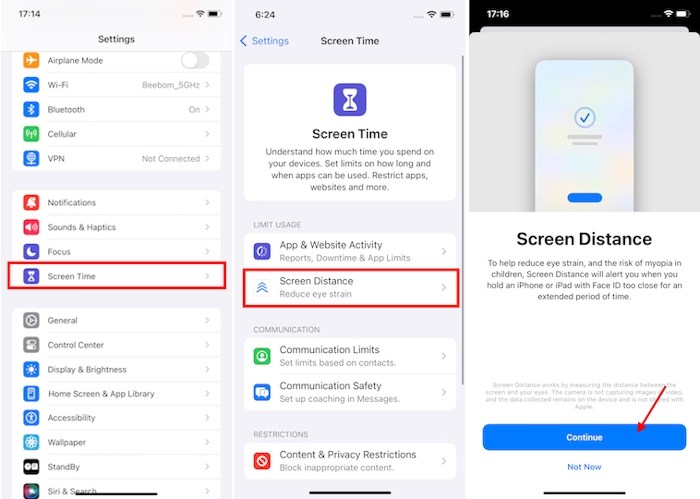 4. On the next page, tap on Turn On Screen Distance, and you will see the "Screen Distance" toggle turn on.
5. Now, whenever you hold your iPhone or iPad too close for prolonged periods, you will be notified of the same by iOS 17 and iPadOS 17's Screen Distance feature. Here's what it looks like in action: