Ever wanted to become popular on Twitch the easy way? With Discord, it's now a possibility. Being one of the fastest growing VoIP platform for gamers, there are a plethora of video game communities that you can be a part of. If you have quite a reputation in the communities that you're a part of, you can take advantage of Discord's Streamer Mode to actively showcase that you're streaming. In addition to this, Streamer Mode also smartly hides your account information and safeguards your privacy so that random people who're watching your Twitch stream don't get access to your Discord information when you open up the application. So, if you want to show off your Twitch channel and improve your viewer count, make sure you've enabled Streamer Mode on Discord every time before you start a stream. If you have no clue how to get this done, let's take a look at how to enable Streamer Mode on Discord:
Enable Streamer Mode on Discord
Note: Discord's Streamer Mode can only be enabled if you're using the browser client or desktop application. The option is currently not available on the mobile app. 
First of all, you need to make sure that you've linked your Twitch account to Discord, before you can properly take advantage of the platform's Streamer Mode. So, simply follow the steps below to link your account and enable streamer mode without any hassle:
Open Discord and head over to "Settings" by clicking on the gear icon. Now, go to "Connections" section and click on the Twitch logo. Simply log in with your Twitch credentials, and you'll be all good to go.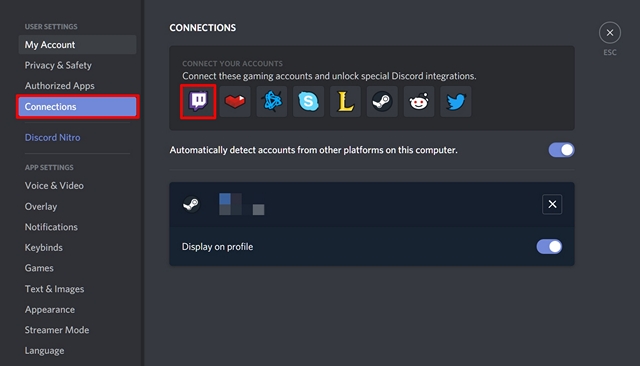 Now, in the same Settings menu, head over to the "Streamer Mode" section and enable Streamer Mode with the help of the toggle. By default, it will automatically enable/disable if you have third-party streaming software like OBS or XSplit running on the computer.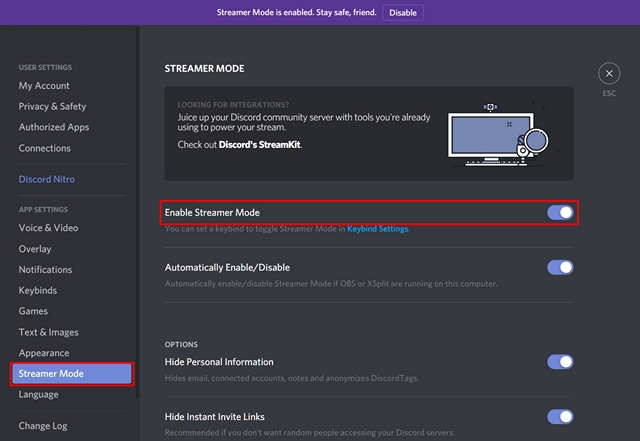 In the same section, you will be able to adjust the privacy controls while Streamer mode is enabled. You can choose to hide personal information such as e-mail, connected accounts, notes and Discord tags, which is quite necessary, so that random viewers don't get access to them. Additionally, you can also hide instant invite links to various servers as well. Apart from all this, you can choose to disable all sounds and notifications while Streamer mode is enabled.
Now, once you start streaming on Twitch, you're online status indicator for Discord will change to purple color to indicate everyone that you're streaming. People who're connected to you on the platform will be able to watch your stream by simply clicking on the "LIVE ON TWITCH" option once they visit your profile.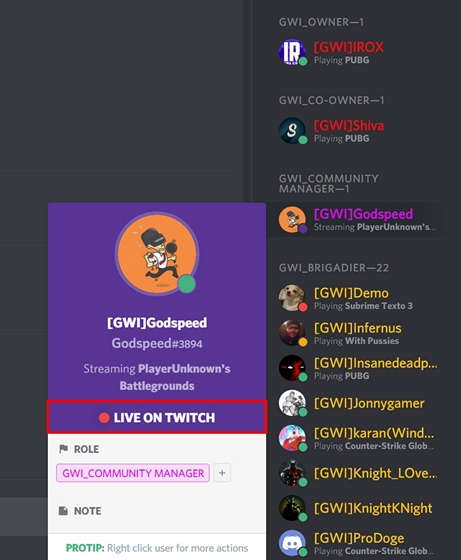 SEE ALSO: How to Create Discord Server and Invite Your Friends
Use Streamer Mode in Discord to Let Everyone Know That You're LIVE
If you have a good reputation in Discord or you have a high rank in any huge community, you can make use of the platform to get more viewers for your Twitch stream and increase your popularity. That's right, once users see that purple icon, most of the people will be interested in checking out your stream, and chances are, they might end up following you as well if they enjoyed watching it. So, are you guys ready to make use of Discord's Streamer Mode to let everyone know that you're LIVE on Twitch? Do let us know your thoughts on this feature by dropping your valuable opinions in the comments section down below.
---
Load More