Dolby Atmos is one of the most advanced sound technologies available currently. Microsoft's Xbox One and Sony's PlayStation 4 are already compatible with the superb technology, allowing you to use your Dolby Atmos certified sound system easily with the consoles. Sadly, the same can't be said for your Windows 10 PCs. Natively, Microsoft does not provide any support for Dolby Atmos technology, rendering your new Atmos certified sound system the same as any other high-end audio device. Well, fret not, as we bring to you our guide on how to install and enable Dolby Atmos on your Windows 10 PC, so that you can finally make the most of the advanced technology on your headphones. But before we get started, let us discuss what exactly is Dolby Atmos and how it works to provide you an enriching sound experience.
What is Dolby Atmos?
The next big thing in the audio industry, Dolby Atmos is a technology designed for surround sound systems. Dolby Atmos provides a 3D system for the audio, basically delivering the sound in 3-dimensional space, giving you an immersive experience of surround sound. It is the next step forward, in giving the user the illusion that he/she is at the center of the action. To know more about Dolby Atmos, you can read our detailed article here.
Install and Enable Dolby Atmos in Windows 10
To start off, open this link to get the Dolby Access app for your Windows 10 PC. Click on "Get the app".

You will now get a confirmation box in your browser to open the store or not. Click on "Open Store" to continue.

You will now enter the Windows Store. Click on the "Get" button to continue with the installation of Dolby Access.
Once you've pressed the Get button, the app will now begin downloading.
After the Dolby Access app has been installed, click on the "Launch" button to continue.

Once the Dolby Access app has been loaded, you will be presented with an options screen on how you would like to experience Dolby Atmos. You can either select to configure it with your Dolby Atmos Home Theater System (for instance, the Onkyo SKH-410), or you can experience Dolby Atmos with your Dolby Atmos supported headphones (for instance, the LucidSound LS30).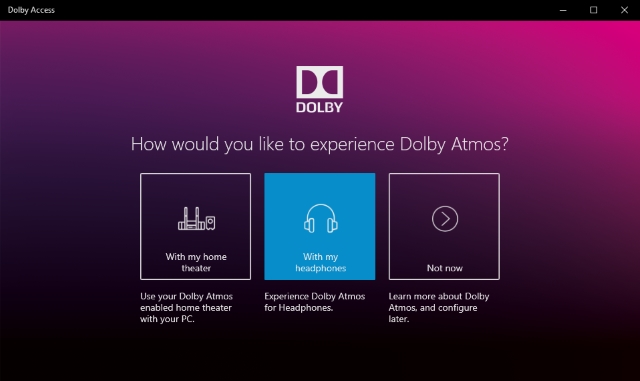 And that's it. Proceed with the on-screen instructions to continue using the immersive experience offered by Dolby Atmos on your home theater system or your headphones that support the Dolby Atmos technology.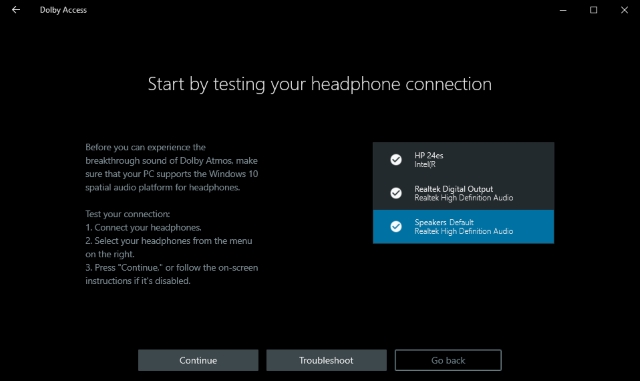 Alternative: Windows Sonic For Headphones
While Dolby Atmos is a great product to use, it is only available as a 30-day trial on your PC, and the full version will set you back by $14.99. Furthermore, you can only take advantage of the Dolby Atmos if your sound system or headphones are Dolby Atmos certified. If you wish to use your normal gaming headsets with the advanced technology, sadly, you cannot.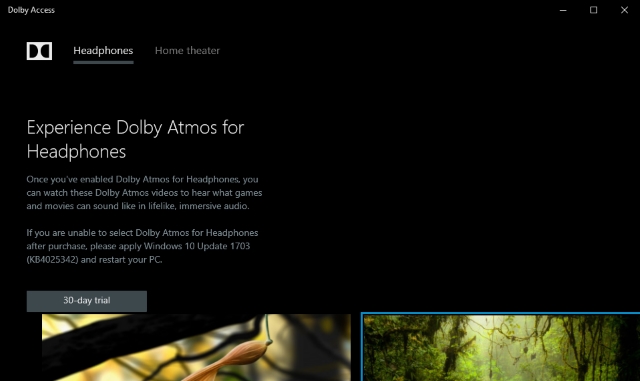 Thankfully, Microsoft itself has developed its own feature of "Windows Sonic for Headphones", which available as a free service in the Windows 10 Creators Update. To make use of it, follow the steps below.
Right-click on the speaker icon in your system tray and select "Spatial sound".
A new window for Speakers Properties will open up. Under the Spatial sound format, click on "None" to open a drop-down box. From there, select "Windows Sonic for Headphones".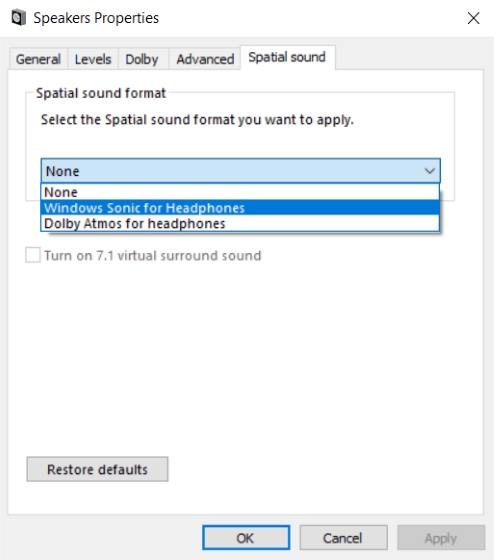 Once you've done that. Click on "Apply" and then on "Ok". And that's it. Windows Sonic for Headphones will now be enabled.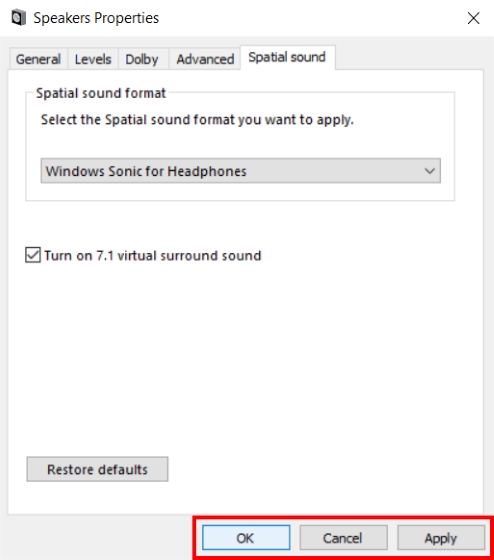 SEE ALSO: How to Enable Surround Sound on Logitech Gaming Headsets
Use Dolby Atmos On Your PC
Dolby Atmos is clearly the future, thanks to the immersive and interactive audio experience offered by the technology. If you happen to have a Dolby Atmos certified sound system or headphone, the Dolby Access app should work well to help you enhance the overall sound quality of your devices. Alternatively, you can use Windows Sonic for Headphones as well, to enhance the depth and the overall throw of the music. Tell us about your pick from the two, and the changes you experienced thanks to Dolby Atmos or Windows Sonic, in the comments section below.