We all use social networks every day. Facebook, Twitter, Instagram, Snapchat; the list goes on. While these networks are great, they are too big to be about something in particular. For example, both Instagram and VSCO are image-sharing social networks and while Instagram is used for many other purposes as well, VSCO establishes itself as a quality platform for sharing photographs and nothing more. Chances are that you're also tired of the familiar faces making those stale jokes, writing citations and posting unnecessary content that doesn't even cater to your interests. Sure, you can always follow relevant channels and pages, but wouldn't it be better to have your own dedicated portal of like-minded people, sharing quality content of a core subject? Yes, I am talking about having your own social network that proves to be a meeting point for members of a community that share the same interests.
While the idea of having your own social network does sound great, the fact is that it requires a hell lot of coding and technical knowledge. But what if we told you there was a tool to help ease out the process? Ease it out so much that you could have your own social network set up within a few minutes. Sound too good to be true? Well, believe me, it is true. The talented team behind Ning has come up with their SaaS solution to help its customers create their own social networks with ease. Want to build your own social network? Read on as we tell you how to go about it with ease, thanks to Ning.
What is Ning?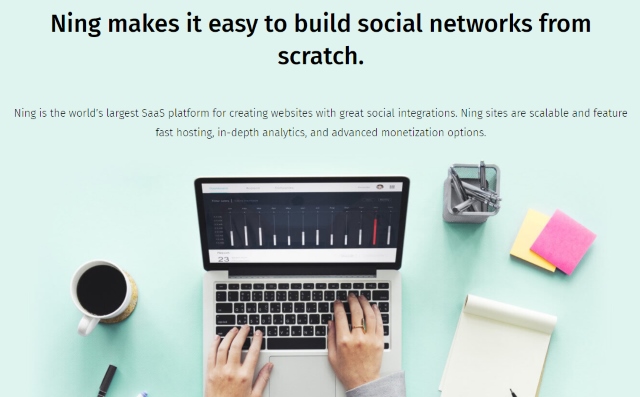 Ning describes itself as an online tool that provides you with a platform to build your own social networking website. It is the world's largest SaaS (Software as a Service) platform for building your own social media website. It offers advanced tools and sophisticated ways to help build your platform with ease. You don't need to know even a bit of coding. Ning's platform works on a web-builder framework, that allows you to create websites using simple drag-and-drop actions. Unlike other social networks that are for a general audience, Ning allows you to create a network of people with similar or common interests.
How Ning Simplifies The Process of Building a Social Network
Ning makes the entire process of creating your social network easy and seamless. You don't require any technical knowledge to proceed. Ning's drag and drop network editor along with their Design Studio are easy-to-use tools to build your website the way you see it. It works directly with a domain that you already own, and the builder helps you create a website with a simple yet powerful design studio.
Ning's platform also comes with a huge number of pre-installed apps and features that help you to build a great network. You can add your own photos and videos to visualize your portal. Additionally, you have the ability to implement blogs and forums in your social network for a better engagement with the members. This allows for a communication process with your followers, something that is very important when designing a social network. Furthermore, you can add and create events inside your network, and grow a bigger userbase.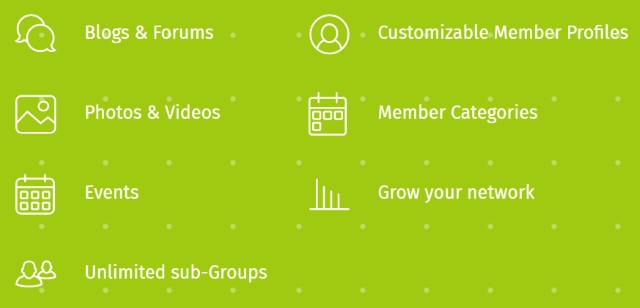 For any social network, it takes time to grow into a big thing. As such, you need to share everything with your current social mates. Well, Ning comes with a Linking and Social Sharing option to connect your entire community to your social accounts such as Facebook, Twitter, Google+, and more. This allows them to see what you post in your own portal, as well as on other social networks. Furthermore, your own community has support for login via these different networks to ease out the registration process.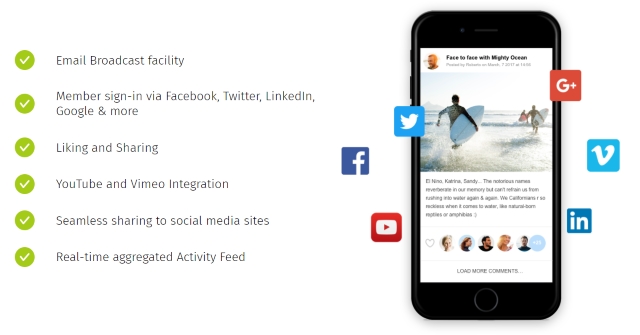 While Ning is great for non-tech users, even customers with technical knowledge will find it great. Apart from having multiple design templates and a design studio, the platform also offers its users the ability to create their own design, the way they wish to. It is, after all, your own network, and you should have all the control, and Ning gives just that to you. If you have knowledge of HTML, CSS, and JavaScript, you can implement your own custom web pages.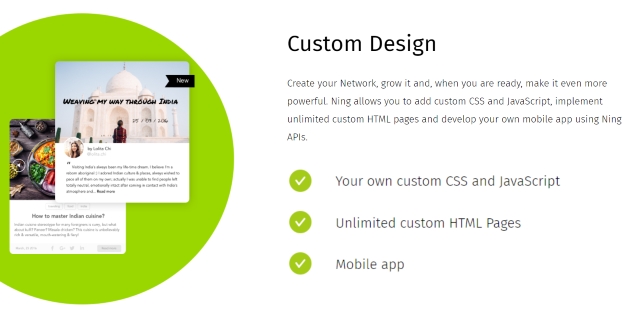 In a world where everyone uses their smartphones, simply having a social network online will never be enough. You need to make it more accessible for a wider scale of audience. The team behind Ning understands that, and all the web pages created using the design studio feature a responsive design which utilizes HTML5. As such, all the web pages of your social network can easily be accessed on a desktop, tablet, and smartphone alike. Additionally, having a dedicated mobile app for your social network always helps. Thankfully, Ning provides its customers with its own set of APIs, that ease out the entire task of creating your own app. Yes, you'll still have to build your own app, so you do require coding for that. But the fact that you have a dedicated set of APIs really makes the process easier, allowing for efficient implementation.

Your portal might be great, but it is pointless if it doesn't get attract a decent amount of traffic. As such, Ning provides with a Lightweight Analytics tools to allow you to see how your community is growing. It also allows you to see your most interested members to further motivate them. Additionally, Ning's platform provides its users with easy-to-use SEO tools that help you create a network that gets ranked well as well.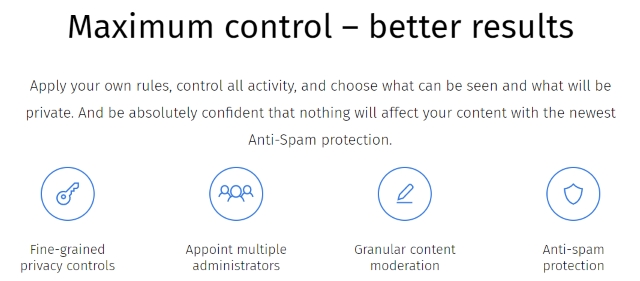 With Ning, you can create your own community of users. Your community can be public, private, or even a members-only club. You, the admin, will have complete control over everything, and can even assign roles to various other members of the community. With fine-grained privacy controls, you have the ability for granular content moderation. Furthermore, networks built using Ning also feature anti-spam protection to help maintain quality standards.
That's not all, Ning recently introduced the "Paid Access" and "Donations" feature to help users monetize their communities. While the Paid Access feature is designed to monetize all kinds of communities, the Donations feature is aimed to help non-profit communities. The Paid Access feature is now out for beta testing and it should be available for all communities by November.
Overall, if you consider all the features mentioned above, you'd require a lot of technical knowledge and tons of hours to even set things up. Thanks to Ning, you can get started in just a few minutes, and build your own fully functional social network in no time.
Pricing Options
Quality doesn't come cheap – I think we've all heard that line somewhere. While true in most cases, I highly doubt if the same can be said for Ning. For the plethora of features the team offers, their pricing is quite affordable. The Basic plan starts at a mere $25/month, and you can upgrade to their Performance plan for $49/month. Lastly, we also have an Ultimate Plan which is available for $99/month, but it's best to first try out either of the first two plans to help grow your network first. Despite the difference in the price tags, the only difference that lies between the 3 plans is the amount of load the network can take in, and that's it. There is no lack of support or features in either of the plans. Additionally, you can even choose to avail a 14-day trial of any plan you like. For a detailed comparison of the plans, make sure to check out their pricing options here.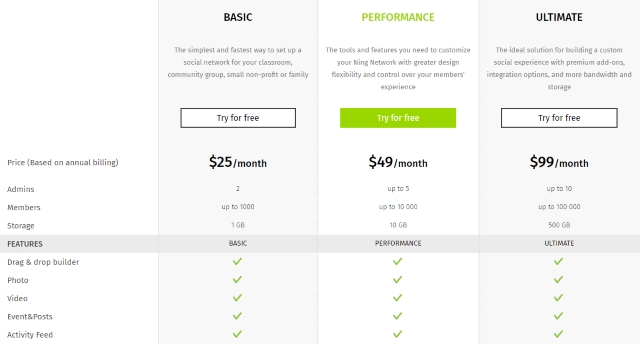 Ning: Worth it or Not?
Ning proves to be a great platform for building your own social media and connecting a group of users with similar interests. It offers a plethora of features and support, that too at superb prices. With Ning, you can create a social network that meets your unique requirements, unites people within your own inner circle, and expands your global influence.

Pros:
Easy to use tools
Efficient Design Studio
Affordable Rates
Cons:
User needs to own their own domain
Create Your Own Social Network Using Ning
Ning establishes itself as the simplest and easiest way to create your own social network with just a few clicks. While there are other portals that offer solutions to create your own website, Ning takes things to a higher level. It eradicates the need for coding or any technical know-how at all and makes everything easy as pie.
Visit Ning here
---
Load More