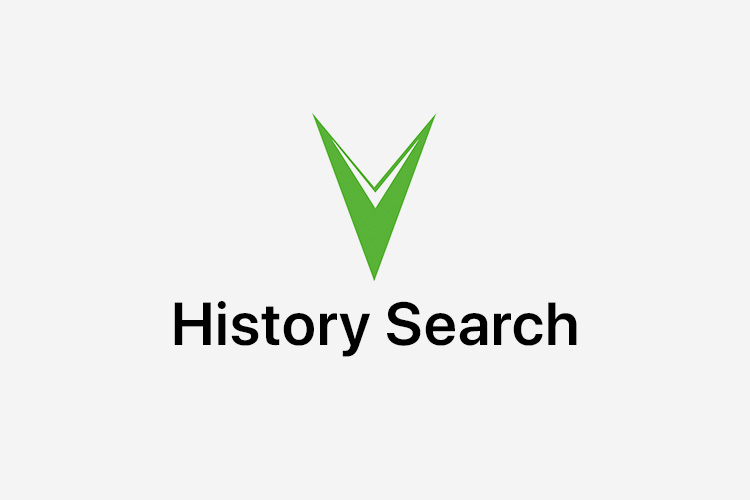 There are times when we find it difficult to recollect the source of an article or a website that we have visited in the past. Yeah, using the inbuilt history feature combined with Google's seamless sync across platforms can solve this issue to an extent but the real problem arises when someone uses multiple web browsers based on his/her needs. In this case, there is a solid chance of the link getting missed out and it can be really frustrating. To get around this, there is an app named History Search which offers history sync across most of the famous web browsers.
History Search helps users efficiently keep track of their information online. One can find their web activity by searching the keywords related to it regardless of the browser used. Sounds pretty simple, right? Setting up History Search is simpler. To get started, visit their website and create an account on History Search. You can also sign up with your existing Google or Facebook account. If not, the website also offers you the option to use your email to create an account.
Once the account is created, you'll need to install an extension or add-on to give history access to History Search. After installing the extension, History Search starts automatically indexing all the web pages you visit. It is worth noting that you can view the existing history even if you don't have the extension installed on your web browser.
According to the official page, History Search currently supports Chrome, Safari, Opera, Firefox, and Edge. For those who switched to Chromium-based Edge, I tried installing the extension on the latest Chromium Edge Dev and it worked just fine.
The coolest feature of History Search is that it provides a visual preview of the webpage without even clicking on it so that you can quickly sort websites out without the hassle of visiting all the shortlisted webpages to find what you're looking for.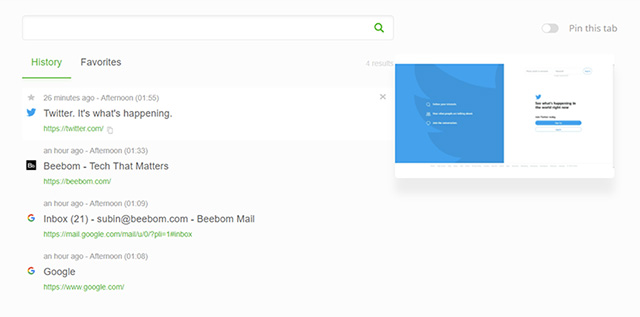 Another amazing feature in History Search is its integration with Google Search results. So you can search for keywords in Google, and History Search will show you which links you clicked in the past for that keyword.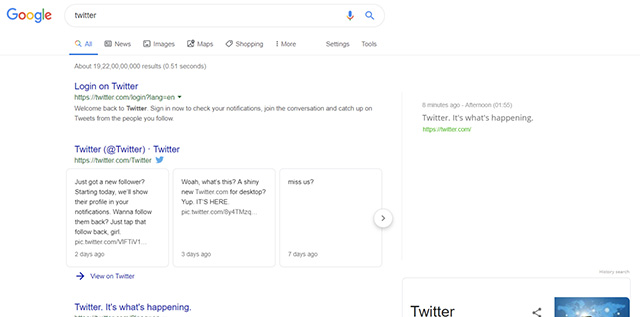 You can also search by providing date filters so that the website lists the history occurrences for that particular keyword in the specified time frame. You can also import your older search history to the tool.
Removing Results from History Search
To remove a web page from the History Search index, you have two options. You can either remove that specific page or remove all web pages from that specific domain. In case you are sharing your PC with your friend, or a family member, you can pause automatic indexing instead of opening an incognito tab or switching to a guest profile so that their usage pattern does not interfere with yours. However, their usage will be recorded in the browser's default history.
There is also an option to blacklist specific URLs that you don't want History Search to index. In case you want to get a local copy of all your web usage history for some reason, you can export it as a CSV file, which can come in handy.
History Search also offers two Premium plans – Personal and Professional. In the Personal plan, you can store up to 30K recent pages with 15K imports while the pages and imports are unlimited in the Professional plan. A monthly subscription will cost $3.99 on the Personal plan and $5.49 on the Professional plan. There is a 25% discount if you opt for the annual subscription plan.
So, are you interested in having all your web history combined into one place — that sounds like both a boon and a bane, doesn't it?
Check out History Search (website)
---