In the modern world, browsing the internet is equivalent to entering an uncharted wildland, where a single wrong click can lead you into a trap of crypto-mining malware, adware, data theft, unsafe content and a lot more. In a bid to contain the threats, Google created the Safe Browsing service and integrated it with the Google Play Protect platform to safeguard users. The same has now been introduced as a default feature in WebView on Android apps.
Google has announced that all Android apps based on WebView API for parsing URLs and displaying web content will now come with Safe Browsing as a default background feature courtesy of Google Play Protect.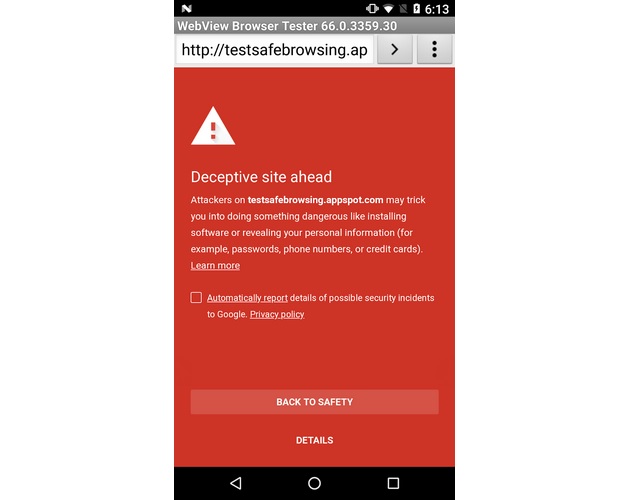 Today, we're announcing that Google Play Protect is bringing Safe Browsing to WebView by default, starting in April 2018 with the release of WebView 66.
What is WebView?
WebView is basically a low-key browser embedded inside a mobile application that is used to display web content directly in the app without opening the browser app. Thanks to Google's new move, Android apps with WebView APIs embedded in their code will now come with Safe Browsing as a default protection protocol, which means developers will no longer have to manually integrate the Safe Browsing service in their apps.
Advantages of Safe Browsing
Safe Browsing is blacklist service which maintains a database of URLs that host malicious content, and that same list is referenced by browsers to check the web pages for potential threats. As per Google, Safe Browsing currently shields more than 3 billion devices from threats originating via web browsing, and its integration into WebView will not only boost the numerical figures, but will also make web browsing significantly safer for Android smartphone users.
Now that Safe Browsing will be present as a default protocol for WebView apps, whenever users are directed to a blacklisted URL, the app will come up with a warning message to discourage users from visiting the malicious webpage.