Google has just recently launched a brand new podcasts app on the Play Store, and has also (obviously) integrated the service with the Google Assistant on both smartphones, and Google Assistant powered smart speakers. Being the obsessive-compulsive app downloader that I am, I installed Google Podcasts on my phone and checked it out. Here are my thoughts on the new Google Podcasts app.
User Interface: Material Design 2 Is Stunning
The first thing I noticed on launching the brand new Google Podcasts app on my phone was the interface, and boy if Material Design 2 isn't just the absolute best looking UI style I've seen in a while. Google has steadily been improving the Material Design UI it first pioneered with Android Lollipop, and with Material Design 2 it has improved the already pretty good-looking UI style by miles.
The Google Podcasts app is a treat to behold as far as the UI is concerned. Straight out of the box, the app puts podcasts up front. The app organizes these podcasts in categories like 'Top podcasts,' 'Trending podcasts,' etc, and there are a lot of podcasts on the home screen of the app. Still, the app manages to look inviting rather than giving you a sensory-overload. This, I think, can be chalked up to the fact that Material Design 2 uses nice, big card-styled layouts with neatly curved corners and plentiful white space.
Subscribed podcasts are placed right on top, which makes sense, and just below that is a 'For You' section showing New Episodes along with tabs for the episodes you're currently listening to, and downloaded episodes (if any).
Overall, the Google Podcasts app is a very neatly designed app that manages to put everything in one place and still not look too daunting a prospect to tackle.
Searching for Podcasts: Your Search Ends Here
The Google Podcasts app is very different from most other podcast apps out there. While other apps use multiple screens (including screens for Categories, Search, et al.) to surface information, and separate sections of the app, Google Podcasts doesn't have any other screens to look at. The search button is right up there on the top-left, the search functionality is really good, and there is a huge variety of podcasts to listen to.
Google Podcasts already has some of the most popular shows including The Daily, Modern Love, The Daily, and more. Plus, the search is top-notch. Looking for something related to cars? Simply search for 'cars', and you'll be shown a bunch of podcasts that talk about cars. Interested in learning about history? Just search for that. There are a lot of choices on Google Podcasts already, and since this is Google we're talking about, I'm pretty sure this collection will only grow bigger with time.
Plus, the app uses your listening habits to learn about the kind of podcasts you like, and over time will start showing up suggestions that are better suited to your preferences. So if you listen to a lot of tech-podcasts, the app will show up more of those for you to check out. However, since this is machine learning based, it'll obviously take some time for the app to properly learn and understand your preferences and choices and surface podcasts accordingly.
Playback: Simple, and Synced Across All Your Devices
Once you've subscribed to all the podcasts you love and want to listen to, the next most important thing is how the app handles playback of the podcasts themselves. As it turns out, Google Podcasts does a remarkable job when it comes to listening to podcasts as well.
The basic idea is the same as it is with every other podcast app, tap on the podcast episode you want to listen to and the app starts playing it. However, Google's podcast player is a nice little drag-up card instead of a full page hogging up your entire screen. There are controls to play/pause, skip forward and back, a button to get to the podcast's details page, and a button to control the playback speed. This can be adjusted between 0.5x to 2x which should be good enough for most people.
The app also puts up a persistent notification when playing back podcasts and this notification uses all of Google's notification capabilities in one go. There are the same buttons to control playback of the podcast, and the notification itself uses the podcast's image as the background resulting in a beautiful looking notification that is also functional. The controls are extended to the lock-screen as well, unless you've hidden notifications on the lock screen, and there too, they show up with the podcast thumbnail.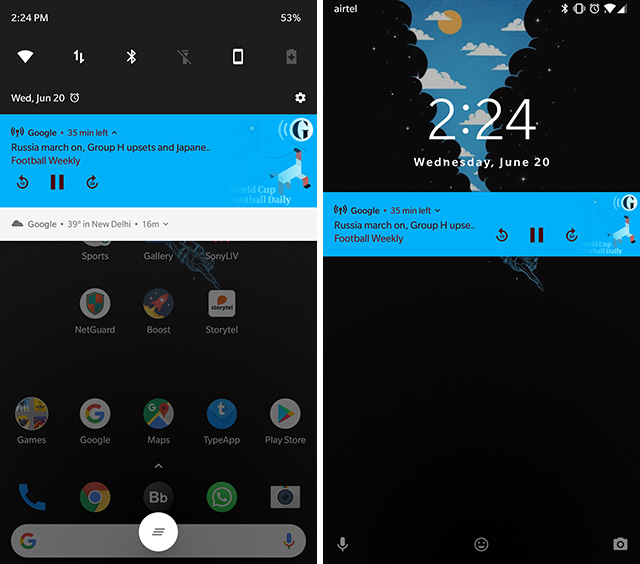 However, the most interesting part about Google's podcast app is that it syncs your progress across all your Google devices. So, if you have a Google Assistant powered smart speaker at home, you can continue listening to the podcast on your smart speaker from directly where you left off on your phone. It's pretty cool, and definitely a feature I would love to have if I was using a Google Home instead of the Echo Dot I actually use.
Future Upgrades: AI… AI… More AI
It's no secret that Google is going all in on machine learning and AI, and that shows in the future upgrades that Google is planning for the app. Over time, we might get to see exciting new things like automatic subtitling of podcasts using speech-to-text functionality. According to Google's blog post, the company might even start using Google Translate in the app to automatically convert the subtitles into multiple languages.
While Google hasn't put forth its entire roadmap about the future of Google Podcasts, I'm pretty certain that the app will only get better with time, and that implementing more AI powered features in the app will make the experience more exciting and inviting. For that, though, we'll have to wait and see.
SEE ALSO: 10 Best Podcast Apps for Android You Can Use (2018)
Google Podcasts: A Beautiful Podcast App Worth Your Time
In conclusion, the Google Podcasts app is definitely something I can recommend to anyone. For someone just getting into the world of podcasts, the Google Podcasts app offers a neat and clean interface, along with a search functionality that's easy to understand, making it far easier to dive into podcasts wholeheartedly. For people who've been listening to podcasts for quite some time, while I'm sure you already have apps that you're used to and love, I'd still recommend giving Google Podcasts a shot. It has all the great features you may need in a podcast app, and it has an interface that is unmatched by almost any podcast application out there.
Download Google Podcasts from the Play Store (Free)
---
Load More