A new update to the Google Play Store is out, and 9to5Google's APK teardown of the new update throws light on some of the changes that Google is working on for the Play Store. Here's everything new that was spotted in the APK teardown:
1. Material Theme Redesign
Google has been working on a new Material Design for all of its apps, and while some of them have already started receiving it, the APK teardown for the Play Store update 16.0.15 shows that the Play Store is also playing around with the new design.
With the new design, the entire Play Store looks more clean and minimal, the green top navigation bar has been removed, and now, the app listings look even better thanks to the Google Sans font that is being used, and rearranged elements in the store.
There's also a new animation for when you tap the Install button on an app. The full-width button animates out with the 'Open' and 'Cancel' buttons sliding in smoothly, something you can see in the video below.
Apart from that, Google has also redesigned the developer-page inside the Play Store, which now looks like this:
2. Autoplaying Videos
The teardown also reveals that the videos shown in the Play Store's homepage might auto-play in the future. However, there might be an option to disable that setting for people who don't want autoplaying videos in the app.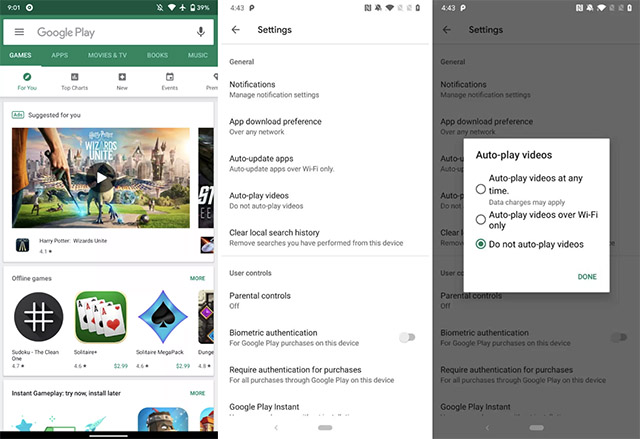 3. Play Protect
According to strings spotted by 9to5Google inside the decompiled APK, the Play Protect feature might soon enable more descriptive descriptions. Here are the strings spotted in the teardown:
<string name="play_protect_kept_detoxed_app_card_body">This app is not safe and has been removed from Google Play.</string>
<string name="play_protect_kept_detoxed_app_dialog_title">Unsafe app enabled</string>
<string name="myapps_security_one_enabled_detoxed_app_uninstall_prompt">Uninstall unsafe app</string>
Clearly, the Play Store is working on implementing some cool new stuff. However, bear in mind that features observed in APK teardowns are not guaranteed to ever actually be made available to users.