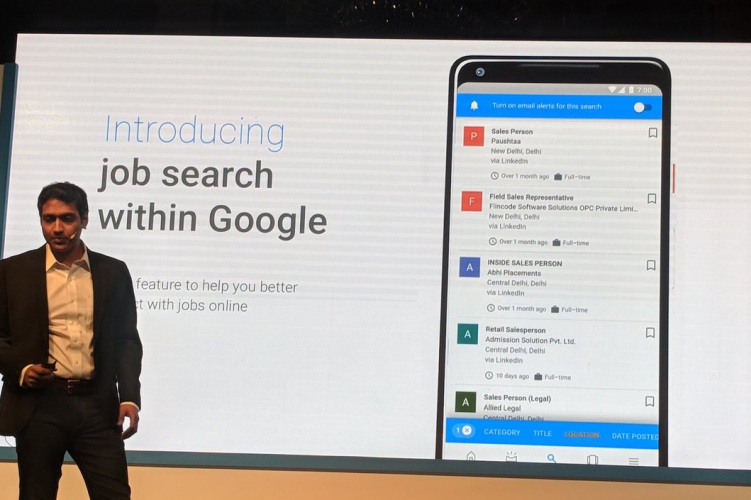 Finding a job can be a pain in the butt, especially if you don't want to fork over for LinkedIn premium or pay a headhunter massive fees. Google is looking to solve that by rolling out its jobs search feature in India today. This new search is already live on Google search and shows you results as well as in-depth filters to make job hunting much easier.
The feature in India works the same way as it does abroad, which is to say it's a search away. You can search using terms like for 'jobs near me' or 'jobs for freshers' to see a card of relevant job openings at the top of the search results. You can even add a qualifier such as 'editor jobs near me' to get only relevant job listings. As usual you will get a bunch of search filters, such as job title, location, duration, and clicking on the more jobs link takes you to a dedicated search page for jobs.
There are two other impressive features baked into jobs search. You can filter your search results on the basis of distance (or ETA from your location) to look for jobs in proximity, and you can bookmark openings and get back to them later. The job search feature also enables you to set job alerts, which you will see in your Gmail inbox.
Google is not doing all the heavy lifting itself; it has partnered with several organizations including Aasaanjobs, Freshersworld, Headhonchos, LinkedIn, IBM Talent Management Solutions, Quezx, QuikrJobs, Shine.com, T-Jobs, TimesJobs, and Wisdom Jobs from across the industry.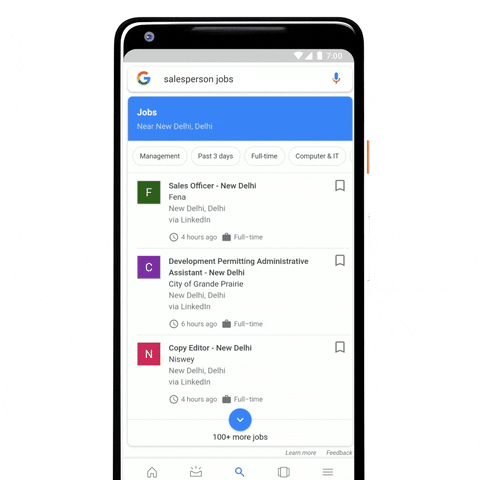 The search results will also show job opening straight from official company websites in the next few weeks.
Google claims that you can see more than a million listings in India, across job types and industries from over 90,000 employers already. "With this new experience, we aim to connect Indians to numerous opportunities across the country. No matter who you are or what kind of job you're looking for, it will now be easier to find job postings that match your needs and skills," said Achint Srivastava, Software Engineering Lead, Search Engineering Team.
The jobs search experience is now available in English on the Search app on Android and iOS, as well as in Google search on both desktop and mobile.
---