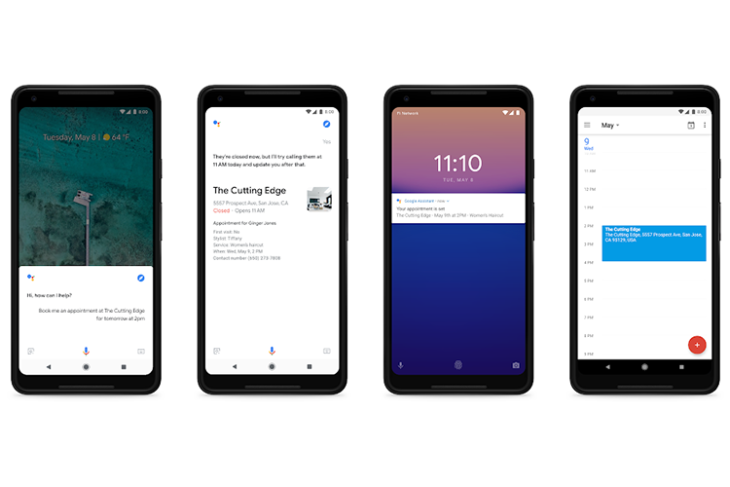 What is the future? In many ways, Google showed us today with the Google Assistant at I/O 2018. On stage, CEO Sundar Pichai looked optimistic when introducing it to us and perhaps he was quietly thinking to himself: "these guys have no clue what's about to come".
And so Pichai proceeded to play an audio recording of a phone call between a person and a restaurant about a reservation. The conversation continued as any reservation call would and there was a lot of back and forth before it ended.
The whole thing would have been unremarkable, if the person making the call were actually human. Instead, the call had been made by Google Assistant, trying to make a reservation for you at a restaurant which only accepts bookings on call. You can hear the Google recordings of these calls here.

Yes, Google Assistant will soon be able to make calls for you to make certain bookings and reservations. These calls will be made in the back end and you will never hear them; they won't even have your phone number according to Google. And it seems to work already for certain use cases such as making salon or restaurant bookings, but only for some users.
The technology – called Google Duplex – will soon be coming to select users of Google Assistant, and that it's not yet ready for prime time, seeing as there is a lot of ground to be covered. All we know now is that not everyone will be able to use Duplex to make these secret phone calls using Assistant. 

Google said on stage that since it's a new and fantastic technology there's always room for improvement, and that roll out will take time.
Duplex uses the new voices that have been built for Assistant, and which will debut soon to make the conversation sound more human. It even pauses and stretches words to make it seem like a natural phone call, so it's definitely not the robotic voice one would expect from something like a phone assistant.
"We think of it as, 'What's a perfect assistant? When I want an assistant with me, it's there. It's always ready to help. I don't worry about 'Can my assistant do it or not'? My assistant can do anything I want it to do." Nick Fox, vice president of product and design for Google Assistant and Search, told CNET.