GoPro may be down, but it's certainly not out of the game just yet. The San Mateo, California-based company is reportedly planning to launch an all-new action camera called the Hero 7 later this month, and the device is now believed to have been leaked in the form of an in-store display.
Originally posted on Reddit (via Imgur), the images have since apparently been removed, but not before being saved by The Verge. The photographs reveal very little info about what to expect from the upcoming device, but does seem to suggest that it will be launched in three different colors – white, silver and black – and will be waterproof up to a depth of about 10 meters (33 feet).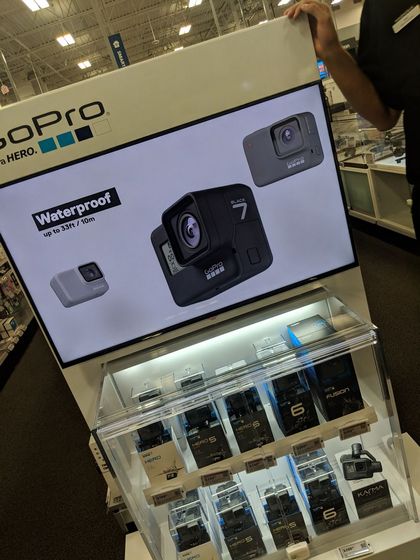 It's worth noting here that like some of the previous-generation models, the Hero 7 will also seemingly come in a number of different options if the images are anything to go by. As can be seen, the black version will apparently ship with a front-facing display while the other two will seemingly skip the feature. It's not immediately clear, though, if there will be more differences between the three models.
Go Pro has been having a tough time over the past couple of years, with declining sales and falling revenues. The company's revenues of $1.2 billion in the last fiscal is barely at the 2013 levels, and are significantly below the peak of $1.6 billion the company had hit a couple of years ago.
The stock prices also reflect the ongoing turmoil, and have been on a downward spiral with no apparently end in sight. From a high of nearly $90 in late 2014, the compay's shares are now trading more than 90-percent lower, closing at just over the $6 mark on the Nasdaq last week. It will be interesting to see if the new product(s) will be able to turn things around for the struggling camera-maker in the coming months.