The global PC market has been on a decline for the past six years, with the only ray of hope appearing in the previous quarter when PC shipments did not fall and the industry recorded a flat growth. According to a new report from global research and advisory firm, Gartner, the worldwide PC industry is on a path to recovery as worldwide PC shipments have recorded a growth for the first time in six years in Q2 2018.
As per Gartner's report, the global PC shipments grew by 1.4% on a YoY basis, with 62.1 million units shipped in the second quarter, with all regions recording an increase in shipment figures. However, a Gartner analyst predicts that the rise in shipments is not an assurance that the global PC market is back on road to a sustained growth.

"PC shipment growth in the second quarter of 2018 was driven by demand in the business market, which was offset by declining shipments in the consumer segment", Mikako Kitagawa, Principal Analyst at Gartner was quoted as saying. She added that consumers now gravitate towards smartphones for a wide range of tasks such as surfing the web, managing their social media presence, banking, etc. which is why the reliance on PCs has decreased and it has taken a toll on PC sales across the globe.
"India, Indonesia, Thailand and other emerging markets in Asia showed improvement in the commercial segment due to demand for replacing aging PCs and upgrading to Windows 10," the report stated.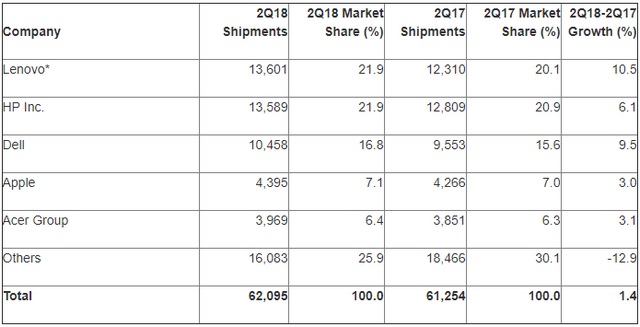 However, the Gartner analyst predicts that the momentum of growth in PC shipments, especially in the business segment, might come to a halt in the next couple of years as the Windows 10 upgrade cycle gradually diminishes. As far as brand-wise shipments are considered, Lenovo shipped 13.60 units in 2018's second quarter to top the global PC shipment chart with a 21.9% worldwide market share, and is trailed by HP which shipped 13.58 million PCs in the same quarter. Dell, Apple and Acer Group round off the top five list of the world's largest PC vendors in terms of shipment figures.