I play a lot of mobile games. Seriously, I do. I must have played more mobile games than the rest of the team here at Beebom combined, and yes, I'm shamelessly proud of it.
The thing is, mobile games bring a kind of flexibility that PC or console games don't (unless you're playing on a Nintendo Switch because damn that thing is awesome). However, there are games that I haven't yet played simply because I couldn't justify spending my money on something I'll play for a couple of days at max.
Take Lara Croft Go, for example, Square Enix has had that game on Android for a long time, and I had never played it simply because I knew I'll play it for a day or two and then switch to a different game. Hitman Go is yet another game I had never played for the same reasons. But that was before I knew about GameStash.
GameStash: Monthly Subscription for Unlimited Mobile Gaming
GameStash is a monthly subscription that offers you over 300 games to download for free. Not only are the games free to download, there are no ads, and you get $5 for in-app purchases, along with $1 every day you log in.
Before I installed the GameStash app, I registered myself on their website, after which I downloaded their release APK, installed it on my phone, and signed in.
UI & UX: Surprisingly Amazing
Let me tell you, I was really happy to see the interface of the GameStash app. It's neatly arranged, well designed, and the purple and white color theme going through the app is lively and gives off an energetic vibe, which is awesome since this is an app for gaming.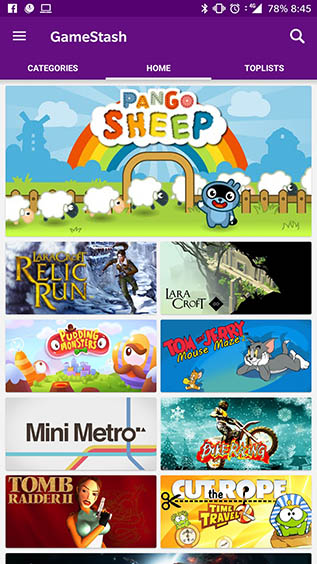 You can look for games by categories, or you can head over to the 'Home' tab and check out the most famous games, and believe me, GameStash has an amazing collection of games available for free.
Category-wise, the games are arranged into the usual categories. You can check out games from any of the following categories:
Action
Adventure
Arcade
Brain & Puzzle
Casual
Kids
Racing
Sports
Strategy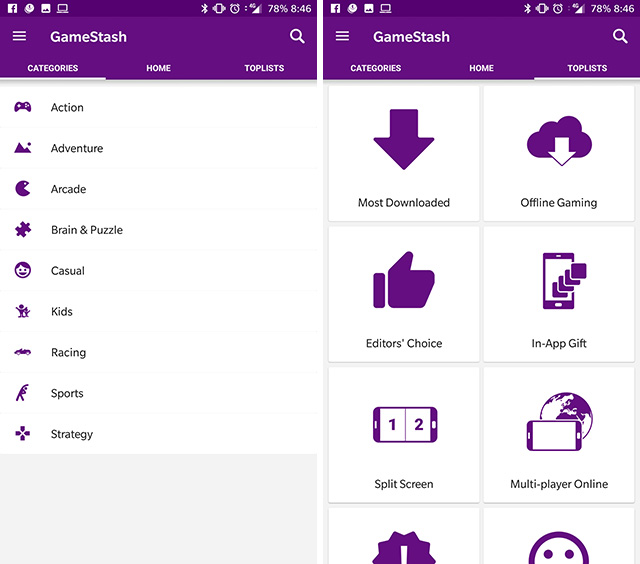 If that's not what you want, you can head over to the 'Top Lists' tab in the app, where you can sort games by the following categories:
Most Downloaded
Offline Gaming
Editors' Choice
In-App Gift
Split Screen
Multiplayer Online
Newest
Trending
Best Rated
There's also a 'My Apps' category in the 'Top Lists' tab, but that's basically just all the games you've installed on your device using GameStash.
I tried out Hitman Go, Lara Croft Go, an ad-free version of Subway Surfers, Worms 4 and more games thanks to GameStash.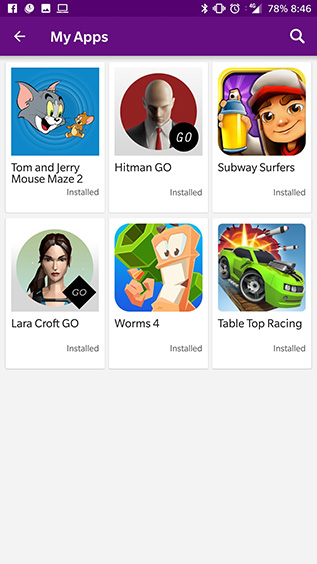 Everything about GameStash, from the app's design, to the installation process, to the awesome perks it affords you, is perfect; and at $4.99 a month, this service offers a lot more than can be expected.
GameStash: Pros and Cons
In the first two days itself, I played games that were worth way more than $4.99… I mean, Worms 4 itself is $4.99.. add Lara Croft Go, and Hitman Go to the list and I've played games worth $6.97 in two days (and I got $5 for in-app purchases in each of the two Square Enix games, making my gaming experience actually worth ~$16). But, as with every service, there are pros and cons to it. So let me take you through them.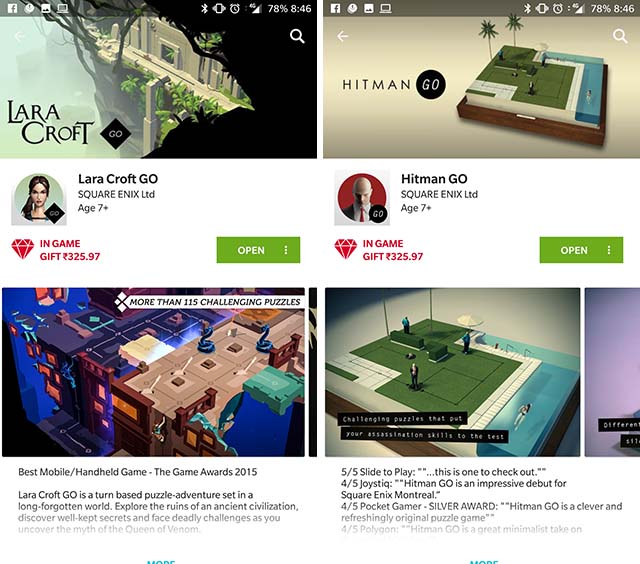 Pros:
Unlimited free gaming on your mobile
Great selection of paid games for free
Login rewards that you can use for in-app purchases
ad-free gaming in ad-supported games
easy to use interface
hassle free installation of games
30-day free trial is awesome
Cons:
The monthly price of $4.99 might be a tad too much if you don't play a lot of paid games.
Some awesome titles like Limbo, Bully, etc are not available on GameStash.
Conclusion: A Compelling Subscription for Avid Gamers
Looking at the pros and cons of this service, I think it should be pretty evident that there are a lot of good things going here for GameStash and only some minor issues. Obviously, if you don't play a lot of paid games, GameStash makes little sense for you, or if you're looking for games like Bully, or Limbo. However, you can always check their website to see if the games you're interested in are available on the GameStash website.
If you're the kind of person that likes to play a lot of mobile games and is open to trying out new games very often, I'd say GameStash is definitely something you should try, and with the free trial, I'm sure you'll not lose anything at all even if you don't like the service, even though I can't think of a reason why.
You can sign up for GameStash on their website, the service is currently $4.99, but it'll be increased to $6.99 once it's out of beta, so sign up right now for better pricing options. Also, whether you decide to give GameStash a shot or if you think it's not useful to you, do let me know about your thoughts on this amazing service in the comments down below.