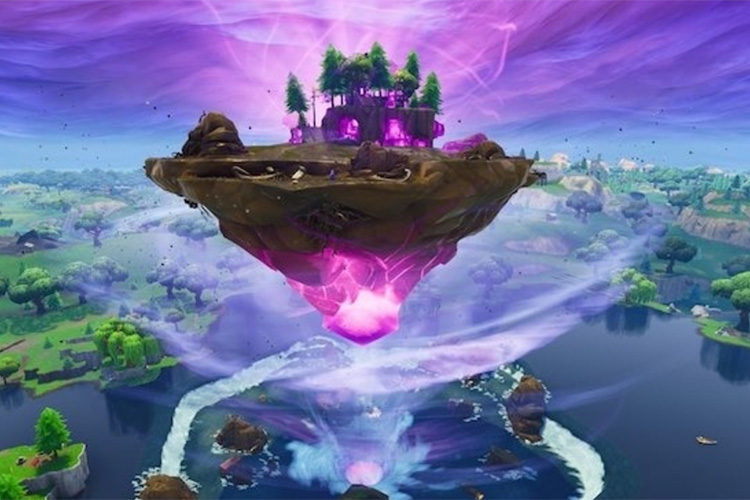 Anyone who plays Fortnite or who has followed Fortnite news in the last couple of months has definitely heard of the 'Cube.' Christened 'Kevin,' the Cube first appeared out of the rift that opened up in Season 4, traveled along the map leaving behind giant runes that created a low gravity area around themselves, and finally drowned inside Loot Lake at the end of Season 5.
Since then, the Cube has lifted a part of the Lake above the ground (that was actually the Season 6 movie), moved around the maps to create tiny floating islands above each rune, and is now back above the Lake where it now looks like it's once again up to something weird.
According to screenshots and videos (of which there are many), there's now a weird purple light shooting up into the sky from the cube and even though there's no knowing what's about to come, fans and players have their own sets of theories about it, complete from the rift opening up again to bring back the Visitor and the rocket, to the hope that the map from Season 3 makes a return with Dusty Depot.
Rift opens from that beam, rocket and visitor return

— Zak (@linglingzak8) October 21, 2018
It's going to leaky lake then use the gravity to suck up all the water and bring it to dusty until it will all fall and be called seven seas just as it said in the leaked files? Don't ya think?

— IamBlueMatter (@IamBlueMatter) October 21, 2018
Theory 1: The beam will re open the crack, the rocket will come back down and crash into the island breaking it and it will enter the hole in the lake
Theory 2: The beam will open the Perma Rift up and the rocket will come back through the hole in Leaky Lake

— NinjaGamer8704 (@NinjaGamer8704) October 21, 2018
The purple-light event was a one-time thing, like the rocket launch, and if you missed it, as I did unfortunately, you'll be glad to know that as usual, there are a ton of videos of the event unfolding courtesy of players who were in the game when it happened.
Today's event pic.twitter.com/9dgVlXX10a

— Happy Power (@HappyPower) October 21, 2018
So, what do you think the Cube is up to now? Share your thoughts down below and let's discuss some of these crazy events unfolding in Fortnite now.
Featured Image courtesy: FNBRLeaks