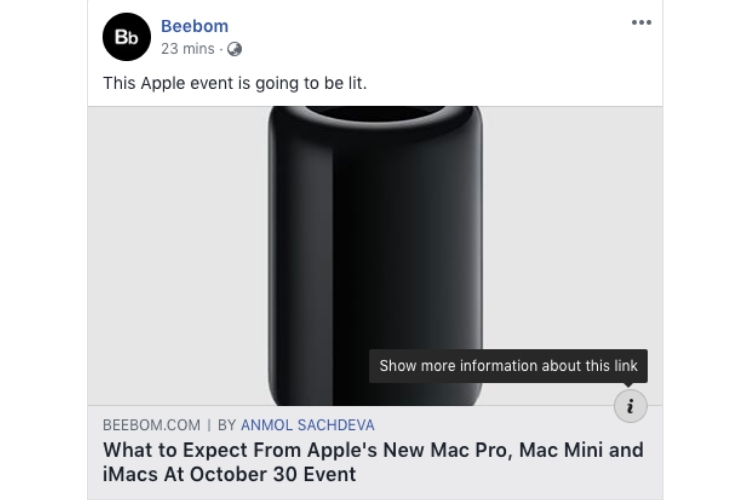 Facebook has been attempting to combat the spread of fake news for a while now and new feature additions for the same find their way to the platform every so often.
Facebook already has fact-checking programs and other features in place for its fight against fake news but while scrolling through the News Feed, we today spotted a new feature that could come in handy for weeding out unreliable news sources.
Now, when you see a shared link on Facebook, you'll see a new round 'information' icon appear next to the title of the story on the right. The icon expands on hovering and tells that you can learn more 'About this website,' along with text suggesting you to click this icon to see 'more information about this link.'
On clicking the 'i' icon, you will see a pop-up window that notifies you of the reliability and authenticity of the organization who has posted the link. Facebook even tells you how long ago the said domain was registered, which is five years ago for Beebom.com, by pulling data from ICANN's WHOIS domain information tool.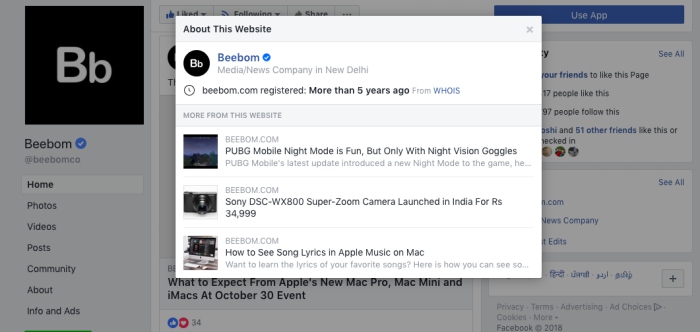 As you can see in the screenshot above, the pop-up window also show additional links that have been posted to Facebook by this organization – be it a media outlet or not. This is the latest attempt on the social media giant's part to make its massive 2 billion user base more aware of what content they're consuming and whether it comes from a reliable source or not.
This is another step from Facebook to stop false and misleading news from spreading on their platform.
---