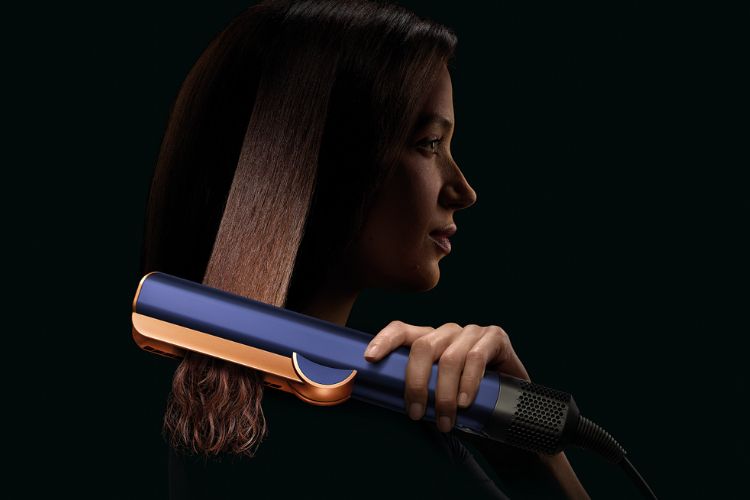 Dyson has added a new hair straightener, the Airstrait to its portfolio globally. What may catch your attention is its ability to straighten the hair even when wet. Sounds pretty hassle-free, right? Check out all the details below.
Dyson Airstrait: Specs and Features
Dyson's new Airstrait hair straightener works in a way that dries the tresses while straightening them. This acts as a sigh of relief as there's no need for using a hair dryer first.
How does this work? The machine comes with two arms (with 1.5mm apertures), which create a high-velocity 'blade of air' at a 45-degree angle. This flow of air helps the straightener work its magic without the heat coming into play as there are no hot plates.
The Airstrait has a heat control feature, which ensures the temperature of the airflow isn't much so that there's lesser damage to the hair and frizz/flyaways. Plus, the natural shine is also maintained.
As for the technical details, the Dyson Airstrait has a small and compact Hyperdymium motor. Its 13-blade impeller spins up to 106,000rpm, which can release up to 11.9 liters of air per second and generates up to 3.5kPa air pressure, sufficient enough to straighten and dry the hair simultaneously.
The device comes with Wet and Dry modes. The Wet mode has three heat settings (80°C, 110°C, and 140°C) and the Dry mode has two (120°C and 140°C). Airflow can be low or high. There's a Cool mode to set the hair.
Price and Availability
The Dyson Airstrait straightener is priced at $499.99 (~ Rs 41,000) and is available in the US. It remains to be seen whether or not it will reach India. Stay tuned to this space for more details on this. Do let us know if you are willing to buy the new Dyson straightener in the comments below.
---