The last time I reviewed a smartwatch, it was more about getting the basic health features right. But in 2022, these health features are still there, but the focus has shifted to an aspect that's rightly considered as important as owning a smartwatch: Bluetooth Calling. It would be safe to say that wearable brands' advertisement tactics heavily rely on this feature. And when you get the ability to call people from a watch on your wrist for under Rs 10,000, who won't be enticed? Realme's TechLife brand Dizo recently unveiled the Watch R Talk with perks like Bluetooth calling, an AMOLED display, and more at half that price (just Rs 4,999). Intrigued, I decided to test this watch and see how well it fares when there's a truckload of smartwatch options in India. Let's find out if the Dizo Watch R Talk is worth your time.
Dizo Watch R Talk Review (2022)
The review will talk about the design, performance, what Bluetooth calling was like, and more aspects in detail. In case you wish to check out a specific section, use the table below.
What's in the Box
The Dizo Watch R Talk comes packed in a small box, which doesn't include a lot of items. There's the watch, the magnetic charging cable, and an instruction manual for you to get started. That's it!
Dizo Watch R Talk: Specs Sheet
Dizo Watch R Talk
Specifications
Dimensions
26.6 x4.67 x 1.35 cm
Weight
61.3 grams
Display
1.3-inch circular AMOLED
360 x 360 pixels, 550 nits brightness
Sensors
Optical Heart Rate sensor, SpO2 (Blood Oxygen Saturation) sensor, Accelerometer
Supported Features
Bluetooth Calling, Smart Controls, Health Tracking
Battery Size
300mAh; lasts up to 10 days
Charging Mechanism
Magnetic; takes up to 150 minutes
OS Compatibility
Android and iOS (Dizo app)
Colors
Classic Black, Silver Grey
Price
Rs 4,999
data sourced from Dizo Watch R Talk Flipkart listing
Design and Build
From a far-off glance, it would be easy to misconstrue Dizo Watch R Talk as a Samsung Galaxy Watch. A metal frame, combined with different detailings like a dial rim around the display, makes it a premium-looking watch on a budget. But the dial rim here isn't touch-sensitive or rotatable like the Galaxy Watch, making it just another addition to enhance the premium look and feel.
Moreover, you get to choose between Classic Black and Silver Grey colorways, and you can never go wrong with either option. Of course, the latter needs more care, given its light grey straps. I had the black variant with me, and I was sorted as it didn't require much care.
The watch has two physical buttons on the right side. The Home button has a red ring around it (also seen on the Galaxy Watch), whereas the other button lets you access the various sports modes. Sadly, a back button is not included, and you will have to use the Home button each time you want to navigate to a different option. And this was a persistent issue for me! The rear side has the charging pogo pins, the usual set of health-tracking sensors, and the "Dizo" branding.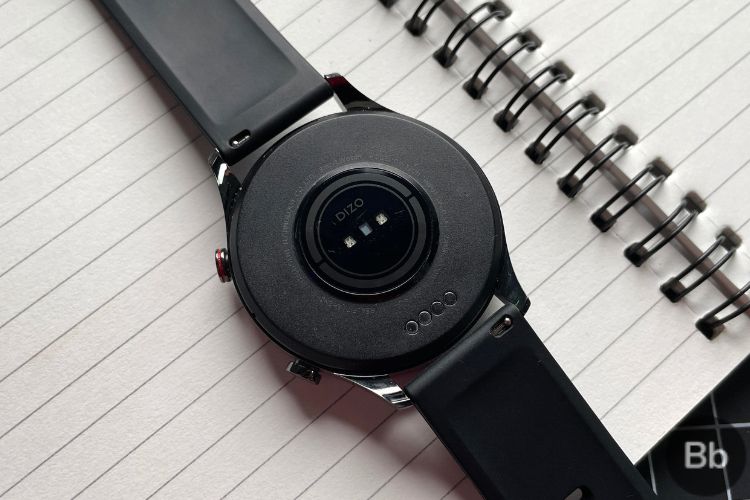 The buckle is also made up of stainless steel paired with silicone straps. This sounds like your usual smartwatch details, but you might be a little disappointed here. The compromise that you will see on the Watch R Talk is in the silicone straps, which feel cheap. This is also when you can easily tell that the watch is affordable.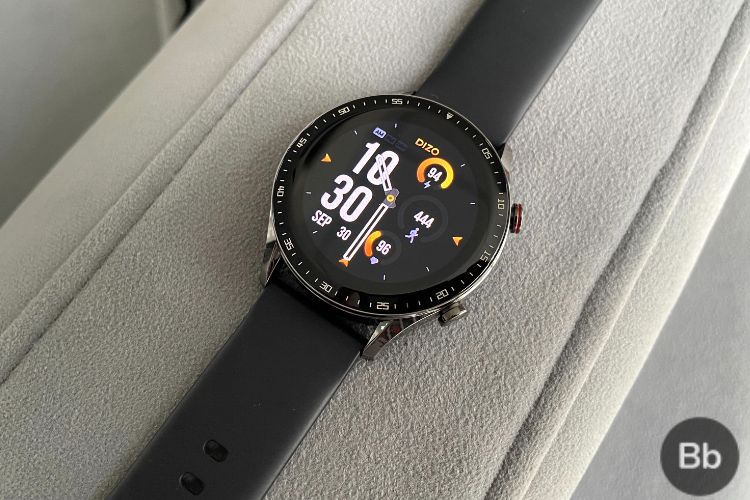 The build quality has to get some good points, despite the not-so-amazing silicon straps available. Wearing the smartwatch for hours will leave an imprint! Plus, comfort isn't always guaranteed. The watch felt too big for my wrist (a concern also aired by my colleagues), and I constantly knew I wearing one. This sadly made things uncomfortable for me at times.
I can't term Watch R Talk a unisex watch, for it can be bulky for many girls out there. But then, it's a subjective choice. The silver lining is that the straps won't hurt your skin or cause any rashes (at least in my brief week-long use). It's washable too, so sweat or water droplets while washing hands won't be scary!
Big AMOLED Display
Dizo Watch R Talk supports a circular 1.3-inch AMOLED display with minimal bezels. The AMOLED panel provides a crisp and detailed experience, which is more often than not ensured in budget smartwatches. The app icons and the colors are quite bright and crisp. It isn't the best, though, but expecting a display experience on par with an Apple Watch or maybe the Samsung Watch would be a long shot. For the price range, the display specs are pretty decent, and I'm satisfied with it.
The watch size is sufficiently big for a clear view. Scrolling through the UI is easy, and I never encountered problems while trying to access the various features the Watch R Talk comes with. It supports 550 nits of peak brightness, making the display pretty bright. Using the watch outdoors was never a problem, and the text visibility and navigation were easy. Indoors, I stuck to 50% of the brightness, and even that proved more than adequate. So props to Realme for using a great display on a low budget.
Another bell and whistle here is the presence of the Always-on-Display (AOD) functionality. You can enable the AOD clock and even decide the screen time. When enabled, this AOD does take a toll on the battery and drains faster than usual, as expected. I'm not a fan of AOD, so I didn't use it for a long time. New smartwatch users would appreciate the feature, though.
There are more than 150 watch faces to choose from, all coming from different themes in the Dial Market. You get the option to select and sync them to the watch via the Dizo app. Select a watch face, and it will be applied within a few seconds. The options are vast, but you can also make one for yourself, setting the font and photo you would want to see every time you lift your wrist to check the time. Sadly, the "raise to wake" feature wasn't as seamless as the one on my Apple Watch.
Bluetooth Calling
Gone are the days when people wanted a smartwatch to solely record their heart rate or blood-oxygen levels (remember the COVID times?) The latest talk of the town is whether or not your smartwatch lets you make calls via Bluetooth or not. And the Dizo Watch R Talk ticks that box as well.
The Bluetooth calling functionality is backed by a single-chip system, which Dizo promises will serve the purpose of stable connection during calls, lower power consumption, and noise-free calls. And well to that, I have to say Dizo Watch R Talk's calling feature isn't a gimmick. It is a pretty convenient addition and works well. The calls are loud and clear, and I was assured that calling via the watch didn't make a difference. Initially, I thought this feature won't do much, but a week later, it was surprisingly one of the most useful features here.
Now, even though it's good, the Bluetooth calling feature has its little quirks. It isn't fully refined and isn't consistent. There will be times when despite the incoming call displayed on my phone, I couldn't see the same on my Dizo watch. Plus, even when I aimed to talk via the paired phone, I faced connectivity issues. 
Nonetheless, this feature will come in handy when your phone isn't around, and you are getting a call that just can't be ignored. The watch has a dial pad and syncs the contacts too, so not having your phone with you won't be a problem anymore.
Performance and Companion App
The Dizo Watch R Talk, much like most smartwatches, comes with a companion app called the Dizo app. It's available on both the Google Play Store and the iOS App Store, allowing you to control things via your smartphone.
It's an easy-to-navigate app with every section neatly placed to let you easily access the functionality you want. There's a section to change the watch faces and to keep track of sleep, heart rate, and SpO2 numbers. Plus, the calorie and step counters are also displayed within the app. Other than that, the setting to turn on/off notifications, heart rate monitoring interval, and more can also be found here. As for people using a Dizo watch (or any watch for that matter) for the first time, this app makes things much simpler.
This also brings me to the setup process, which was smooth sailing. I just installed the app, enabled Bluetooth, and the Watch R Talk paired up seamlessly. I hoped for some hiccups with an iPhone, but that wasn't the case. Having said that, the app did log me out several times out of nowhere. So, that was annoying!
Besides the smooth interface of the Dizo app, the watch ran smoothly too. Playing around with the watch options wasn't laggy, and while I was expecting an affordable watch like this to have some annoying issues, I didn't encounter any. The whole experience was topped with a vibrant display too. Although I said this earlier, I certainly missed a back button, which could have made things smoother. The watch does support gestures but those are mainly when you enter the Settings menu.
Plus, the vibration is way too loud, and instead of alerting me, it can safely alert the person in close proximity too. This was the case when the vibration was set to "soft" mode, so I wonder what "strong" vibrations would have felt like! It was too strong for my liking, so I had to keep the watch silent at all times.
You also get features like camera/ music controls and weather updates, apart from the health features (details in the next section). Also, controlling music makes things super convenient while working out or when your phone is at a distance. Although, the watch struggles to make things work at times. You can check out the functioning yourself.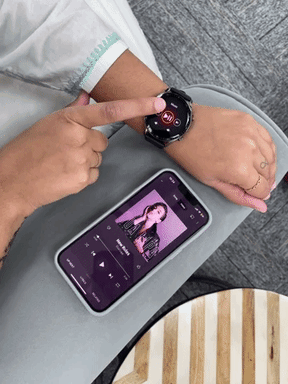 Health and Fitness Features
It's almost standard for a smartwatch to include a melange of health features, and the Dizo Watch R Talk doesn't disappoint. The mixture includes a 24×7 heart rate monitor, a SpO2 monitor, a sleep tracker, and even a period tracker. Their inclusion comes in pretty handy, and the COVID time has taught us that.
The watch's heart rate sensor is fairly accurate, and the readings are almost on par with the expensive Apple Watch Series 7. It takes a few seconds to come up with the result, which again is decent. So was the case with the blood-oxygen monitor. All the readings for both of the features can be tracked via the Dizo app, helping you keep an eye on your daily, weekly, monthly, and yearly numbers. You even get access to the average, maximum, and minimum readings, which is great at this price point. Yes, the watch won't end up replacing the proper tools available but can help monitor your health for serious actions when needed.
Moving on, sleep tracking will tell you the hours of deep sleep, REM sleep, and light sleep you get each night. You get to know the total sleep hours and some advice to sleep more in case you are not completing 8 hours. Again, you can track the stats to analyze your habits and make a change if needed. My metrics were below 8 hours, so I was advised to increase my sleep time.
Although, I personally don't feel the need to track my sleep for (a) wearing smartwatches to sleep is rather uncomfortable, and (b) it's okay if I don't know the metrics of my REM sleep. But, in case it's something you are interested in, the Dizo Watch R Talk did a fine job. During my usage, it didn't unnecessarily record my sleep time, and its sleep tracking was mainly active when I was asleep! So no false positives in my testing.
The Dizo Watch R also supports 110+ sports modes, allowing you to track a vast range of activities. There's GPS-based outdoor running, walking, and cycling route tracking too (although, in-built GPS functionality isn't there). These can help you get insights like heart rate, calories burnt, pace, and more while you go for any of these activities. There's support for indoor activities, so you are sorted there too. I happened to mainly monitor my walking and was able to precisely do so. For me, keeping track of my steps and calories is the most-used aspect of a smartwatch and this was more often than not a success. Of course, the step tracking isn't real-time and took a while to refresh.
There was a slight discrepancy in my iPhone's Health app measurements and the workout on the Watch R Talk's part, but nothing to fret about. I also compared the Dizo Watch R Talk to the Realme Watch 2 Pro, and the former was far more accurate. The Realme watch ended up recording 100 additional steps while the Dizo smartwatch has a difference of one or 2 steps in my testing. So, if you are like me and step-tracking is an essential feature for you, the Dizo Watch R Talk does an impressive job.
The smartwatch also reminds you to drink water and move when there's no movement. And you can customize these reminders to your needs in the Dizo app. While these reminders popped up from time to time, the water drink reminder came in a little late. I also set an interval of an hour but that never happened and most of the time I got a reminder when I consciously was drinking water to fulfill the daily agenda, thus, defeating the whole purpose.
Battery and Charging
The battery life is without a doubt an important factor one will consider before buying a watch or even a phone for that matter. The Dizo Watch R Talk has a 300mAh battery, which Dizo claims to last up to 10 days on a single charge. And it tends to deliver.
I charged the Watch R Talk before starting to use it and a week later, it still has some juice left. And this is with Bluetooth calling enabled (and AOD disabled for most of the testing period). For a person coming from an Apple Watch SE, which required charging every two days, this experience was bliss.
As for the charging time, it took around 1 to 1.5 hours to juice up the watch from 10% to 100%, which isn't bad either. The watch takes up all the juice via magnetic suction charging.
Dizo Watch R Talk: Pro and Cons
| Pros | Cons |
| --- | --- |
| Long battery life | The straps feel cheap |
| Large AMOLED display | No in-built GPS |
| Clear Bluetooth calling sessions | Too loud a vibration |
| Accurate health tracking | |
| Easy-to-use companion app | |
Dizo Watch R Talk: Should You Buy or Not?
Dizo Watch R Talk is an attempt to further the functionality of a smartwatch, which mostly can be utilized to its full potential when your phone isn't on you. You get all the notifications, calls, and a lot more on your wrist while helping you stay focused on your health. For Rs 4,999, this is a deal one can't ignore, especially for those who are looking to dive into the world of smartwatches for the first time.
Dizo Watch R Talk is a mixed bag in terms of comfort and issues with Bluetooth calling, but with the kind of features it offers under 5K, we can surely recommend it to first-time buyers looking for a big-sized feature-rich smartwatch. If you're looking for a watch with all the bells and whistles and then an affordable price tag, this is the best option for you. But, in case Watch R Talk doesn't appeal to you, there are a lot of alternatives that you can consider. The Realme Watch 3 Pro (Rs 4,999) at the same price offers in-built GPS and the Noise SmartFit Icon 2 (Rs 2,199) offers similar features at a much cheaper price.
What do you think about the Dizo Watch R Talk? Do you find an option to make your shopping list? Let us know in the comments below.
Buy Dizo Watch R Talk from (Rs 4,999, available at an introductory price of Rs 3,999)
REVIEW OVERVIEW

SUMMARY

The Dizo Watch R Talk comes with a mixture of interesting features and more often than not, performs well. The watch is a mixed bag but with the kind of things it offers for 5K, I am simply going past the misses. If you are looking for a watch with all the bells and whistles and then an affordable price tag, this one's a pretty good option for you.