Among the greatest features included in the iPhone 13 series, the new wide-angle lens in the iPhone 13 Pro and Pro Max is amazing. Now able to take macro shots, the upgraded lens has gained a lot more photographic power. However, while the new macro photography is amazing in iPhone 13, some users have reportedly encountered problems in using it effectively. If you're part of the iPhone 13 Pro or Pro Max users who have run into such roadblocks, you'll be pleased to know there's an easy solution. Keep reading as we tell all about what the problem in the new macro mode is and how can you fix it easily.
Disable Auto Macro Mode on iPhone 13 Pro Series (2021)
While we will teach you how to disable the Auto Macro mode on the iPhone 13 Pro series, we'll also talk about the requirements your phone must meet to get the option. However, if you're already sure of that then use the table below to jump to the process itself.
Why Would You Need to Disable Auto Macro Anyway
The new macro mode in the iPhone 13 series mostly does things right. If you've learned how to use the iPhone 13 Pro macro mode, then you already know it's extremely easy to do so. However, when it comes to controlling the mode, Apple hasn't made things very easy. Put simply, the new macro mode in iPhone 13 Pro series automatically switches lenses depending on the type of shot. While that works almost all of the time, there are users who have reported confusion.
Most notably some users have reported that the auto macro mode in iPhone 13 Pro series is erratically switching lenses at some distances. This is either leading to the phone going into the macro mode when not needed or outputting blurry shots. While this problem only occurs at specific distances, it is painful for new users just trying to use the camera on their iPhone 13 Pro or Pro Max.
Fortunately, Apple acknowledged this problem and promised to roll out a fix in an update. This fix would be a setting under Camera. 'Titled Auto Macro', this toggle would allow users to switch the automatic lens switching off so that users may have more control. This fix was rolled out a while back and is now available to compatible iPhone 13 Pro series users. Keep reading to find out if you fit the bill.
What Do You Need to Disable the Auto Macro Mode on iPhone 13
While the Auto Macro is basically a simple toggle you can disable in the Settings app, there are some requirements your hardware and software must meet. Keep in mind that you must have the following:
1. An iPhone 13 Pro or Pro Max
The new macro mode is exclusive to the iPhone 13 Pro lineup. This is because of the new upgraded wide-angle lens that allows the new phones to use the macro mode. While that is a handy feature, it also goes without saying that you will need the newest iPhone 13 Pro or Pro Max to actually find the setting. Users with any other phones will not be able to see the Auto Macro setting.
2. iOS 15.1 or Newer
The Auto Macro feature was initially only available in the iOS 15 beta. However, the release of iOS 15.1 and its further version 15.2 has brought about the feature to the public domain. So if you're an iPhone 13 Pro series user, make sure you're on the latest iOS 15 version so you may receive the feature, and then keep reading below.
How to Turn off the Auto Macro in iPhone 13?
If you've read the above requirements and you already meet them, this is where we teach you how to go about it. Follow the steps below to learn how to turn off the Auto Macro feature on your iPhone 13 Pro/ 13 Pro Max.
1. Open the 'Settings' app on your iPhone.
2. From the list, scroll to find 'Camera' and tap it.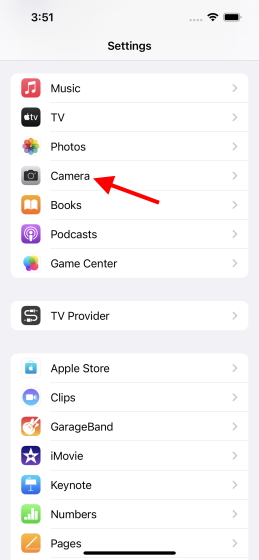 3. You'll see a list of options. Scroll all the way down to find the 'Auto Macro' toggle. Simply tap it once to disable it.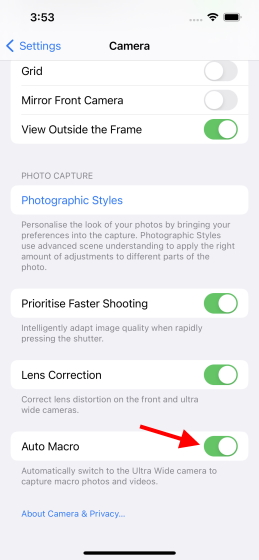 And that's it. the Auto Macro feature has been disabled on your iPhone and will remain that way unless enabled again. This will get rid of the intermittent lens switching. However, do be aware that since you have turned it off, you will now have to take macro shots manually. Keep reading as we teach you how to do that too.
How to Take Manual Macro Shots on Your iPhone 13
Now that you have turned off automatic lens switching on your iPhone 13, you will need to manually take macro shots. However, don't fret since it's extremely easy. Simply follow the steps below to get to it.
1. Open the 'Camera' app on your iPhone.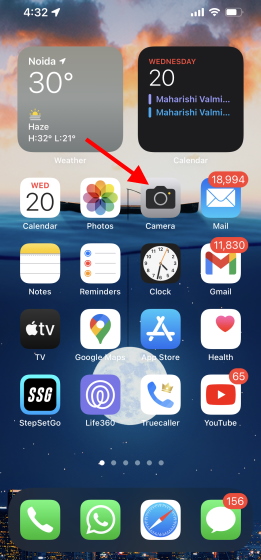 2. Switch to the ultra-wide lens using the (.5) icon.
3. Get the camera close to the object you want to capture and simply tap the screen to focus on it.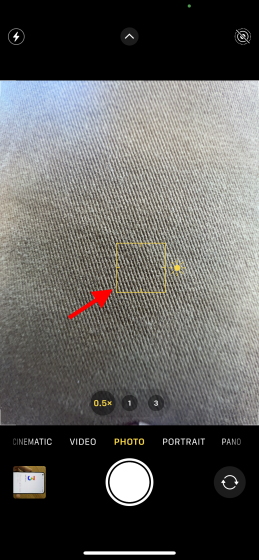 4. Tap the 'Shutter' button to take the shot.
And you're done. That's how you take manual macro shots on the iPhone 13 Pro or Pro Max. Remember that you will have to repeat this process whenever you're clicking a macro photo. If you feel like it's too much of a hassle, repeat the steps in the section above to reverse the setting.
Are You Turning the Auto Macro Mode off?
We hope you now know how to turn off the auto macro mode on your iPhone. Even though it's a handy feature to have, we appreciate Apple giving users the option to disable it if they don't want to use the feature. So what do you think? Will you disable auto macro on your iPhone or will you be leaving it on? Let us know your thoughts in the comments below.