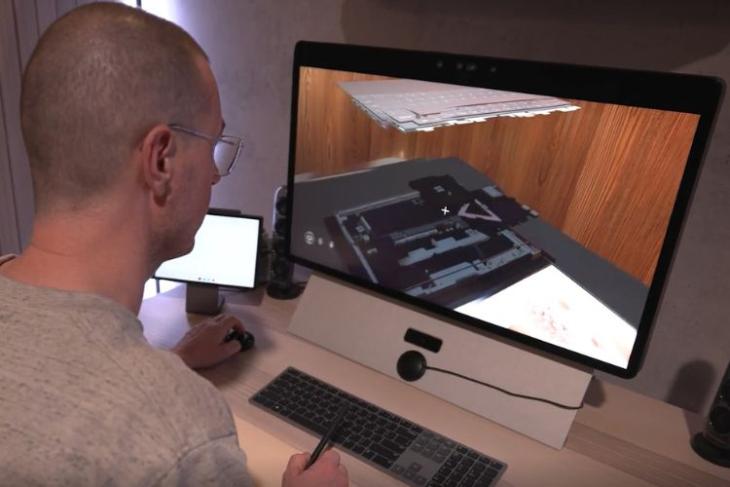 Dell, at CES 2023, has introduced a way that enables seamless communication in the future. And hence, we have a new Concept Nyx Companion device, which will help people "move between various spaces and tasks intuitively in the future." This would essentially allow people to easily interact in physical and virtual spaces alike.
Dell Introduces Concept Nyx Companion
Dell's new Concept Nyx Companion device is based on Concept Nyx, which was introduced at last year's CES. Concept Nyx is primarily meant for gaming, allowing users to play games on any device connected to the home Wi-Fi and easily switch between them.
The Companion tablet-styled device will allow people to keep their content in one place when they are moving spaces. The device works in AR and XR scenarios. Dell explains that this will dismiss the need for taking photos of important files and notes to be copied to another place. The content can easily be copied to the desired place and shared by taking a screenshot of a project space.
This will be accompanied by the Concept Nyx Stylus, which can further help in taking down important information. With this, adding text to digital and virtual collaboration spaces will be easy, either using a pen or voice. The possibility of voice activation for AI image creation is also explored.
Dell also has the Concept Nyx Spatial Input, which will bring together a keyboard and mouse, and possibly 3D displays. The company is also exploring the idea of intuitive gestures for interacting with content like using a stylus' tip to write, the top to interact with content on the screen, and more.
Additionally, Dell is experimenting with gestures and movement tracking so that it's easier to leave a video call for a while. There can be virtual avatars replacing the blank screens while you are gone. Dell wants to introduce the Concept Nyx Spatial camera, which can be paired with AI to provide a more realistic avatar.
Dell, in a statement, said, "From infrastructure to devices, Dell is at the center of present and future workplaces and is focused on developing the tools that will be needed to navigate these spaces. In the future, productivity tools will be connected and intelligent enough to seamlessly move from
experience to experience and task to task, helping to break down barriers and redefine how colleagues connect with one another."
Concept Nyx Gets an Upgrade!
For Concept Nyx gaming, Dell has a new Concept Nyx Game Controller. This concept device has personalized options, a fingerprint scanner, and the ability to stream to various devices by simply pointing it to one of them or using your voice. The controller has self-adjusting variable resistance thumb sticks and customizable intelligent on-screen controls.
Concept Nyx also gets multitasking with the new split-screen functionality, parental tools and improved dashboard, and the inclusion of an Artificial Intelligence (AI) assistant. Dell says it will provide more updates on these two soon. So, stay tuned, and do share your thoughts on the same in the comments below.