Every Apple user accepts the fact that iTunes is a big mess. iTunes basically didn't change much since its launch, and slowly and slowly it became a bloated and complicated piece of software. Apple did recently try to improve iTunes, but rather than trying to clean up its interface, the company took away features which to me felt like a bad first step. That's why I am always on the lookout for software which can help me not to use the iTunes ever again. However, for some reason of the other, I had to always come back to it. That said, today might be the day when I say goodbye to iTunes forever. Read our review of the DearMob iPhone Manager to find out why:
Key Features
The biggest reason why I love DearMob iPhone Manager is the fact that it packs all the features that you will ever need to manage your iPhone and yet doesn't have an overcomplicated UI. We will talk about its UI and ease of usability later in the article, but first, we will dive in to see what are the key features that the software is offering us:
One of the best usages of DearMob is to transfer photos from your iPhone to your Windows or Mac machines. As we all know that iPhone doesn't offer expandable storage. When you couple that with the extremely good cameras they pack, it's just a matter of time when you start running out of storage on your phone. iCloud is a good option to sync your photos across devices but Apple only offers 5GB of free storage which is really nothing. DearMob makes it easier for you to transfer photos from your iPhone to your desktop. Another advantage of using DearMob is that not only it supports Apple's new HEIC format, it also allows you to export photos in normal JPG Format which is what you need if you want to share photos which can be viewed on any device.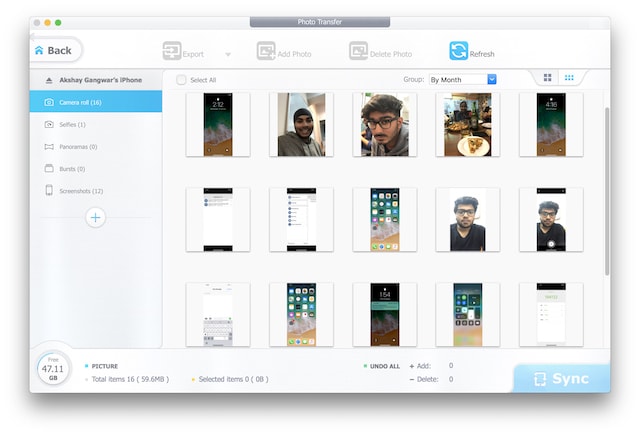 One of the major problems that I encountered when I bought my first iPhone was with the transferring of my offline music library to my phone was a big chore. DearMob makes it really easy to transfer songs from your desktop to iPhone. Just connect your iPhone and launch DearMob. Now drag and drop the music files that you want to transfer to your iPhone and click on the sync button. In just a matter of minutes, all your songs will be available on your iPhone.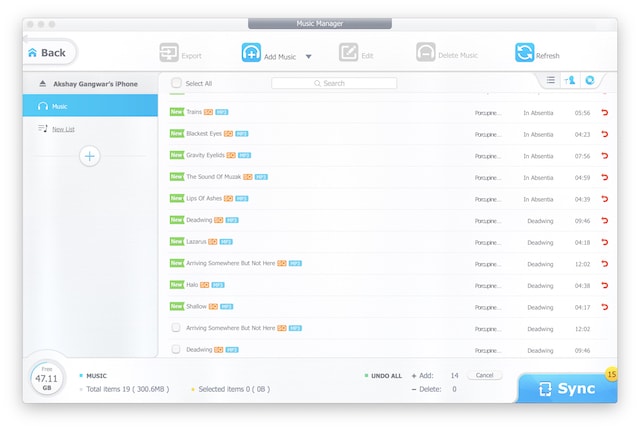 DearMob also provides a very comprehensive suite of video management tools. Not only you can easily export videos from your iPhone to your desktop, but you can also transfer any video files from your desktop to your iPhone in minutes. The best part about using DearMob is that even if you have a video which is in a format which is not supported by Apple, you can just click on the handy convert button to convert the video into an Apple-friendly MP4 format.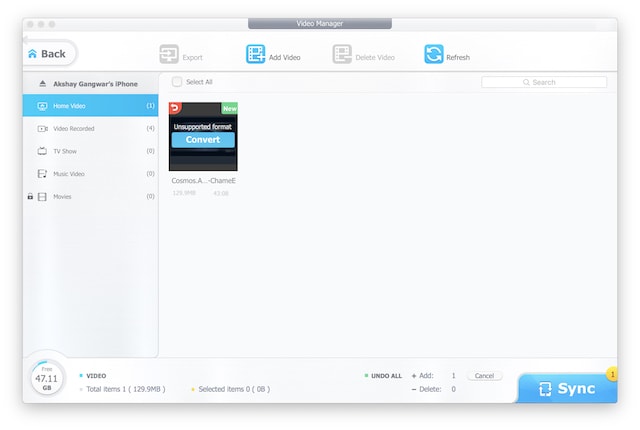 With DearMob backing up and restoring your iPhone becomes as easy as clicking a button. Just connect your iPhone to your computer and click on the backup button. Wait for a few moments and DearMob will start backing up your iPhone's data on your computer. If your iPhone contains some sensitive data, DearMob also gives an option to encrypt your data. Just check the "Encrypt your Backup" button before you start your back up.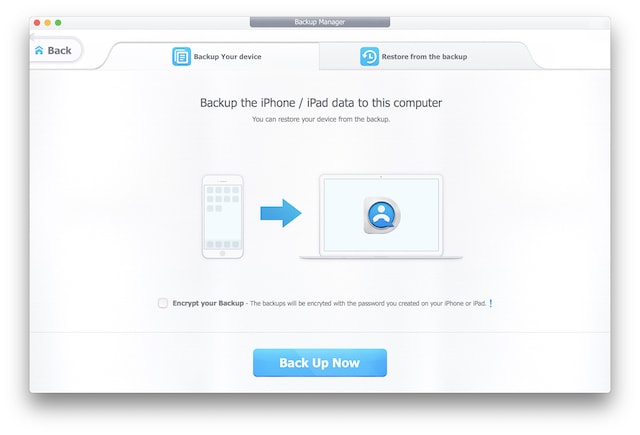 Restoring your iPhone is also as easy as backing up your iPhone. Just click on the Backup button and select the "Restore backup files" option. Here DearMob will give you all the previously created backups. Just choose the backup you want to restore and click on the Restore button. Depending on the size of the backup file, the entire process can take anywhere between a few minutes to half an hour.
In its recent attempt to simplify iTunes, one of the biggest features that Apple removed was the ability to manage apps on your iPhone using iTunes. With DearMob you can still manage apps on your device. The app not only allows you to uninstall multiple apps at once but it also allows you to install apps on your iPhone using the already downloaded .ipa file on your local computer.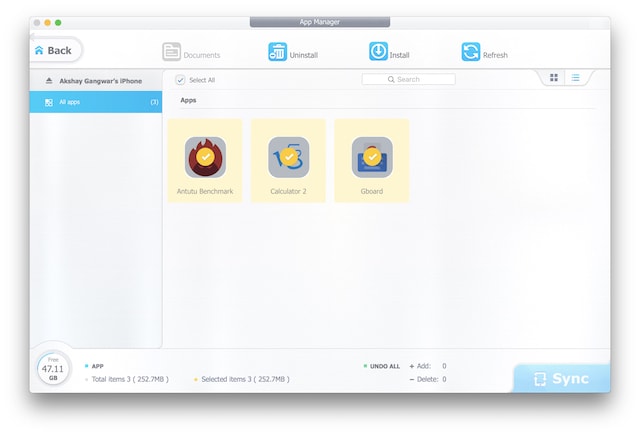 Calendar, SMS, and Other Features
For me all of the above-mentioned features were enough to convert me from a reluctant iTunes user to a dedicated DearMob user, however, the app can do a lot more. Apart from the above features, the app lets you manage your books, podcasts, contacts, calendar, messages, bookmarks, and more. If even that's not enough for you, DearMob also allows you to treat your iPhone as a flash drive, meaning you can easily transfer any kind of file from your computer to your iPhone and use it as a USB device. DearMob packs more features than you will ever need from an iPhone manager.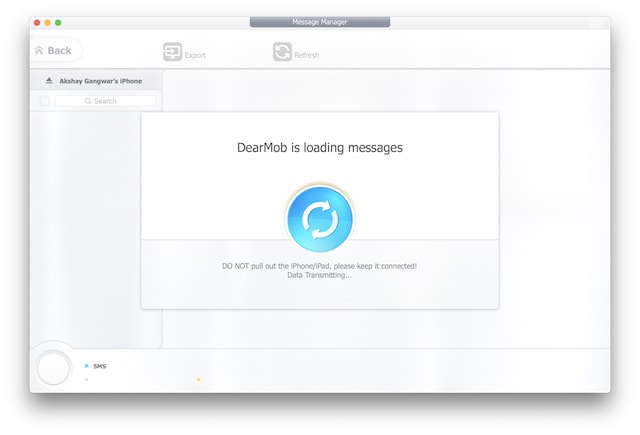 User Interface
DearMob features a minimalist user interface with all its features getting a different icon for themselves. Just connect your iPhone and click on the feature icon you want to use. For example, if I want to transfer photos, I will just click on the photos icon and it will give me the relevant options. The best part about DearMob's UI is that it keeps the settings panel of each feature almost exactly the same, so a user is never confused in spite of the feature he is using.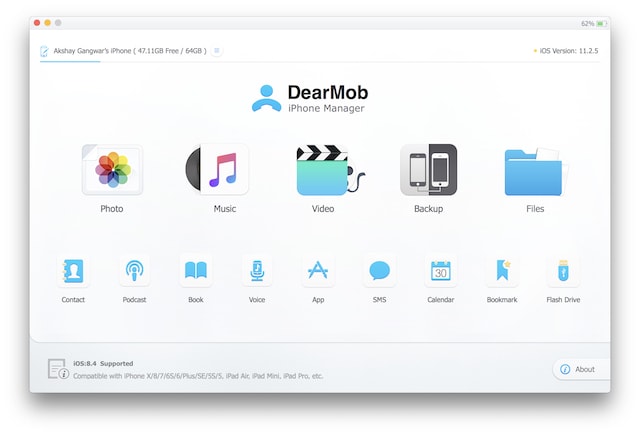 I also like the color scheme the app has gone with. DearMob feels almost like an app which has been designed by Apple itself. That means you get a huge white background with feature icons. It makes it easier to find the feature you are looking for. Even the icons used in DearMob's interface feel like the native Apple's UI icon, so as a user, you always feel like you are at home. Overall I really love DearMob's user interface and there's nothing really to complain here.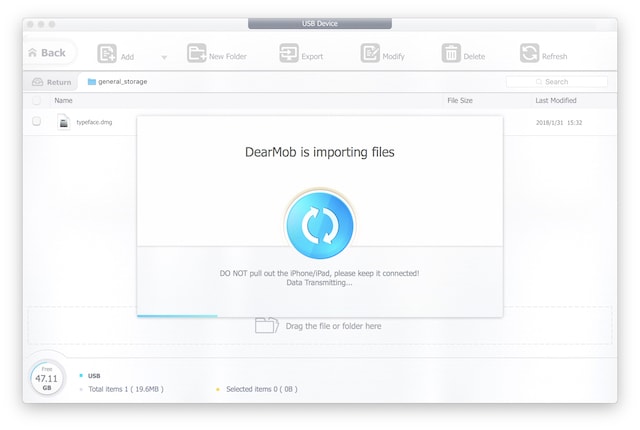 Ease of Use
Despite the fact that DearMob packs a ton of features, the software is really easy to use. The uniformity of DearMob when it comes to button placement makes it a piece of software which is very easy to get used to. It only took me few minutes to get fully used to the software. The similar button placement also ensures that once you use one of its feature (for example, adding music), you have learned how to use every other feature. The software is also incredibly fast and even transferring movies in upwards of a few GBs didn't take more than a few minutes.
I especially love, how easy DearMob makes it the entire backup & restore process. You can backup your entire iPhone with just a click of the button. I have never used any other software which makes backing up your device so easy. Considering the number of features DearMob packs, I am still blown away by its ease of use.
Price and Availability
DearMob iPhone Manager is available for both Windows and macOS platforms, so doesn't matter which OS you are using, you can easily manage your iPhone using it. The software is free to download for a trial, however, you will need to buy the license if you want to perform any action. The software is available for $59.95/year. The license is valid only for running on one machine.
If you want to run the software on multiple machines, and want to buy a lifetime license it will cost you $67.95. That said, the developers are offering heavy introductory discounts right now, so you can snag a single license for just $39.95 and the lifetime license for $47.95 only.
Pros:
You don't need iTunes anymore.
Offers a ton of features including media management, contacts management, backup & restore, and more.
Easy to use
Works every time
Awesome backup and restore feature
Cons:
The single license is priced in a way that it forces user to buy the more pricier lifetime license
Easily Manage Your iPhone With DearMob iPhone Manager
After using the software extensively for the past few days, I can recommend it to everyone owning an iOS device. DearMob iPhone manager truly makes the whole managing your iPhone process easier than ever before. However, the biggest benefit of using DearMob is that the software packs more feature than you will ever need. I can surely say that the buyers of DearMob are never going to be disappointed with their investment.
---
Load More