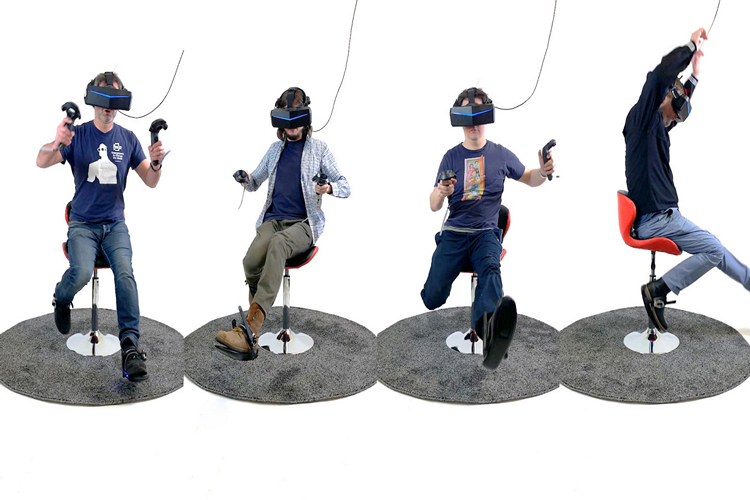 VR Gaming is gradually becoming mainstream, thanks to major VR companies putting in a tremendous amount of research and development for making the platform much less compact and enjoyable, reducing players getting a feeling of being involved in something that belongs to a sci-fi movie. To enhance the VR gaming experience, there is a gadget named Cybershoes that lets you interact with the game, for real.
On a first glance, these will look like a pair of cheap sandals but trust me, appearances can be really deceptive. These sandals can help you immerse yourself into the game. The company calls it a "high-end solution for VR locomotion".
You will get a special kind of carpet which the company calls "cybercarpet" that will ship along with Cyber Shoes. A rotating chair is needed around which this carpet should be placed. The roller equipped below the shoes will simulate the walking and running actions in the game. So, this can potentially double up as a leg exercise without you even getting out of the chair.
As far as the compatibility is concerned, Cybershoes are compatible with Steam Games for VR which means you will have no trouble using them with VR offerings from HTC, Oculus, Pimax, and even Microsoft Mixed Reality.
They also support most of the popular VR games like Fallout VR, Doom VFR, Arizona Sunshine, VRChat, Minecraft-Vivecraft and much more. Also, support for more games will be added in the future as the company matures and improves the gadget's efficiency.
You can buy Cybershoes along with Cybercarpet for €359 (~Rs.28,500), Cybershoes Gaming Station for €449(Rs. 35,600), Cybershoes Arcade Edition for €899 (~Rs. 71,500), and Cybershoes Business Edition for €1,169 (~Rs. 92,800).
So, what do you think of Cybershoes? Will you consider buying a pair of them for upgrading your VR gear? Let us know in the comments.
Buy Cybershoes
---