Backing up the entire data on our computers is a good practice that we all must follow. Though this process may take time the first time you do it, it does pay great dividends in the long run. For this, CrashPlan from Code42 is one of the best services that is available. But sadly, the company has planned to shut down its consumer-focused "CrashPlan for Home" product. If you are an existing user of this service, then you may have received an email stating the closure of the service and a free extension of 60 days in order to find a suitable CrashPlan alternative. So, in case you haven't yet found the best one, here is a list of the top 8 CrashPlan alternatives that you can use:
1. Backblaze
Taking a very minimalist approach, Backblaze is one of the easiest-to-use cloud backup service and arguably the best CrashPlan alternative. Though this list is not in any particular order, Backblaze most certainly deserves the top spot. It offers a single price plan of $50/year, as compared to CrashPlan's $59.99/year plan for an individual. One of the domains where this service stands out is user experience. Unlike CrashPlan, you don't have to dig through different paths on your computer to specify which files you want backed up. Instead, Backblaze allows you to specify the file formats that you want to back up, and it takes care of everything else. Now, if you are wondering, you can even exclude certain folders that may contain files with the specified formats.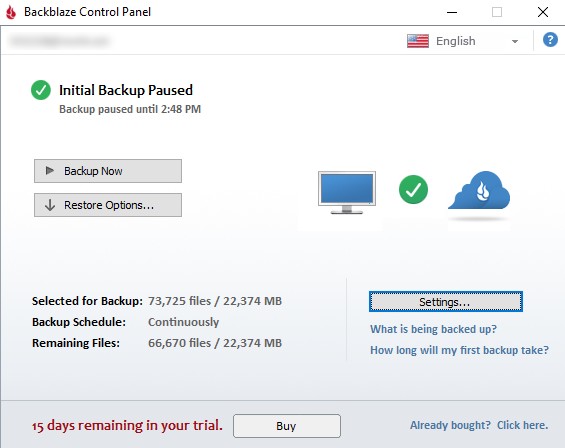 When it comes to security, Backblaze offers a 128-bit encryption for your data as compared to CrashPlan's 448-bit encryption. Though the numbers are in favor of CrashPlan here, Backblaze's security in itself cannot be easily compromised. Moreover, it bears some similarity to CrashPlane, as your data remains encrypted at rest at their data centers and is decrypted only when you download it. With Backblaze, you also get two-factor authentication – something that was missing in CrashPlane – and an app for Android and iOS that you can use to access files from anywhere.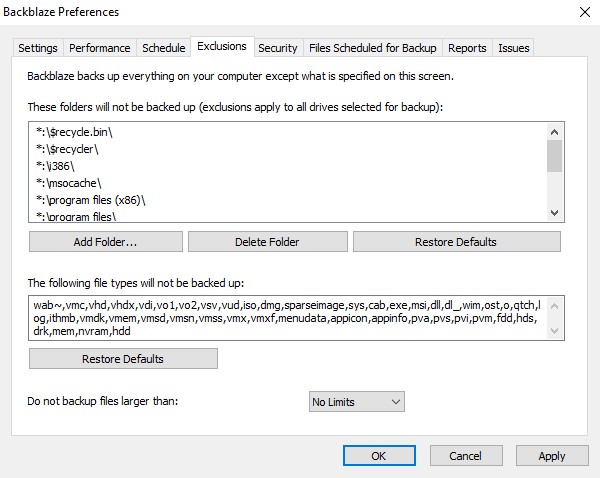 One feature from CrashPlan that you will miss in Backblaze is the free local backup option. Unlike the former, the latter does not allow you to back up either on external hard drives or on a different computer. That being said, important features like versioning (up to 30 days) and continuous backups still make their way in this alternative. Lastly, let's talk about restoration. Backblaze gives you three different ways in which you can do that. But first, you'll have to visit their website and sign in to your account. There, you can either download all your data as a ZIP file or request for a chargeable USB flash drive (up to 128 GB) or hard drive to be delivered to you with your data. You can return these drives within 30 days and claim a refund.
Pricing: $50/year, 15-day free trial
Platforms: Visit Website (Windows, macOS, Android, iOS)
2. Carbonite
CrashPlan might be shutting down its consumer-focused services, but it sure isn't leaving you in complete dismay. In addition to the free 60-day extended services that Code42 offers, the company also suggests Carbonite as the alternative you should be switching to. Carbonite is an easy-to-use service that takes you through a simple backup wizard. Here, you can either choose to go with the recommended settings or customize them yourself. Accordingly, your files will be backed up. Overall, this initial setup is easier to process in case of Carbonite than in the case of CrashPlan.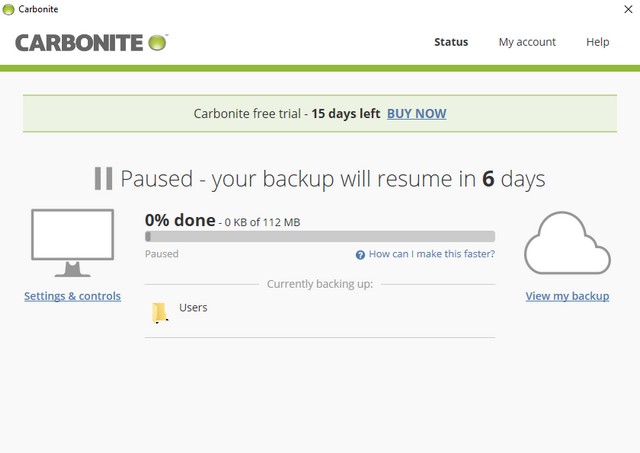 Being a recommendation from CrashPlan itself, Carbonite does hold some similarities with the former. For starters, you get unlimited backup storage, continuous backup protection, and external hard disk backup. Even your settings are backed up with Carbonite, so you don't have to worry about configuring a new computer to your desired settings again. When it comes to security, Carbonite Server Backup manages your encryption key using 128-bit AES encryption by default as compared to the 448-bit Blowfish encryption of CrashPlan. Alternatively, you can choose to manage your private encryption key yourself. Choosing this will encrypt your backups using a 256-bit AES encryption. Regardless of which setting you choose, your files will remain encrypted once they leave your computer.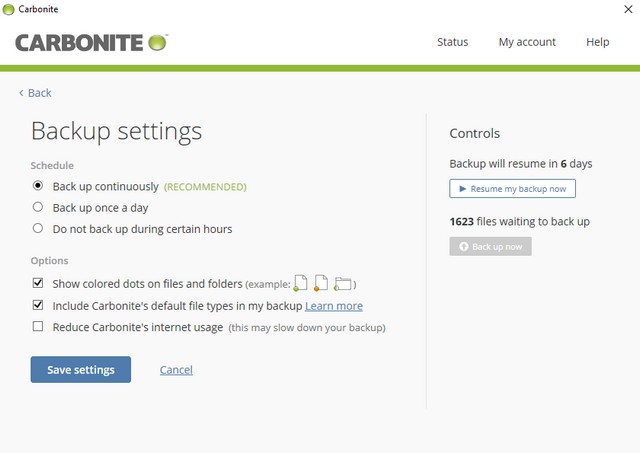 The last thing that plays an important role in a cloud backup service is data restoration. Carbonite provides restoration to unlimited computers. In addition to this, the service comes with a feature called Bare Metal Restore. The biggest benefit of this is that you can even restore a computer that doesn't have any pre-installed software or an operating system. This is a great feature that can come in handy. It is also something that was not present in CrashPlan.
Pricing: Home starts at $59.99/year, 15-day free trial
Platforms: Visit Website (Windows, macOS)
3. IDrive
IDrive is more than just a solution to backing up your computer. With this, you can even back up your mobile devices – a feature that lacks in CrashPlan. And the files that you back up – they are secure as each one of them gets an individual encryption key. This means that even if one of your files is compromised, the other would remain safe. Moreover, IDrive is usually faster than CrashPlan, so that gives you another reason why you should switch to this alternative.
Some very useful features that IDrive follows from CrashPlan are local backup, backup scheduler, seed loading and shipped restore. Seed loading (IDrive Express backups) means that you can ship your files on a hard drive to the cloud backup service. This is very handy if you have a slow internet connection or have a limited bandwidth. An important thing to note here is that the data should be at least 100 GB to avail this service. As for its pricing, this feature is free once per year for personal users. Shipped restore (IDrive Express Restore) is the opposite of Seed Loading. This feature allows you to request for a restore from the company. This is chargeable at $99.50 per request.
A few features that you'll be missing on IDrive are CrashPlan's 448-bit encryption and telephone support. That being said, you do get a 256-bit AES encryption which should be good enough.
Pricing: Free, Personal starts at $52.12/year
Platforms: Visit Website (Windows, macOS, Android, iOS)
4. Duplicati
The best thing about Duplicati is that it is open-source with its source code uploaded on GitHub, licensed under the GNU Lesser General Public License (LGPL). As a result, it is, unlike CrashPlan, totally free of cost. That being said, it is in no way any less secure than any other cloud backup services. With this, you can choose the level of security you want for your data. You can choose either the built-in 256-bit AES encryption or an external GNU Privacy Guard (GPG). A similarity that Duplicati bears with CrashPlan is scheduled backup. This means you can specify the time and days of the week when you want the backup to take place.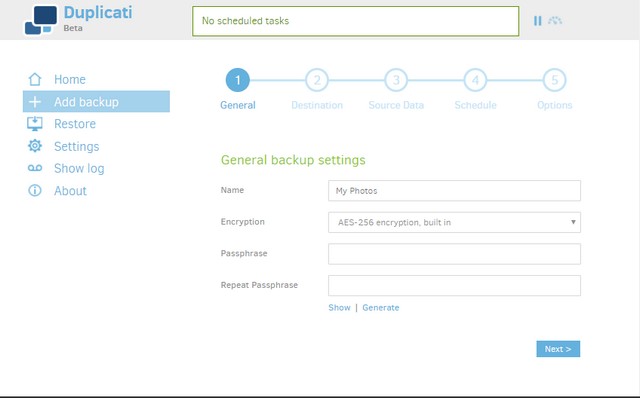 Duplicati works with standard protocols like FTP, SSH, and WebDAV as well as popular services like Microsoft OneDrive, Amazon Cloud Drive, Amazon S3, Google Drive, Box.com, Mega, HubiC, and many others. Unlike CrashPlan, this service gives you a lot of options to choose from when it comes to backing up your files. To mention a few, you can select the storage type, create a username and password for that backup, or configure HTTP requests. You can also include or exclude specific file types and hidden files.
Pricing: Free
Platforms: Visit Website (Windows, macOS, Linux)
5. Acronis True Image
If you don't mind approximately half a gigabyte of data being occupied by this software, then Acronis True Image might just be the alternative you are looking for. As opposed to CrashPlan, it downloads the complete software after the initial setup. On the other hand, unlike CrashPlan's cluttered screen, you can easily choose what you want to do in Acronis True Image.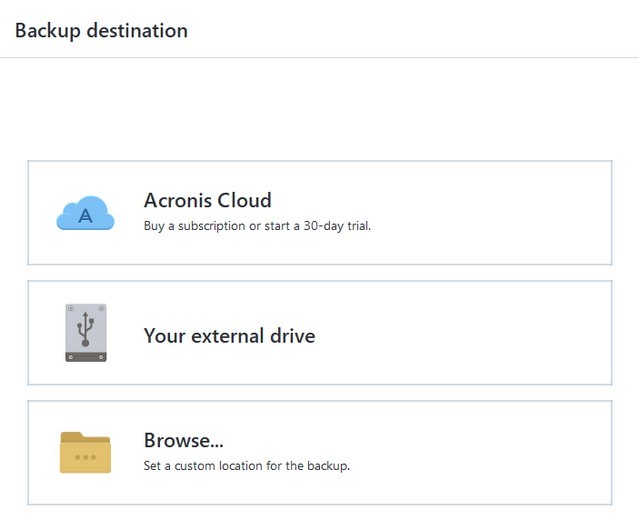 When it comes to similarities, Acronis True Image offers the key features of CrashPlan that you'd expect. Some of these include backing up multiple systems, automatic backups, file versioning, and scheduled backups. In addition to these, you can also use Acronis True Image to backup mobile devices and social networking sites. The destination for your backups can be either the Acronis cloud, an external drive, or a local folder on your computer.
Acronis True Image is more than just a service to back up files. If you are interested, it offers various useful tools as well. Some of these are Acronis Universal Restore, Parallels Access, and Clone Disk. However, the most useful one in terms of cloud backup is Rescue Media Builder. This allows you to back up your system in the form of an ISO file and you can use that to boot a crashed system or a system without any operating system with all your files intact.
Pricing: Starts at $49.99, free 30-day trial
Platforms: Visit Website (Windows, macOS, Android, iOS)
6. SpiderOakONE
SpiderOakONE is another great alternative for CrashPlan that you can use. SpiderOak builds products on the principle of "No Knowledge". This is their fancy way of saying end-to-end encryption and highlighting that the company does not store any information about your backed up data. To make this more technical, your data is secured with SHA-256 AES encryption. And to top it up, a new key is assigned for each file that you upload.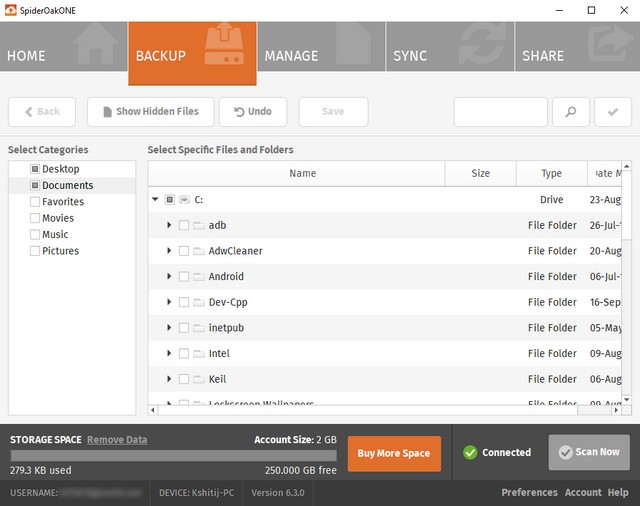 Like CrashPlan, you can add an extra layer of security on your SpiderOakONE account in the form of two-factor authentication. You also get the key features like versioning and automatic backup. These backups can be scheduled according to time as well as the day of the week. There is also a very handy feature called "SpiderOak Hive". This creates a folder on your computer where you can drag-and-drop files, and they will then be accessible across multiple devices. Lastly, note that SpiderOakONE is not perfect either. Unlike CrashPlan, it lacks some useful features like administrator controls and in-place restoration.
Pricing: Starts at $5/month, free 21-day trial
Platforms: Visit Website (Windows, macOS, Linux, Android, iOS)
7. ElephantDrive
Taking a somewhat different approach than CrashPlan, ElephantDrive is the easiest cloud backup service you can use. Once you download the software, a folder called "MyElephantDrive" is created on your computer. This is where you can manage all your backup files. Simply drag-and-drop any file to this folder, and it will be backed up. Here, you will find two default folders called "Backup" and "Everywhere". The "Backup" folder is where your files will get uploaded to the web server, while the "Everywhere" folder will also make them appear on another computer with ElephantDrive running on the same account.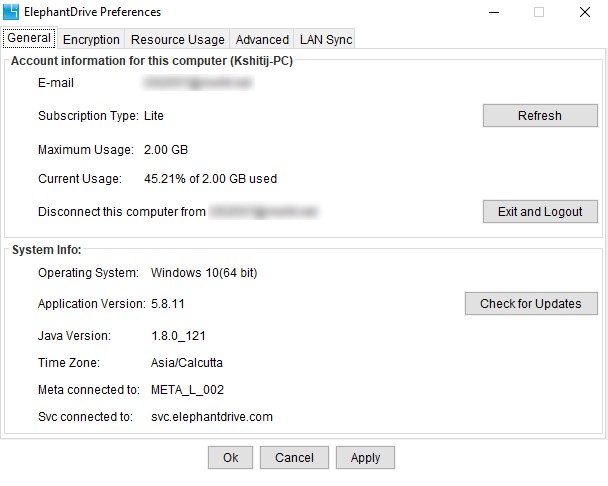 Like CrashPlan, ElephantDrive offers automatic backups, file versioning, web access, and is encrypted using the 256-bit AES encryption. You can even manage your backups across different computers. Moreover, your files are stored in multiple locations and hence, data loss in one facility can be sustained. It is one of those few cloud backup services like CrashPlan that works on Linux as well. In addition to this, the service can also work on Android, iOS, and Network-Attached Storages (NAS). The default version that you download from the web is the Lite version. With this, you get 2 GB of free storage. To get more, you can updgrade to the Pro version.
Pricing: Free for 2 GB, Pro starts at $9.95/month
Platforms: Visit Website (Windows, macOS, Linux, NAS, Android, iOS)
8. Resilio Sync
Resilio Sync is a bit of a different kind of service from CrashPlan. More than being a cloud storage service, this is a cloud sharing service. That being said, it is as much capable as any other CrashPlan alternative. In fact, if you are not looking to back up large files, then this can turn out to be better than any other alternative on this list. Once you create an account, you can add a folder, get a synchronization key, and then use that key on any other computer running Resilio Sync to keep files in sync across them.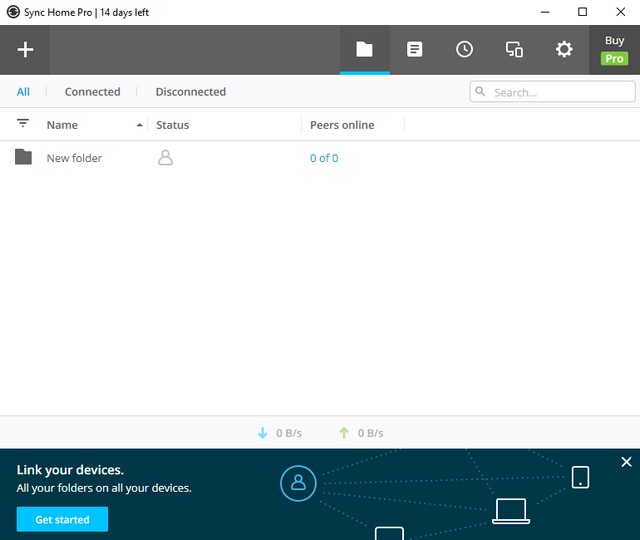 Being a simple application, Resilio Sync is surprisingly fast. Like CrashPlan, you get the versioning feature, though for files as old as 30 days. There is an advanced version of the service called "Sync Home", which comes with a free 14-day trial, and offers features like linking multiple devices, selective sync, one-time send, and controlling bandwidth usage.
Pricing: $59.99, Pro with free 14-day trial
Platforms: Visit Website (Windows, macOS, Android, iOS, NAS)
SEE ALSO: 10 Best Free Backup Software for Windows
Switch to the Best CrashPlan Alternatives
Although CrashPlan is planning to stop its consumer-focused service, that shouldn't stop you from backing up your data. Having known some of the best alternatives to CrashPlan that you can use, it should now become easier for you to decide the best one. So, which CrashPlan alternative did you choose? I would love to know in the comments section below.