Chances are, you know about the "Daydream" feature on Android and we are not talking about the "Daydream VR" platform launched at Google I/O 2016. If you don't, Daydream is basically a screensaver of sorts, that you can set up as display when your device is charging or put on a dock. For instance, you can set a clock daydream to turn your smartphone into a night clock when it's docked. Sounds cool, right? While daydream has been part of Android since Jelly Bean, it hasn't gone through any major changes. However, if you like the feature, you can install various daydream apps available on the Play Store.
Well, if you have been looking for daydream apps, we are here to oblige you, as here are the best daydream apps for Android:
Note: You can set up Daydream on your Android device by going to Settings->Display->Daydream. To play with the settings of a specific daydream, you can tap on their corresponding settings cog icon. You can even hit the three-dot menu button here to get a preview of the daydream or set "When to daydream".
1. DashClock Widget
We have already mentioned DashClock widget in our list of best widgets and the app finds a place here as well, due to its cool daydream features. Like the widget, the DashClock daydream shows you the weather and email details along with the clock. The app lets you use customize your daydream experience totally. You can choose the foreground color, animation and enable "Night mode" for dark rooms. Moreover, unlike most daydream apps, you can tap on the daydream elements to go to the clock, weather or email apps.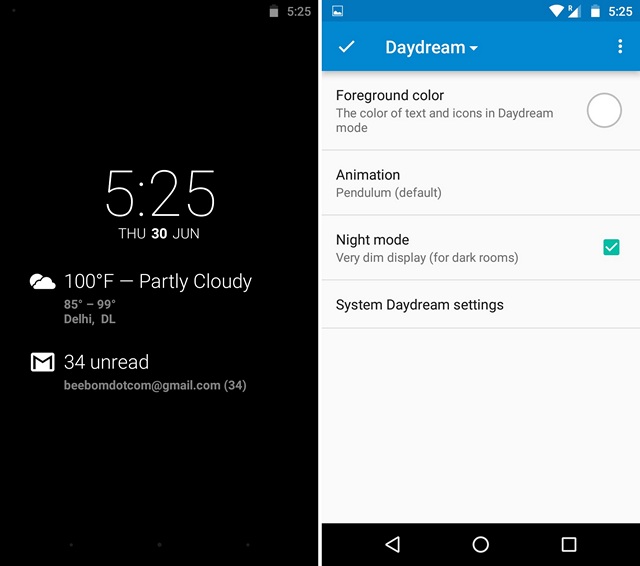 Install: (Free)
2. Lucid
If you want your daydream to show a ton of information, you should check out Lucid. The app offers various "modules", which are basically information that you can see on the daydream like alarm, battery, calendar, Gmail, missed calls, music, notifications and more. You can even add more modules. Along with the clock view, the app also offers a Slideshow view, which shows all your pictures and RSS view, which flips through events from an RSS feed. Lucid is without a doubt the most feature-rich daydream app for Android.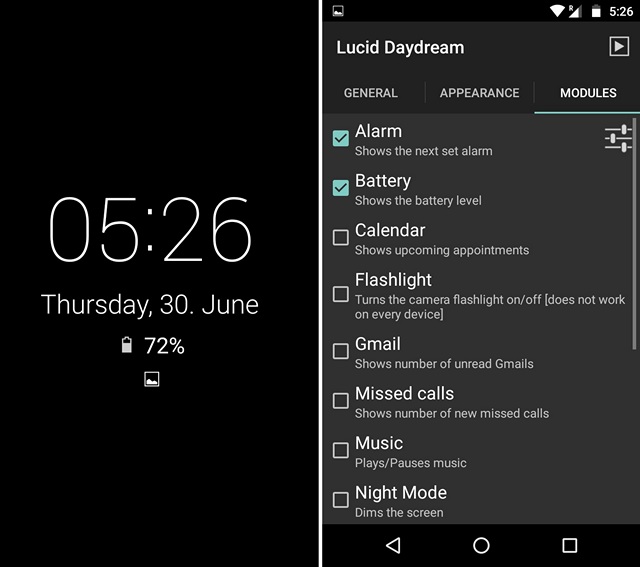 With the free version of the app, the daydream stops after every 30 minutes, so if you want unlimited usage, you'll have to make an in-app purchase of $1.49.
Install: (Free with in-app purchase)
3. #io16 Clock
As the name suggests, the #io16 clock app brings a clock widget based on the great countdown style used for Google I/O 2016. Along with the widget, the app also offers a live wallpaper, watch face and a daydream, all in the same style. If you did not see the countdown for Google I/O, trust us, when we say that the daydream looks great, thanks to the minimalistic looks and the perfect amount of color. However, if you don't like it, the app offers a plethora of customization options like the ability to change the color of various elements, orientation, font and more.
Install: (Free)
4. Music Visualizer
Music Visualizer is another cool app that is basically a capable music player, which packs in cool visualizations. The good news is, the app also works as a standalone visualizer app, so you can play music from any app and use the visualizer as a daydream or live wallpaper. The Music Visualizer daydream features a clock, which you can customize and there are various visuals to choose from like waveform, noise flow, heart beats, laser etc. You can even "Randomize" them to see a new visual every time you dock or charge your Android smartphone.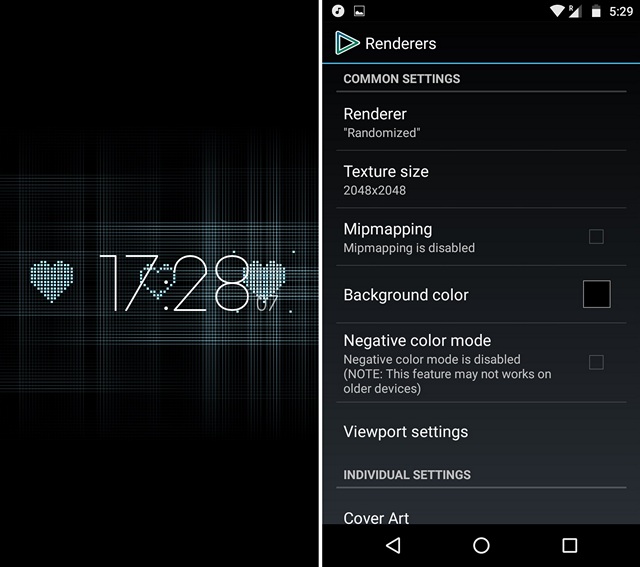 Note: The Music Visualizer app does not play well with smartphones powered by Snapdragon processor and running Android 5.0 Lollipop. However, there's a workaround. You will have to head over to Settings->Developer Options and uncheck "Use NuPlayer (experimental)".
Install: (Free)
5. Drip
Drip is a live wallpaper as well as daydream that brings randomly generated drip-paintings to your screen and believe me, it looks serene. You can choose to display a clock, while the drip-paintings are created in the background. Plus, you get a ton of options to play with like the ability to customize the drip's appearance, color, sizes, mechanics and more. The daydream even shows you notifications and you can choose the apps you want notifications for. Also, you can alter the frame rate and other options to mould the daydream's performance your way. To sum things up, Drip might not sound like an attractive daydream but you need to use to be pleasantly surprised.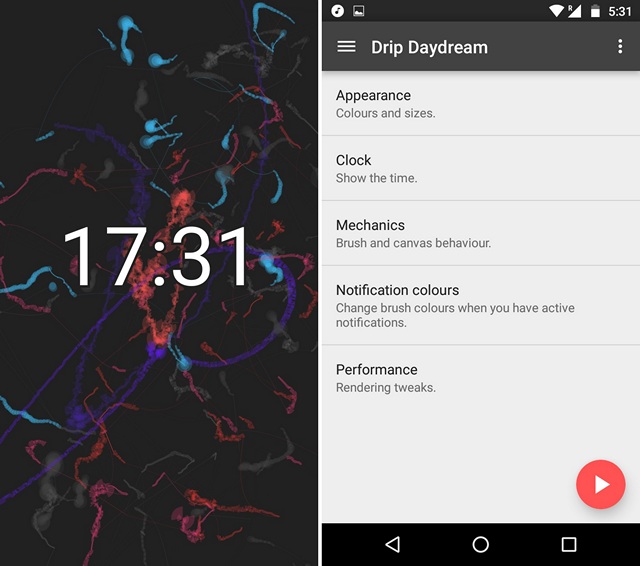 Install: (Free with in-app purchases)
6. BatteryDream
As the name suggests, BatteryDream brings you battery details in the daydream, albeit in a good-looking fashion. The daydream shows you battery details in a circular bar along with the clock and message notifications. Another cool feature of the daydream is that it starts blinking when the device is about to reach full charge. There aren't a lot of customization options here but you can change the bar color and time format.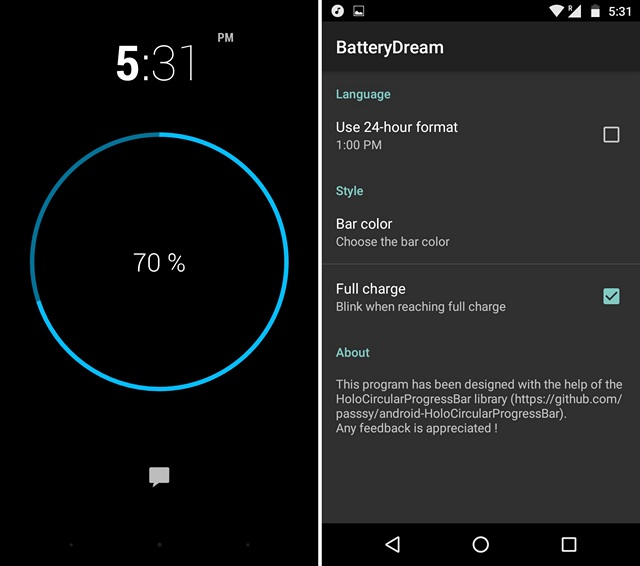 Install: (Free)
7. Quotes Screensaver
You would have probably guessed what this daydream app offers but if you haven't, the daydream brings various cool quotes from renowned personalities. The free version of the app lets you change text size of the quotes, change time delay and enable/disable the portrait or landscape mode. You can make a nominal in-app purchase of $0.99 to get the ability to add your very own custom quote, change font styles, select color and delete quotes. If you'd like to see some inspiring quotes on your Android smartphone when you wake up, this is the perfect daydream for it.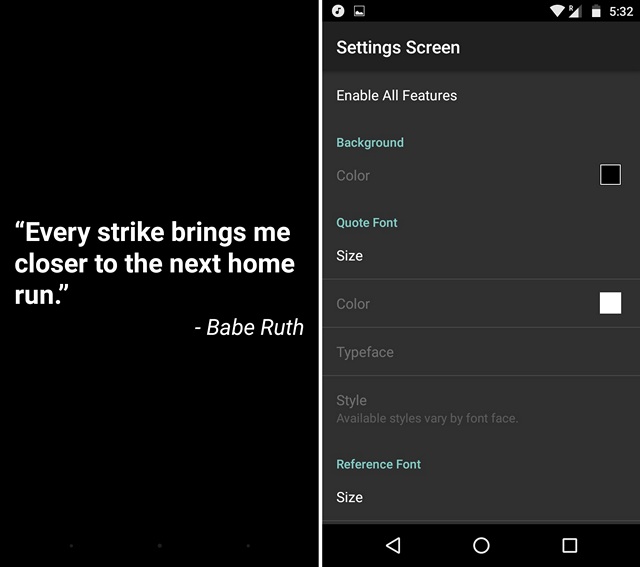 Install: (Free with in-app purchase)
8. Website Daydream
The Website Daydream app lets you choose a web address that you want to showcase as a daydream on your device. The app powered by Chrome lets you set a static or a full 3D webpage as the daydream in full-screen. You can even interact with the website like you'd normally do, or you can choose to disable touch for a more screensaver like experience. So, basically you can set your favorite news site as your daydream, display your personal website or just go ahead and create your own interactive daydreams with HTML5 canvas.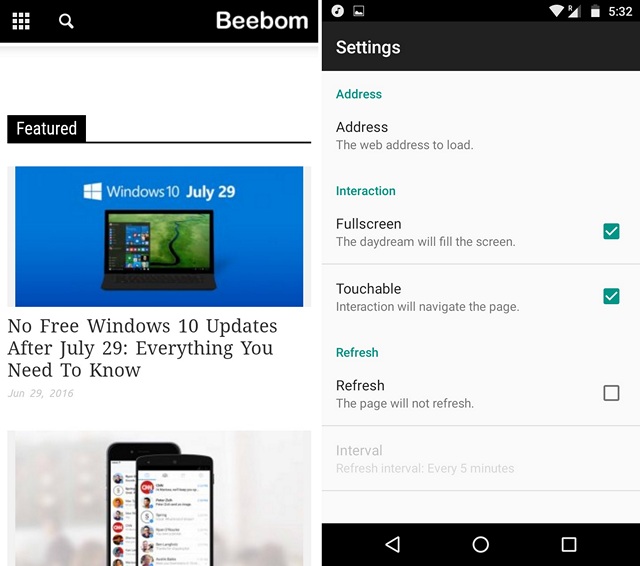 Install: (Free)
SEE ALSO: How to Get Samsung Always-On Display On Any Android Device
Try these apps to beautify your Daydream on Android
While some daydream apps in the list let you do more with daydream on Android, some just look amazing. Well, that's the whole point of a daydream, isn't it? So, if you haven't tried daydream on your Android smartphone or tablet yet, you definitely should. Try these cool daydream apps on Android and let us know your favorite daydream app. Sound off in the comments section below.