In our day to day computer usage, we install a lot of programs on our PCs, and get rid of them when they are no longer required. Probably this is the reason that installing and uninstalling programs is one of the most commonly performed activities on a computer.
Now, uninstalling a software application (via Control Panel) is an exceedingly simple task, and almost everyone knows how to do it. However, more often than not, this default method leaves behind junk temporary files, broken registry entries, and unnecessary stuff like that. And that's not exactly a good thing.
But thanks to some really great uninstaller software available, you can easily ensure that doesn't happen. Sounds like something you can use? Let's dive in, and find out more about the 6 best uninstaller software for Windows.
Best Uninstaller Software for Windows
1. Revo Uninstaller Pro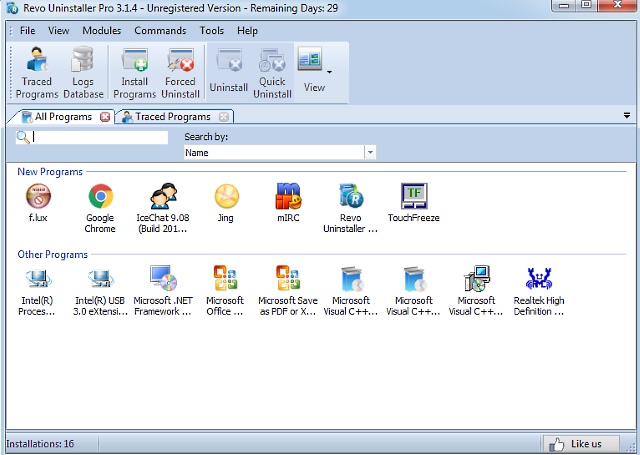 Arguably one of the most popular uninstaller software, Revo Uninstaller Pro includes a whole bagload of useful features.
Revo Uninstaller Pro automatically detects all the installed programs. It includes multiple uninstallation options, such as Quick Uninstall (removal with no user intervention and automatic deletion of leftover files), and Forced Uninstall (useful for removing remnants of already uninstalled programs). All you have to do is select the program(s) you want to uninstall, click on one of the uninstallation options, and Revo Uninstaller Pro will take care of the rest.
But that's not all. Apart from the core uninstaller module, Revo Uninstaller Pro also includes useful tools such as Autorun manager (to configure auto-run programs), Browsers cleaner (to delete browsing history), Backup manager, and a lot more features like that. It's even available as a portable application. So if you're looking for a powerhouse tool that can not only free your computer of unwanted programs, but also remove general junk files, go for Revo Uninstaller Pro.
Platform Availability: Windows 10, 8, 7, Vista and XP (Desktop).
Price: Paid version licenses start from $39.62, 30 days trial available. In addition, a free version with reduced functionality can also be downloaded here.
2. IObit Uninstaller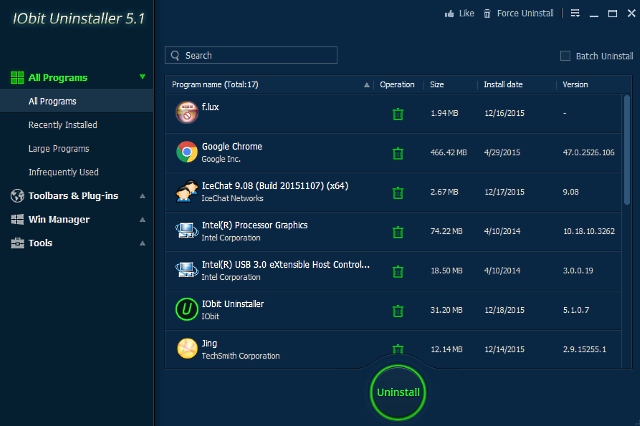 Feature laden programs don't always have to cost a fortune, and IObit Uninstaller is solid proof of this, delivering a whole lot of features for free.
IObit uninstaller lists all the detected programs installed on your PC, although you can also filter the list to view only applications that recently installed, or used infrequently, and things like that. Just like Revo Uninstaller Pro, there are multiple uninstall options available, such as Batch Uninstall and Force Uninstall (for those especially pesky programs).
Powerful uninstall functionality is IObit Uninstaller's speciality, but it's not the only thing it's good at. In fact, it can also detect and uninstall all the browser toolbars and plug-ins that (can) slow down your browsing experience. Other than that, IObit Uninstaller also lets you manage startup programs, clean up invalid files, shortcuts etc., and even shred files so that they can't be recovered. Bottom line is, if you're on the hunt for an all rounded uninstaller program that also includes some good PC management features, and most importantly, is gratis, things can't really get any better than IObit Uninstaller.
Note: By default, IObit Uninstaller's setup program is enabled to auto-download and install IObit's system optimization application called Advanced SystemCare. However, you can easily uncheck this option during installation.
Platform Availability: Windows 10, 8, 7, Vista, and XP (Desktop).
Price: Free
3. Ashampoo Uninstaller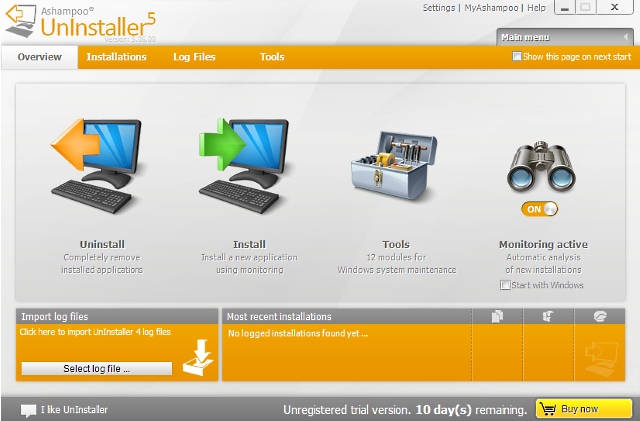 Using Ashampoo Uninstaller for the first time can be a little intimidating, but once you know your way around it, things get a lot easier.
As an extremely capable uninstaller software, Ashampoo Uninstaller has just about every feature you'd expect from an application like it. You can uninstall programs using multiple methods (e.g. silent uninstall, uninstall with auto purging of left over files). However, surprisingly Ashampoo Uninstaller doesn't support batch uninstallations, which is why it's placed at third on this list.
But don't worry. Ashampoo Uninstaller has a whole truckload of PC optimization features that more than make up for that. Simply go to the Tools sub-module, and you can find additional sub-utilities that can be used to do everything from defragmenting disks and optimizing registry, to managing startup programs and deleting duplicate files. What's more, you can even adjust group policies, shred files, and do lots of other stuff. All in all, Ashampoo Uninstaller is more like a complete PC optimizer program with robust uninstallation prowess, but that also makes it a bit more complicated than competing applications like Revo Uninstaller Pro and IObit Uninstaller.
Platform Availability: Windows 10, 8, 7, Vista, and XP (Desktop).
Price: $49.99, 10 days free trial available, extendable to 30 days with a free trial license.
4. CCleaner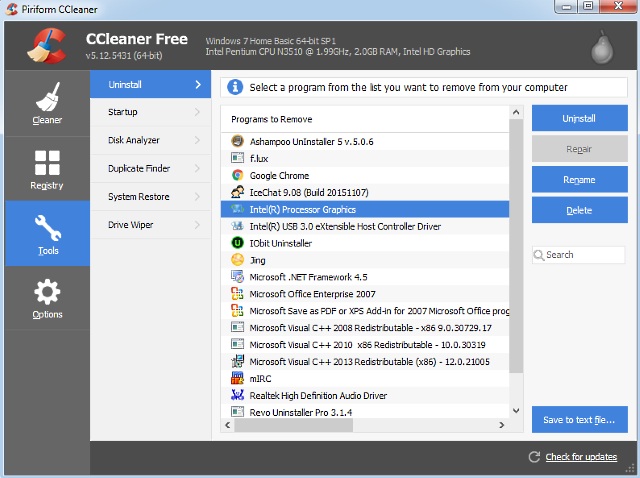 Even though CCleaner isn't strictly an uninstaller software, it's still a part of this list because it's just too good. And although there are paid versions of it available, the free version is just as feature loaded.
Probably the most well known system cleaning and optimizing application out there, it packs in a lot of goodies in a really lightweight package. At its core, CCleaner basically deals with removing all kinds of unwanted files, broken registry entries, missing shortcuts etc. from the computer, thus making it faster and bloat-free. However, CCleaner also includes some handy additional tools that make it even more awesome.
And one of those tools is the Uninstall sub-module, which, as the name suggests, lets you not just quickly remove installed applications, but also delete false traces of already deleted files. In addition, CCleaner's other sub-modules let you find and delete duplicate files, securely delete files, manage startup programs, and do a lot more. So if you're looking for a pretty rounded uninstaller software that is also more of a PC optimization suite, but don't want to spend the money that the previously mentioned Ashampoo Uninstaller demands, CCleaner is going to serve you just perfect.
Platform Availability: Windows 10, 8, 7, Vista, and XP; Mac OS X 10.5 and later.
Price: Free, Pro versions start at $24.95.
5. Absolute Uninstaller
Nearly all the uninstaller software discussed so far pack in a handful of extras as well, in addition to the core uninstallation features. And while that's not a bad thing, there might be users who want something simpler?
If you're among the lot, Absolute Uninstaller is for you. A simple yet robust uninstaller software, Absolute Uninstaller doesn't try to do too much, but what it does, it does really well. There are no extra PC optimization tools, no fancy add-ons, or anything like that. Just really great program uninstallation goodness.
Absolute Uninstaller displays all your installed software applications as a list, though you can change this view. The listing can be filtered to show only recently installed programs, large programs, and the like. All you have to do is select the program you want to get rid of, and hit the Uninstall This Program button. Multiple programs can be removed as well, using the Batch Uninstall option. Can't get any easier than that, right?
Note: Absolute Uninstaller's setup program is auto configured to download and install Glary Utilities, a system optimizing program from the same vendor as itself, at the last step of installation. However, you can easily un-check this option at the end of the installation.
Platform Availability: Windows 10, 8, 7, Vista, and XP (Desktop).
Price: Free.
6. Geek Uninstaller
Looking for the absolute easiest and straightforward way of uninstalling one or more of the software programs installed on your Windows PC? Geek Uninstaller is what all you geeks (and non-geeks) need.
Having a ridiculously basic single-window UI, Geek Uninstaller makes removing installed programs a cakewalk. And since it's a lightweight portable app, you don't even have to install it. Simply run Geek Uninstaller, and it'll show you a listing of all the installed programs. Now, select the programs you want to uninstall, and either hit Enter key, or choose Uninstall from the right click context menu. There's also a Force Removal option that can be triggered from the Action menu, for those extra hard to remove programs. Other than that, you can export the list of programs as an HTML file, and directly search for them on Google via the context menu. That's a really nifty addition if you ask me!
Platform Availability: Windows 10, 8, 7, Vista, and XP (Desktop).
Price: Free
SEE ALSO: 21 Tips To Speedup Your PC
All pumped up to remove those unwanted programs?
The above discussed programs not only do an incredible job of removing unwanted software from your computer, but also pack in some really nice extras. If you want powerful uninstallation features with multiple uninstall options, go for Revo Uninstaller Pro, or IObit Uninstaller. If you wouldn't mind a bit toned down uninstallation functionality but prefer overall system optimization features more, try Ashampoo Uninstaller or CCleaner. And if all you require are basic uninstallation capabilities, Absolute Uninstaller and Geek Uninstaller are going to work just fine. Try them all out, and see which one(s) you find the best. Know any similar uninstaller software that could've made it to the list above? Do mention them in the comments below.