Any gamer worth their salt already has the Steam client installed on their devices. Packing millions of users every month, Steam has remained of the most popular choices for gamers all over the globe. Whether it's the very easy process of refunding a Steam game or the Steam Remote Play, functionality is a prime factor. However, one that has changed little over the years is Steam's design. Don't get us wrong, we love Steam for what it is but Steam provides the ability to add third-party skins for a reason. So if you've been looking to snazz up your Steam client with the best steam skins, you're in the right place. Check out these best steam skins you can get in 2021.
The Best Steam Skins in 2022
This handy article contains the best Steam skins you can get but also includes the actual process on how to go about installing them. Moreover, we have a special bonus waiting for you at the end. If you can't wait for it or just need the names then use the table below to jump to your desired skin.
How to Install a Steam Skin
Before we get into telling you all about the best Steam skins, let's go through the process on how to go about installing them so you are prepared. No matter which Steam skin you download, the process will remain the same. Simply follow the steps below:
1. Download and keep your desired Steam skin folder on the desktop.
2. Copy the folder and make your way to the Steam directory. If you've installed it by default, you'll find Steam in C:—Program Files—Steam.
3. Once inside the Steam folder, look for a "skins" folder. If you can't see one don't worry. Simply create a folder titled skins without adding anything else.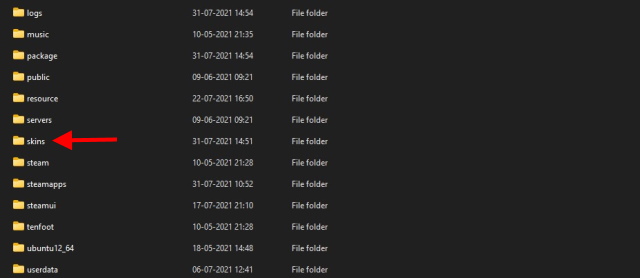 4. Paste the folder you copied earlier in the skins folder and close the window.

5. Open your Steam client and go to Settings from the top left.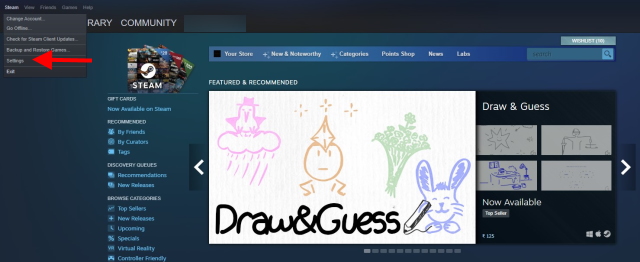 6. Head to the Interface section and select the dropdown menu which says Select the skin you wish Steam to use. Select your skin from this list and simply restart your client.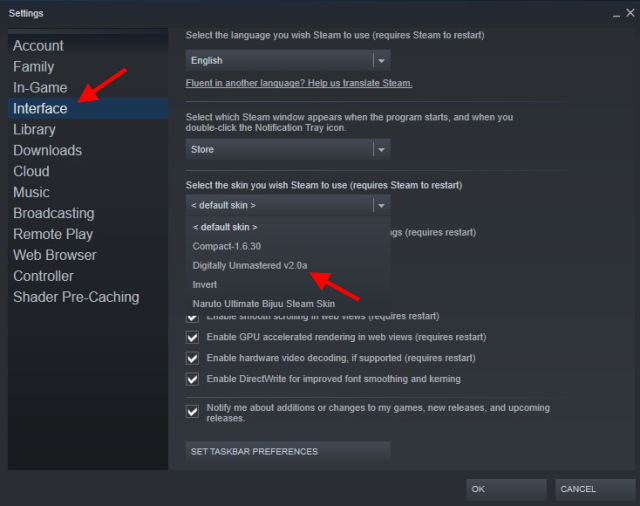 And you're done! Your chosen Steam skin has been installed and is ready to go. We have provided all the download links for the skins below so feel free to try them all.
The Best Steam Skins You Can Get Right Now
And now onto the big reveal. Given below are the best steam skins you can outfit your client with right now. If you run into any problems after installing, consider reading the skin's patch notes or reinstalling them.
1. Air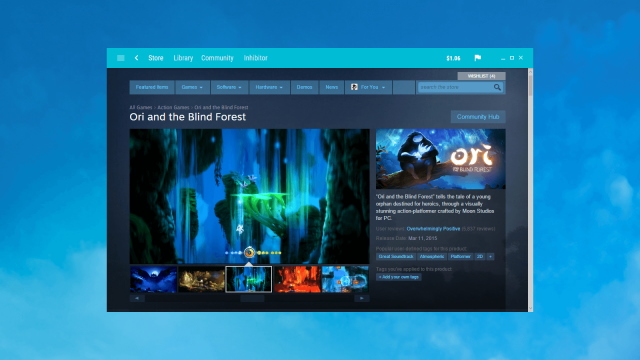 Starting with something vivid and refreshing, Air is a minimalistic yet colorful skin that showcases Google's Material design language. Air brings a splash of colors and a welcome change from Steam's traditional dark design. While not every user might like Air for being bright, we loved it for the beautiful balance it creates between displaying vibrant graphics while being organized and neat. Those looking for a font change will be glad to know this Steam skin has that too. Moreover, if you're not a fan of the light theme, Air also contains a dark set included in the download folder that has all the design but in a darker tone. Air is definitely one of the best Steam skins you should check out right now.
Get Air Skin 
2. Metro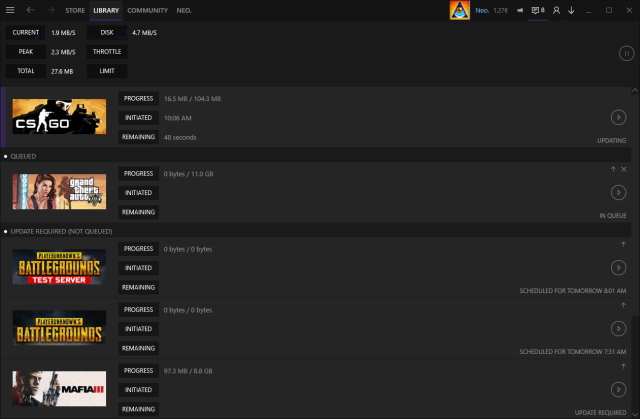 Users seeking to meld their Windows interface with the Steam client should check Metro out. Metro is a dark but neat skin that is comprised of a design that is simple in nature but paired up with enough elements to make it attractive. The blend of shaped corners to list the various download elements gives it a sleek feel while the simple list in the library organizes it. There is color thrown here and there inside Metro to create a sense of balance for players who want just a little light. The skin also prides itself on making the Steam chat look appealing and its custom overlay and thereby earning a spot into the best Steam skins of 2021.
Get Metro Skin 
3. Compact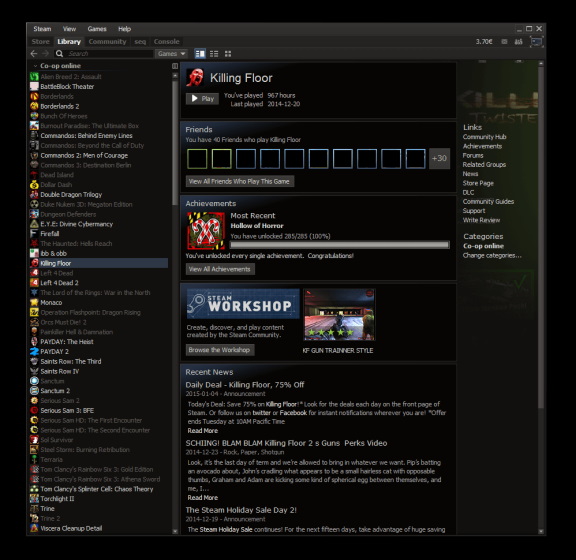 Well, the clue is in the name for this Steam skin. Compact takes the dark approach of Metro but introduces more simplicity in the form of classic-shaped dropdown lists and an old-timey color scheme. While the skin might be considered barebones by some, Compact provides that old computer feel to users. Vintage gamers will appreciate Compact for what it brings to the table including the simple graphics and the structured layout. So if you're a gamer seeking that, check out Compact Steam skin for your client.
Get Compact Skin  
4. Plexed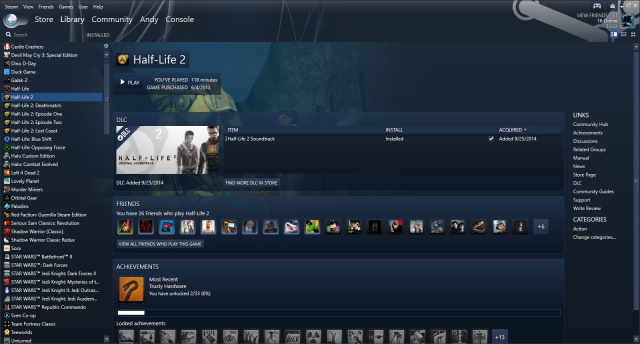 Plexed is a Steam skin that takes inspiration from the now old Longhorn interface that paved the way for Windows Vista and was considered exciting at the time. As described on the page, the intention behind Plexed was to create a unified, neat, and easy-to-use skin. While the color scheme behind the skin is similar to Steam's layout, it adds a bit more color to make it pop up from the background. The skin introduces the Segoe UI font which makes the text easy to read while remaining attractive. One of the things that stand out is the back arrows that users can employ to navigate around Steam. Plexed is a Steam skin worth a try and one you should get.
Get Plexed Skin
5. Pressure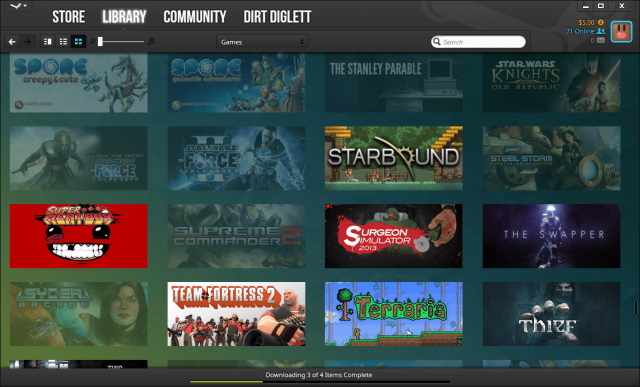 One of the Steam skins that give a complete overhaul of the design, Pressure is a beautiful skin aimed at giving something new. While the skin doesn't wander too far from Valve's original design it gives a lot of room and introduces some new elements. More noticeably, the Steam logo returns to the top left corner for users who want to have that. Moreover, the skin ditches the drop-down menu and employs a one-click approach by introducing buttons here and there. While it might take some time to learn where the settings are, in the end, you'll love the new design for how it blends in the modern interface while keeping things simple and to the point. One of the most loved Steam skins, Pressure is a gem.
Get Pressure Skin
6. PixelVision 2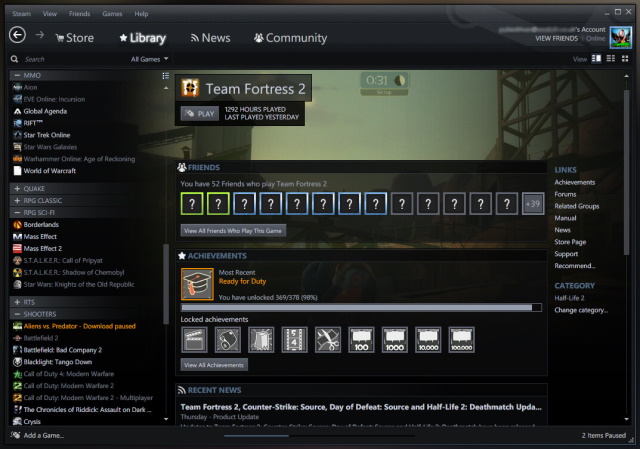 Gamers looking to make Steam every more gamer like should check out Pixelvision 2. This Steam skin takes the ever classic Steam layout and adds a darker black to make things even more serious. This color is reflected in the entire client whether it's the more prominent buttons or the intense combination black has with the added dark blue. While keeping in line with Steam's traditional layout, Pixelvision 2 adds a healthy amount of details to keep things interesting and serves as a good Steam skin.
Get PixelVision 2
If you're a gamer looking for even more color options, the PixelVision Modified skin version packs a solid arsenal of colors including versions in green, orange, purple, and more. With more fonts and more colors, you can check the modified PixelVision Steam skin out too.
7. Digitally Unmastered
You know this list won't be finished without including a Steam skin that takes you to a cyberpunk universe. Digitally Unmastered takes its inspiration from insanely popular video games and movies like Deus Ex and Matrix respectively and amps it up. Whether its smaller elements like the buttons or the textures to bigger ones like the download progress bar, everything is reminiscent of a cyberpunkish Steam skin. The color gradient is a mixture of that Matrixesque green added in with a nice dark black for appeal. However, be aware that because the skin has been intentionally designed to be retro, you won't find ultra-modern elements and should prepare for that. Cyberpunk fans get on this Steam skin right now.
8. Invert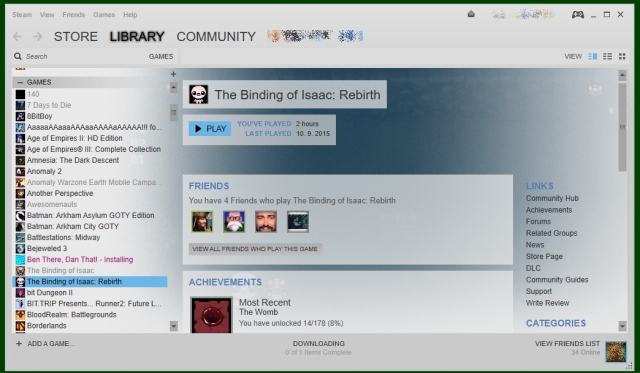 We will start by saying that while Invert is a nice take on the Steam layout, it's definitely not everyone's cup of tea. The Invert skin true to its name inverts the original Steam client's color scheme and converts it into a combination of white and grey. This inversion results in the entire skin tone being a bright off-white that includes the previous black text. However, there is the addition of more colors specifically dark green and more. The Steam Invert skin doesn't add anything else when it comes to functionality. So users who want to try this inverted combination out can give this skin a try.
Get Invert 
Bonus: Make Your Own Steam Skin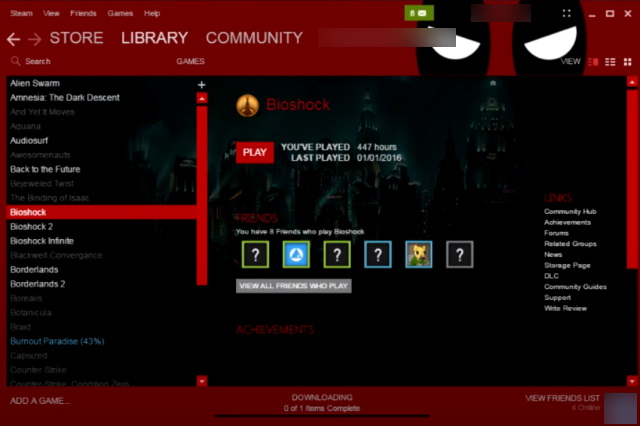 If you loved some of these Steam skins but want extended freedom this one is a treat for you. A website called the Steam Customiser allows users to create and customize their very own Steam skins online. Featuring a rich skin-creating process, the Steam customizer is for the users who want to take matters into their own hands. Once you're done you can even submit and share your Steam skins with the community and discover theirs. The automatic install makes things simpler for when you want to install your created skin. Just sign in and get creating.
Check Out Steam Customizer
Go Crazy with These Best Steam Skins
We hope you will fall in love with these amazing Steam skins. While customizing your client is always fun, you can do a whole lot more. Gamers looking for free games can check out these best free Steam Games. However, if you're among the lot who are tired of Steam and want to quit, it's very easy to delete your Steam account permanently. Got any more skins you feel we should add? Let us know in the comments below!