"Reach Site Summary" or RSS provides us with an easy medium to stay up to date with the ever-changing landscape of the web. Today, we follow a number of different websites and blogs to get the desired content. It is impossible to visit every site individually to see if they have been updated. Here, RSS feed readers come to our help. Instead of visiting every site individually, users can subscribe to their RSS feed and get all the updates at a single place. When we are looking for the best RSS readers, three things that matter the most are integration, customization, and categorization. There are many "feed readers" which can help you subscribe to your desired websites, but there are few who excel at all the three qualities.
We can use RSS Readers on both mobile and desktop platforms. Although we have started consuming a lot of content on our iPhones, many of us still like to use our Macs when it comes to serious reading. Macs are best when we have a lot of articles to go through, and using RSS readers make them even better. Well, that's the reason we have compiled a list of the 6 best RSS readers for Mac you can try: 
1. ReadKit
ReadKit is the best RSS reader you can get for your Mac right now. You can subscribe to websites individually, or, you can import the feeds from other online services such as Feedly, NewsBlur, Fever, and many more. You can even link "Pocket", a very popular 'read it later' service, and get all your saved articles at one single place. It has an inbuilt 'mercury parser', which lets you read the articles in a simple text and image format without any distractions that are generally present on the host websites. You can also go full screen to enter 'read only' mode, which hides the side bars and lets you focus on the article you are reading.
You can create smart folders to categorize articles into different folders. You can also simply drag and drop your feeds in different folders to organize them. If you spend some time learning the customizable keyboard shortcuts, you will power through your articles in a jiffy. It also has inbuilt dark and light themes, so you can customize the interface as per your liking. ReadKit provides all the power you need to make your reading game stronger.
Install: ($9.99)
2. Reeder 3
Reeder earns a very close second place on our list and for good reasons. It has all the features which we have come to expect from a great feed reader. It lets you subscribe to any number of blogs and other online services that you want. It has inbuilt mercury parser for better reading experience and theme support, which lets you chose between a variety of light and dark themes. Apart from having keyboard shortcuts, it also has gesture support, making dealing with articles a lot easier. One big advantage Reeder has over ReadKit is that it is available for both iOS and macOS which means you don't have to use different clients for different platforms.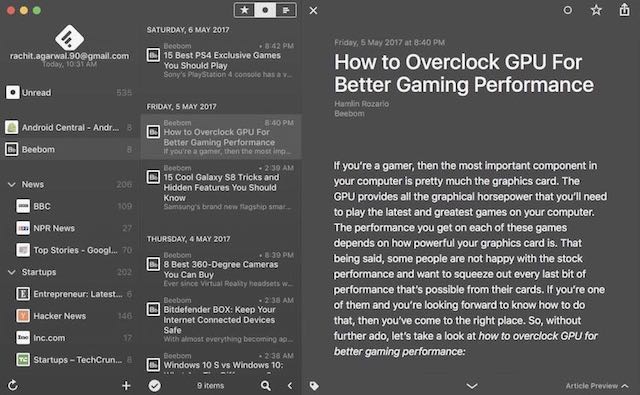 However, not everything is perfect here. It lacks smart folder creation and 'read only' mode which is important for me as a reader. Also, its lack of integration with 'Pocket' is a big drawback. It also lacks drag and drop feature to organize your articles. Although, it supports gesture navigation, they are usually hit or miss. These drawbacks kept Reeder from topping our list.
Install: ($9.99)
3. Leaf
Leaf is an advanced RSS feed reader which is very easy to setup and use. It has all the usual bells and whistles, which it organizes into a very neat looking package. You can integrate other services, subscribe manually to websites, and organize your articles into folders by using the drag and drop tool. You can use light and dark themes to customize the appearance. The thing which holds Leaf back, apart from other minor inconveniences is the article load time. When you click on an article, it takes a tad bit more to load the article than the other services mentioned here. It is frustrating when you are trying to go through a lot of articles in a single sitting. However, it is more affordable and costs half of Reeder and ReadKit.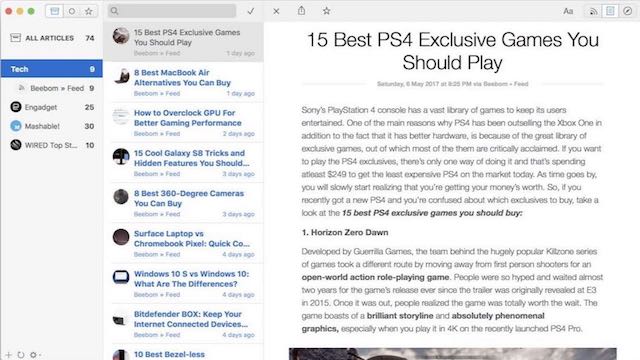 Install: ($4.99)
4. Feedly
Feedly is a very popular RSS reader client on iOS and now it has an app for Mac too. It is the only app in this list which is present on multiple platforms including iOS, macOS, and Android. So, if you own multiple devices and want to sync your articles across them, Feedly is for you. However, its Mac client is not as feature rich as other clients on the top of our list. The service is very buggy and limited. It has no integration with any other online services, so you are dependent on Feedly to provide you with the desired feeds. Also, my main annoyance with Feedly is not the lack of features, but the fact that it follows a paid subscription model.
Most people prefer upfront payment over subscription model as they are a hassle to deal with. The free model comes with a lot of restrictions. It only shows up to 100 feeds at a time and allows you to share the articles to only a few social media websites. You will have to become a paid member to lift all these restrictions. You can check out the full comparison between the features here. The individual plan starts at $65/year.
Install: (Free/In-app purchases)
5. Newsflow
If you do not want all the advanced features and need something simple, check out Newsflow. It is a very simple feed reader and is very easy to setup and use. It doesn't have any learning curve and you can get started as soon as you get it. It follows the iOS design language and has a transparent looking UI. The app, when launched, gives you a vertical list of articles which you can scroll through. You can click on any article to read it in a simple mode, or, you can load the whole website in the inbuilt browser.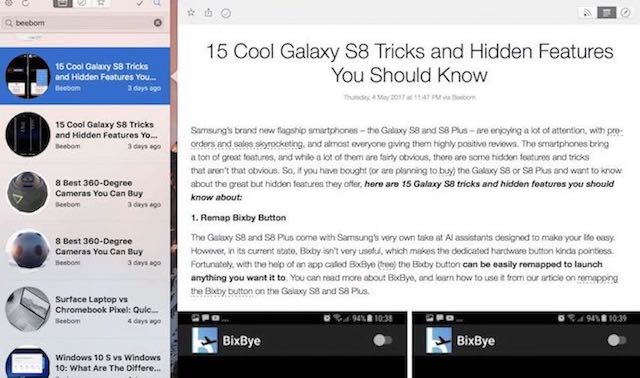 Install: ($4.99)
6. Safari
Yes, you read it right. The browser that comes with your Mac can also act as an RSS feed reader. However, it is pretty basic and you should expect yourself to readily grow out of it. Having said that, if you are just starting out, this can be a good place to begin with. You will have to manually visit the websites and subscribe to them. After you have added your subscriptions, you can see the list of articles in the left pane of the Safari window. Do not expect any advanced features from this, but it is free to use forever.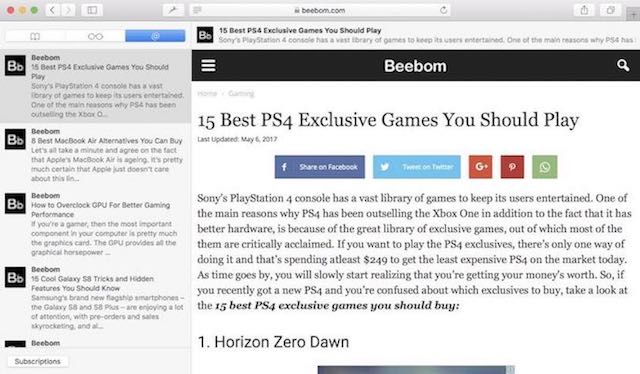 SEE ALSO: 15 Totally Awesome Productivity Apps For Mac
Read Better With The Best RSS Readers for Mac
If you follow a lot of blogs and websites, these best RSS feed readers will provide you with a tool which will help you to subscribe, organize, and read the desired content. We used a number of readers and selected what we found to be the best in the market. So, do you like our list? Which one of these you think is the best? Do let us know in the comments section below, and also tell us if you are using other services and why. Happy Reading.