The Pixel 3 and Pixel 3 XL are finally official after a spate of leaked reports, photos and videos revealed most things about them well ahead of Google's somewhat underwhelming press conference in New York earlier this week. The Pixel 3 is the cheaper of the two models, but it's still an expensive device, starting at $799 in the US and Rs. 71,000 in India. So in case you're planning on buying one, you'll do well to protect it with a quality case. Which is why, we are bringing a list of the 10 best Pixel 3 cases and covers you can buy for your brand new smartphone.
10 Best Pixel 3 Cases and Covers You Can Buy
Note: We will keep updating this list with new Pixel cases and covers, so make sure to check back from time to time.
1. Google Pixel 3 Fabric Case
The Pixel 3 XL Fabric Case featured here is currently available for pre-order on the official Google Store. The device is made out of nylon and polyester fabric polycarbonate materials, and is compatible with the Pixel Stand, which means it won't interfere with wireless charging. It's priced at $40 with free shipping, and is available in four different colors – Carbon, Indigo, Fog and Pink Moon.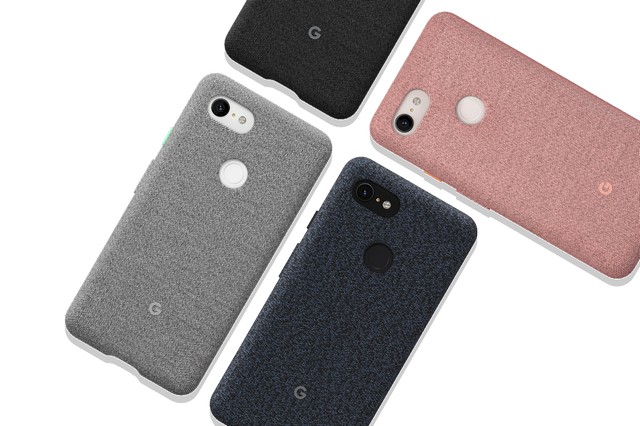 Pre-order on The Google Store: ($40)
2. Spigen Liquid Crystal Designed for Google Pixel 3 Case
Built out of a clear and flexible anti-slip TPU material, the Spigen Liquid Crystal case is a slim and lightweight unit that will protect your Pixel 3 without adding any noticeable heft or making it unwieldy. The case comes with Air Cushion Technology built into all four corners for enhanced drop protection and has reinforced buttons for better durability. It also supports wireless charging.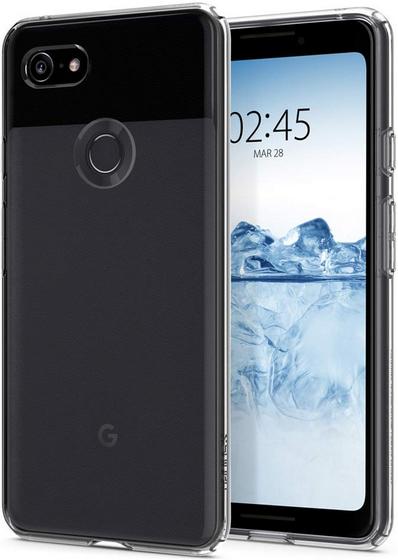 Buy From Amazon: ($11.99)
3. Sonix Clear Coat Case for Google Pixel 3
The Sonix Clear Coat case is yet another option that's available on the official Google Store. It's built with polycarbonate and Thermoplastic Polyurethane, and weighs just 0.8 oz. Its rugged 360-degree form factor and raised shock absorbent rubber sides provide complete protection, while its anti-scratch UV coating prevents your phone from getting scuffed up with prolonged use. It also comes with protected buttons to prevent accidental presses. It's offered in a number of cool designs, including the two featured here.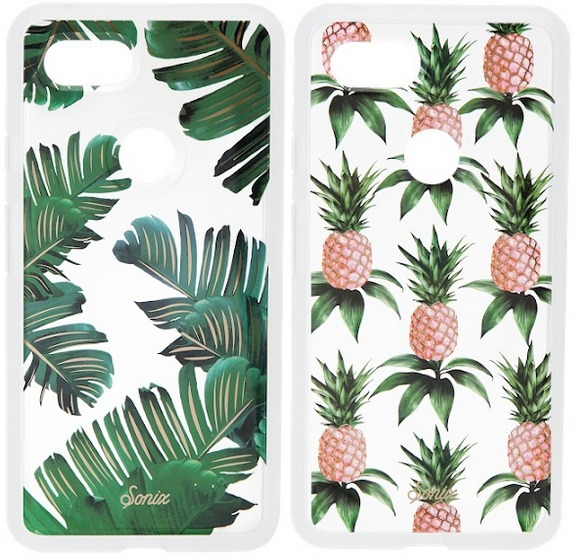 Pre-order on The Google Store: ($35)
4. Ringke Onyx Heavy Impact Shock Absorbent Case for Google Pixel 3
The Ringke Onyx Heavy Impact Shock Absorbent case is made with a premium, tough, pliable TPU material. It features a textured layout with a mechanical design that gives it a streamlined appearance with a tough outer flexible protective layer closely contouring each edge and curve of the device. Its Advanced Shock Absorption protects your phone against drops, bumps, scratches, nicks and shock, while its built-in QuikCatch lanyard hole allows you to attach accessories like wrist straps to secure your phone against accidental drops.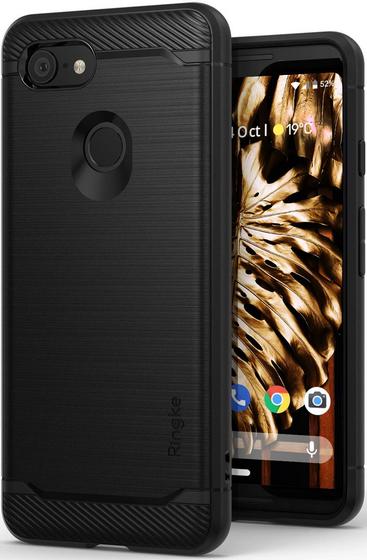 Buy From Amazon: ($8.99)
5. Spigen Rugged Armor Designed for Google Pixel 3 Case
The Spigen Rugged Armor Case is made out of a flexible TPU material and has a Carbon Fiber design that offers resilient shock absorption. It comes with a spider-web pattern on the interior and a raised lip on the exterior to protect the screen. The case is Military-grade certified with Air-Cushion technology that ensures optimum shock-absorption for every drop. The case comes with tactile buttons for solid feedback, and is fully compatible with wireless charging.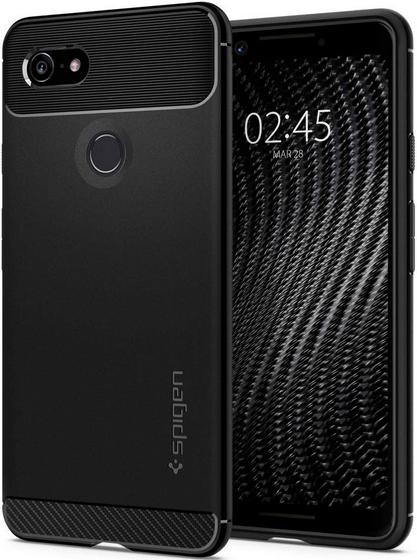 Buy From Amazon: ($12.99)
6. Ringke Fusion Clear Transparent Pixel 3 Case
The Rinke Fusion case is made with dual-layer polycarbonate panel and premium TPU material. It offers MIL-STD 810G – 516.6 Certified Military Grade Drop Protection and is outfitted with a raised bumper around its sides for impact resistance and has reinforced corners for enhanced shock absorption. It is also packed with enhanced anti-scratch and Dual-Coating technology for better durability and increased protection from bumps and bruises. Being a Ringke product, it also comes with a built-in QuikCatch lanyard hole to attach wrist straps or neck straps for your convenience.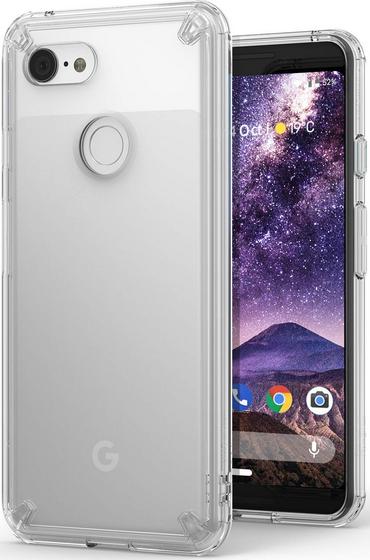 Buy From Amazon: ($8.99)
7. OtterBox Symmetry Clear Series Case for Google Pixel 3
OtterBox is one of the best-known case-makers in the world, and its Symmetry series offers some really cool, patterned clear cases for premium smartphones. The Pixel 3 case being offered by the company is also no different, and is a thin, sleek, stylish unit that comes with wraparound colors and graphics that add seamless style to your handset. It shields your phone against drops, bumps and scrapes, while its raised, beveled edge helps protect the fragile touchscreen. The case also comes with Otterbox's Limited Lifetime Warranty.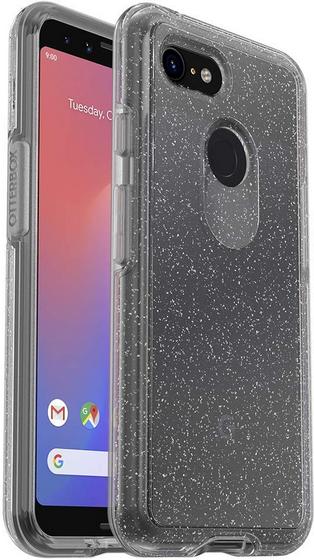 Buy From Amazon: ($44.95)
8. Casekey Google Pixel 3 Wallet Case
The Casekey Wallet Case has a premium durable PU leather cover on the outside and a soft TPU skin on the inside. It comes with 3 slots to stash IDs and credit cards, and 1 additional pocket to carry cash. It also offers a foldable kickstand feature for convenience of hand-free viewing experience. One more nice touch is the detachable handstrap that makes it easy and convenient to carry around. It comes with a double-sided magnetic snap closure for security, and is offered in Purple, Rainbow, Red and Rose Gold colors.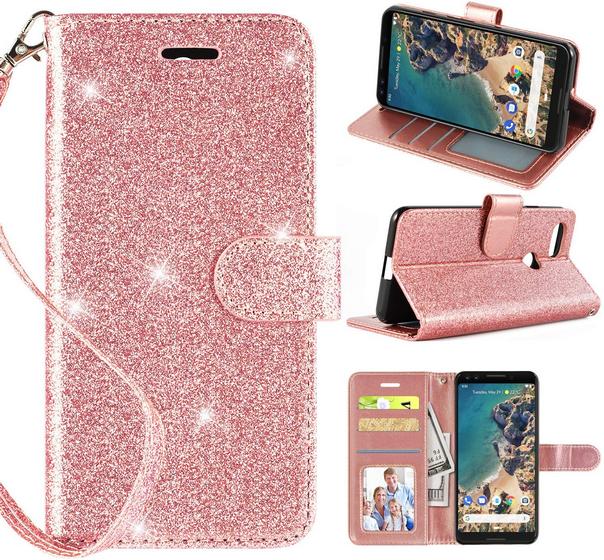 Buy From Amazon: ($5.99)
9. Arae PU Leather Wallet case with Wrist Strap for Google Pixel 3
The Arae Wallet case for the Pixel 3 XL is made of premium PU leather, which is good news for all you animal lovers. It comes with four built-in card slots and one pocket to store ID, Credit Cards & cash. It's also got a magnetic closure mechanism to keep your phone and money safe. The case comes with a soft TPU inner screen that prevents the device from getting scratched, while its strong magnetic closure system helps keep your belongings secure. The built-in kickstand makes it easy to watch videos hands-free, while the wristlet makes it easy to carry around. It's offered in Black and Rose Gold (featured here).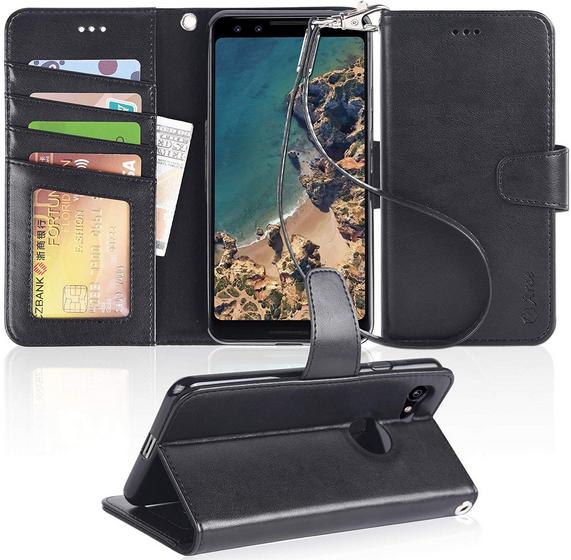 Buy From Amazon: ($12.99)
10. Poetic Revolution Rugged Heavy Duty Case with Built-in-Screen Protector for Google Pixel 3
Composed of premium polycarbonate and shock absorbing TPU bumper for better drop protection, the Poetic Revolution Rugged Heavy Duty Case offers 360-degree protection for your new smartphone. It includes a built-in 3D curved screen protector and comes with 'dust flaps' that cover all open ports to prevent dust, dirt and lint from getting in. It comes with a built-in kickstand for hands-free viewing, reinforced corners for better shock absorption and a hard polycarbonate back for enhanced drop-protection. The case comes in vibrant color options, including Black, White/Gray, and Blue/Gray.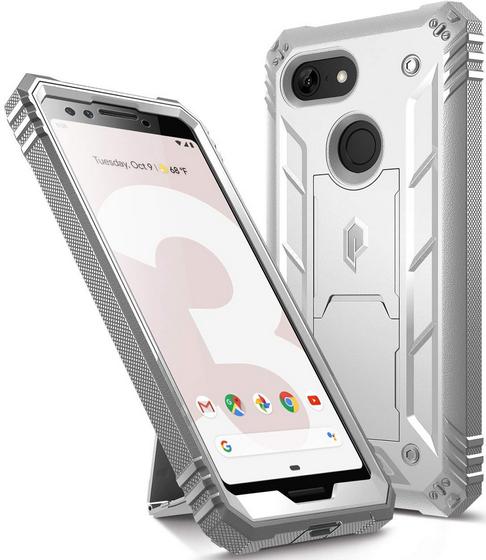 Buy From Amazon: ($16.95)
SEE ALSO: 7 Best Pixel 3 XL Cases and Covers

Protect Your Pixel 3 With These Awesome Cases and Covers
The above cases and covers will protect your precious new Pixel 3 and will look good while at it. They are multi-functional, stylish and pocket-friendly in more ways than one. Some of them are also available in a number of different colors, which means a vast majority of users should be able to find a case to match their needs and style. So go ahead, buy the one you fancy and do let us know which one you chose and why.