The smartphone market is divided into three core segments viz. top-end, mid-range and entry-level, but in the past few years, a new category called 'affordable flagships' has also emerged. This section was brought to the mainstream by OnePlus, and it hosts smartphones that offer a top-tier performance without burning a hole in the pocket of buyers and are usually priced around Rs. 30,000.
If you are planning to buy a smartphone whose cost hovers around the Rs. 30,000 margin, we have compiled a list to make the task of selecting the best smartphone in this price bracket easier for you. The smartphones included in our list have been selected after evaluating parameters like their processing power, camera performance, build quality and design as well as the user interface to name just a few. Let's get started with the list:
10 Best Phones Under 30000 INR (October 2018)
1. Poco F1
Finding a smartphone which brings the top of the line processor while costing less than INR 30000 might have been a dream in the past, but as of 2018, Xiaomi has made this a reality. If you are looking for a smartphone below Rs. 30000, this is one of the best smartphones you can buy. When it comes to the guts of the smartphone, the Poco F1 is powered by the Snapdragon 845 processor and Adreno 630 GPU. That means you are getting the same processor which is powering Samsung's latest flagship, the Galaxy Note 9, in a smartphone which costs less than one-third of its price.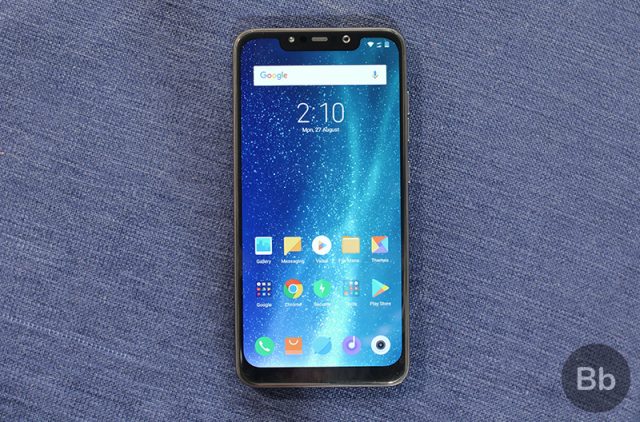 What more can you want from a smartphone? Talking about the display, the front of the smartphone is sporting a 6.18 inch IPS LCD screen which has a resolution of 1080 x 2246 pixels. On the camera front, the phone is bringing a great dual 12MP + 5MP setup at the back while a 20MP front camera is handling all your selfie needs. Finally, there's a huge 4000 mAh battery which is enough to easily last you the whole day. Overall, the phone is offering way more than its asking price and you should definitely buy it if you can. The only problem with this phone is that it is being sold in Xiaomi's flash-sale program and it can be a while before you can get your hands on this product.
Buy From Flipkart: starts at ₹20,999
2. Asus ZenFone 5Z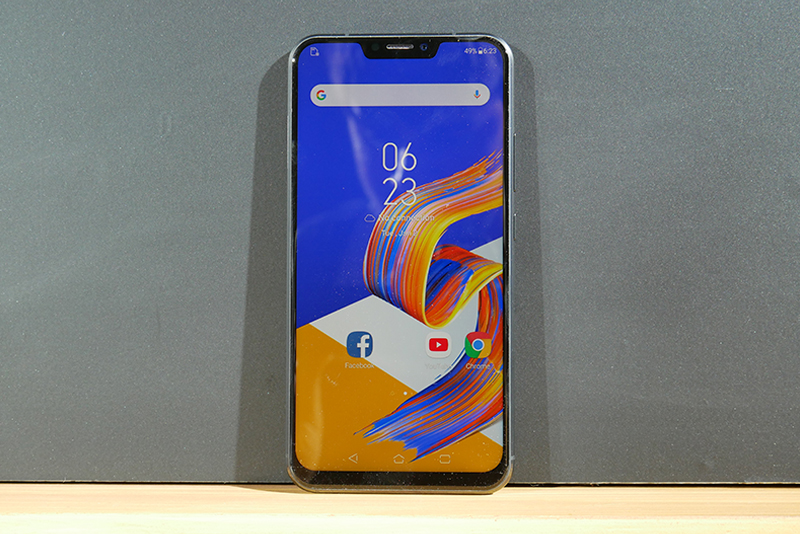 Taking the top spot on the list is the new Zenfone 5Z from Asus, which is on its way to dethrone the OnePlus 6 as the new flagship killer. The Zenfone 5Z packs in Qualcomm's latest and greatest Snapdragon 845 processor clocked in at 2.8GHz coupled with 6GB of RAM and 64GB of onboard storage. Much like most other Android flagships in the market today, the Zenfone 5Z has also adopted the dreaded notch, despite having a substantial chin at the base of the display. The smartphone sports a 6.2-inch FHD+ Super IPS+ display which gets really bright and has a modern 19:9 aspect ratio.
The Zenfone 5Z packs in a respectable 3,300mAh battery to keep the device going and features support for Qualcomm's Quick Charge 3.0 technology for fast charging. In the camera department, the Zenfone 5Z sports a 12MP+8MP dual camera setup with OIS and EIS on the back, along with an 8MP selfie camera up front. Asus has packed in a ton of AI features, especially in the camera, which make it a great performer even in low light conditions. The device also features a hybrid SIM tray, which will allow you to expand your storage up to 2TB.
Buy from Flipkart: (Rs. 29,999)
3. Honor View 10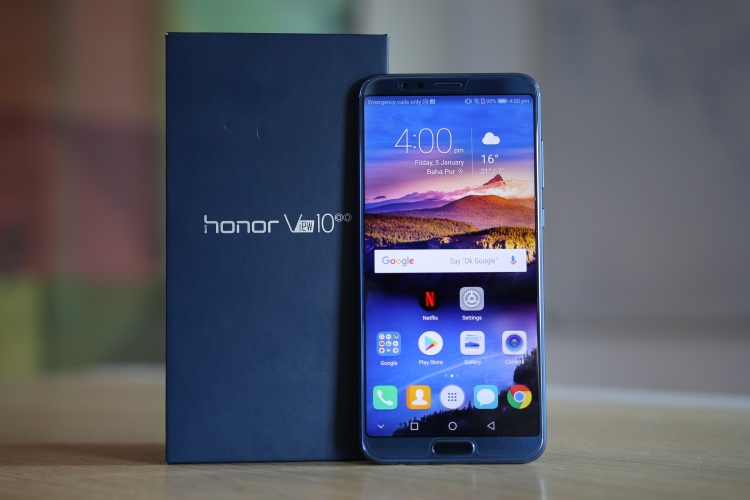 The Honor View 10 is the flagship offering from Huawei's Honor sub-brand, and it's quite surprising that this device packs the same processor, RAM, and internal storage as the Mate 10 flagships which cost twice as much. The Honor View 10, which comes with an integrated NPU for enabling AI-based features, fared exceptionally well in our review, with particular praise going to its sleek metallic design and stellar build quality. Thanks to a recent update, the Honor View 10 has also gained support for Face Unlock as an authentication measure.
The Honor View 10 packs a 5.99-inch 1080 x 2160 IPS display with an 18:9 aspect ratio, and it is kept lit by a 3750mAh battery. As for the hardware, the Honor View 10 packs the powerful Kirin 970 SoC which is paired with 6GB of RAM and a hefty 128GB of internal storage which can be further expanded up to 256GB. In the imaging department, the Honor View 10 holds its own against other high-end smartphones, thanks to its capable dual rear camera set-up (20MP + 16MP) and a 13MP selfie snapper, which can click some really good quality shots with sufficient detail and vivid color output.
Buy from Amazon: (Rs. 29,999)
4. Vivo V11 Pro
Just like Oppo, Vivo is yet another company which focuses a lot on its selfie camera performance. So, the new Vivo V11 Pro is a nice smartphone for all the selfie lovers to buy. The smartphone is packing a 25 MP camera at the front allowing you to take some amazing and detailed selfies. The primary camera is not half bad either with its dual 12 MP + 5 MP camera taking some decent pictures.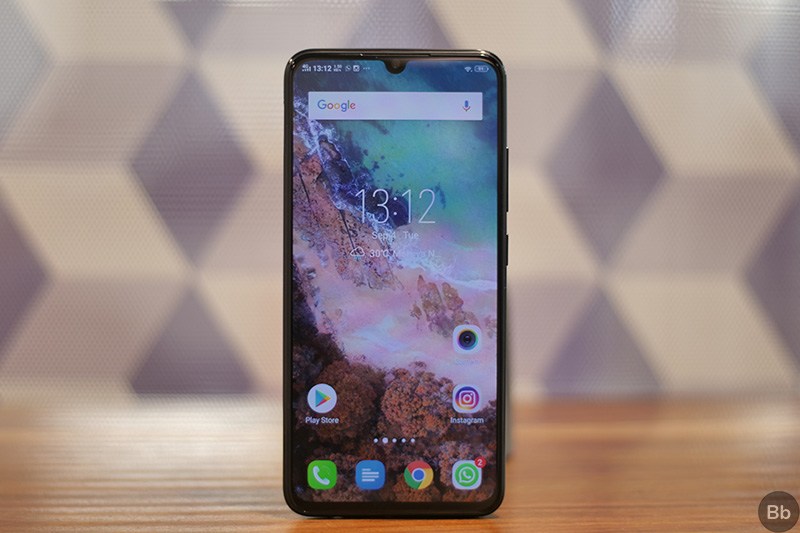 Enough about the camera, let's talk a little bit about its other features, shall we? Well, the smartphone is being powered by a Snapdragon 660 processor which is being paired with Adreno 512 GPU. There's also 6 GB of RAM and 64 GB of internal storage which will really come in handy. On the front, there's a 6.41-inch display which sports a tear-drop notch which looks beautiful. The display has a resolution of 1080 x 2340 pixels, giving it a pixel density of 402 PPI. Finally, there's a 3400 mAh battery powering the setup which should be enough to last a whole day.
Buy from Amazon: (Rs. 25,990)

5. Mi MIX 2
The Mi MIX 2 is a pretty great phone from Xiaomi that didn't really make it in India too much. However, it has since received some price cuts and is now available under Rs. 30000 making it a pretty solid phone to get. The highlight of the Mi MIX 2 is definitely the bezel-less display that it comes with. There are absolutely no bezels on the top and the sides of the phone, and a slim chin holds the front camera (which means you have to rotate it upside down to take selfies or for video calls).
The Mi MIX 2 comes with the Snapdragon 835 processor, which is old by today's standards, yes, but is definitely a pretty solid performer nonetheless and the phone will not let you down when it comes to performance. Paired with 6GB of RAM and 128GB internal storage, the Mi MIX 2 can easily handle anything you throw at it, including heavy games like PUBG Mobile.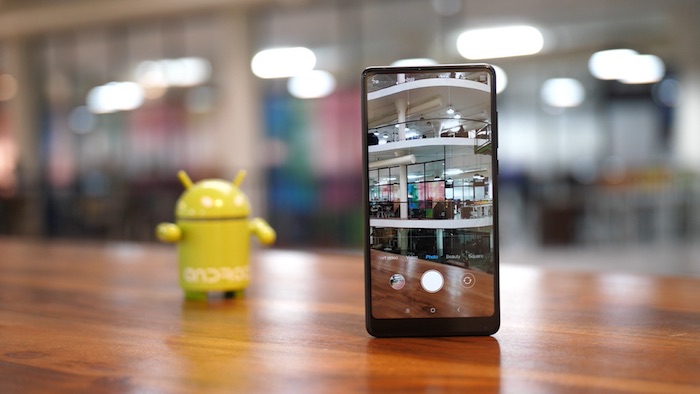 In terms of cameras though, the MIX 2 is slightly disappointing. The phone comes with a single 12MP camera on the back, and in good lighting, the phone can take really crisp shots with great color and details. However, in low light, things fall apart quickly for the phone, so if you're looking for a phone to take pictures with when you're on a night out with friends, the MIX 2 is probably not for you. Other than low light though, the MIX 2's camera is definitely good.
On the front, the MIX 2 comes with a 5MP camera placed on the bottom bezel of the phone and it's nothing very exciting. The pictures are fine, but they're definitely nowhere near what you'll get with phones like the Poco F1. So yeah, if you're looking for a phone with good cameras, I'd suggest you skip the MIX 2, but if you're looking for a phone with awesome design and good performance, the MIX 2 is definitely worth considering.
Buy the MIX 2 from Flipkart (Rs. 29,990)
6. Galaxy A7
Samsung's mid-range smartphones are usually underwhelming, but the Galaxy A7 is definitely a phone that's breaking that trend. The A7 comes with a 6-inch FullHD+ SuperAMOLED display which has vibrant colors, great sunlight visibility, and deep blacks that you'll love. The phone features an Exynos 7885 processor and while it's not as powerful a processor as, say the Snapdragon 660, it's definitely a lot more powerful than Samsung's previous mid-rangers with Snapdragon 450 processors. Paired with up to 6GB of RAM and up to 128GB of internal storage, the Galaxy A7 is a decent performer. You'll be able to play PUBG Mobile on the Galaxy A7 for sure, but you'll have to make do with low graphics.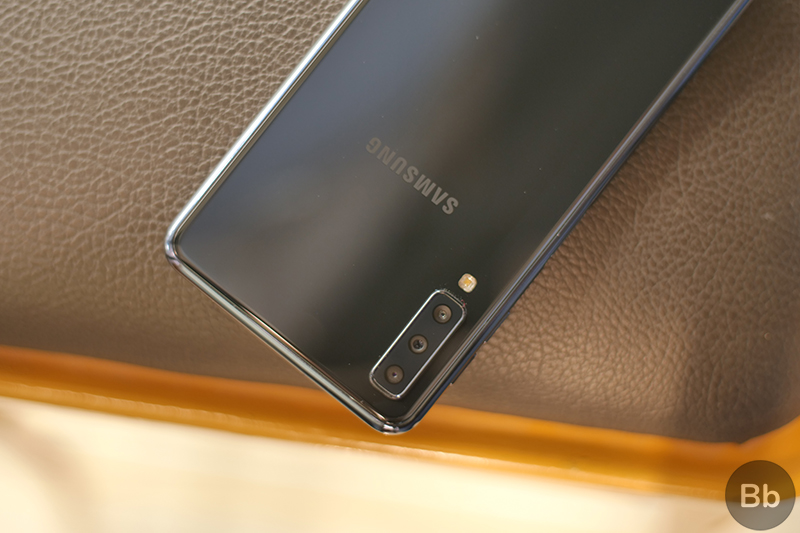 In terms of optics, the Galaxy A7 features a triple rear camera set up. There's a 24MP primary camera, an 8MP wide-angle camera, and a 5MP depth camera. The phone takes crisp, detailed, and well-lit shots in good lighting conditions. In low light too, the phone can capture a lot of light, which is definitely great. Images in low light are a bit soft, but they're still good enough. There are also some interesting camera features here, including Portrait Dolly which results in some cool looking images. The 8MP wide-angle lens can also help you capture beautiful wide-angle shots, and over all, the cameras on the Galaxy A7 are great. Even the 24MP front facing camera on the Galaxy A7 is a great shooter. Selfies clicked with the A7 have ample detail and good colors in proper lighting conditions.
On the battery front, the A7 packs in a 3,300 mAh battery which is on the lower end of battery sizes, and it doesn't have fast charging support either. However, the phone fares quite well in terms of battery life and easily lasts a day.
Buy the Galaxy A7 from Flipkart (starts at Rs. 23,990)
7. Nokia 7 Plus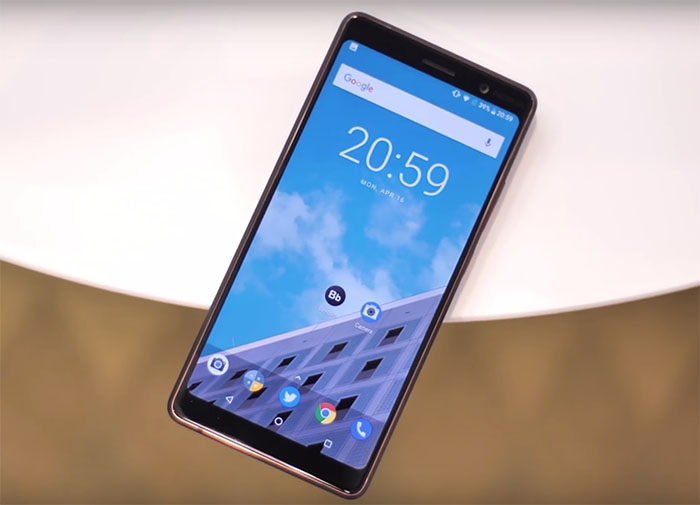 The Nokia 7 Plus is one of the best smartphones under 30,000 INR that you can buy. The Nokia 7 Plus comes with a 6-inch IPS LCD display with an 18:9 aspect ratio, and a bezel-less design. In the camera department, the Nokia 7 Plus comes with a dual 12MP camera on the back with the primary lens set to an f/1.75 aperture, and the secondary lens set to f/2.6 which means we get a portrait mode on the Nokia 7 Plus.
The device is powered by Qualcomm's Snapdragon 660 SoC with 4GB of RAM ticking alongside and 64GB of internal storage (expandable up to 256GB), while the lights are kept on by a 3800 mAh battery. The Nokia 7 Plus ships with Android 8.1 Oreo out of the box, and is also part of the Android One Programme, so future updates should not be an issue.
Buy from Amazon: (Rs. 25,999)
8. Huawei Nova 3i
If you love smartphone photography, you are going to love the new Huawei Nova 3i as it is bringing one of the best camera experience you can get in a smartphone costing under 30000 INR. But before we talk about the cameras, let's see what else the smartphone has to offer us. Well, for starters, the Huawei Nova 3i is being powered by Huawei's latest Hisilicon Kirin 710 processor which sits right in the middle of higher-end Kirin 970 and mid-range Kirin 659 processor. The Kirin 710 is plenty fast and should handle all the normal day-to-day tasks and gaming quite easily. The Nova 3i is pairing the Kirin 710 with Mali-G51 MP4 GPU, 4GB/GB of RAM, and 64GB/128GB of internal storage.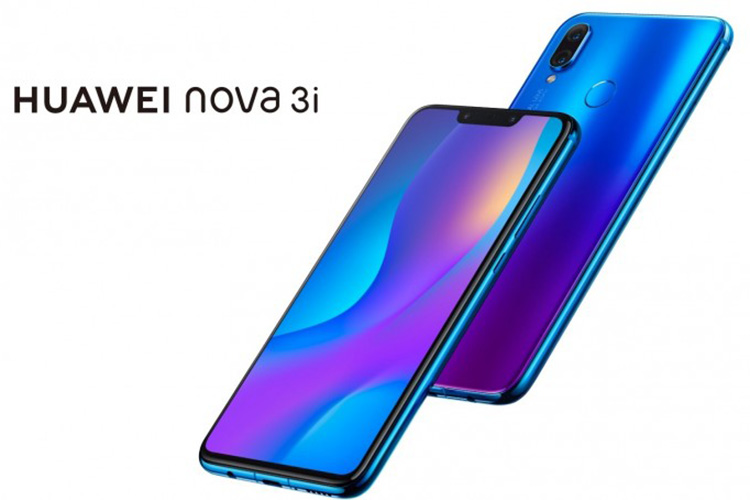 The display on this thing is a 6.3-inch IPS LCD panel with a resolution of 1080 x 2340 pixels, giving it a pixel density of ~409 PPI. Like it's with all the other Huawei smartphones, the display here is color accurate and beautiful. All that is good but as I said at the start, you are buying the Huawei Nova 3i for its cameras and I meant it. The smartphone brings a 16 MP (f/2.2) + 2 MP camera at the back along with a 24 MP + 2 MP dual-camera sensor at the front. Yes, you read it right, both the primary and the secondary cameras on this smartphone pack dual-camera sensors and they take incredibly good pictures. If you love your smartphone cameras, this is one of the best ones you can get.
Buy From Amazon: (Rs. 20,990)
9. Oppo F9 Pro
There's no denying the fact that most of the Android smartphones take some design inspiration from iPhones for their design, the notch being the latest trend. That's why it feels so nice when a company tries to at least reiterate on the design and doesn't just plaster the original design on its smartphone. While the Oppo F9 Pro comes with a notch, its notch's design is quite unique and looks almost beautiful. Oppo has designed the smartphone's notch to look like a teardrop and if you don't pay attention to it, most of the time you won't even notice its there. What this means that you are getting a bezel-less smartphone without having to deal with a hideous notch which by now we have to get accustomed to.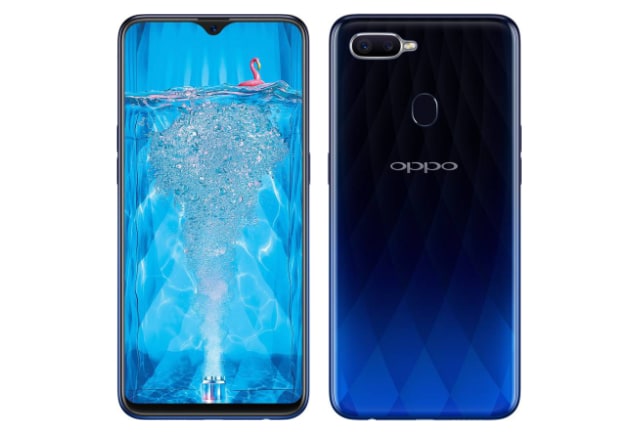 When it comes to the smartphone itself, it is being powered by MediaTek Helio P60 octa-core processor along with the Mali-G72 MP3 GPU. While these are not the fastest processors in the world, they are no slouch either. The phone is plenty fast and can handle almost everything that you can throw at it. The F9 Pro pairs this with 4/6 GB of RAM and 64 GB of internal storage. The front sports a 6.3 inch IPS LCD panel which has a resolution of 1080 x 2340 pixels. These specs are nice and all but the USP of the device are its cameras, specifically the front camera. The primary camera on this phone packs a 16MP + 2MP dual-camera sensor while the front-facing one brags of a whopping 25MP sensor which can take some amazing selfies. If you love selfies, you should probably take a look at this smartphone.
Buy From Flipkart: ₹23,990
10. Nokia 8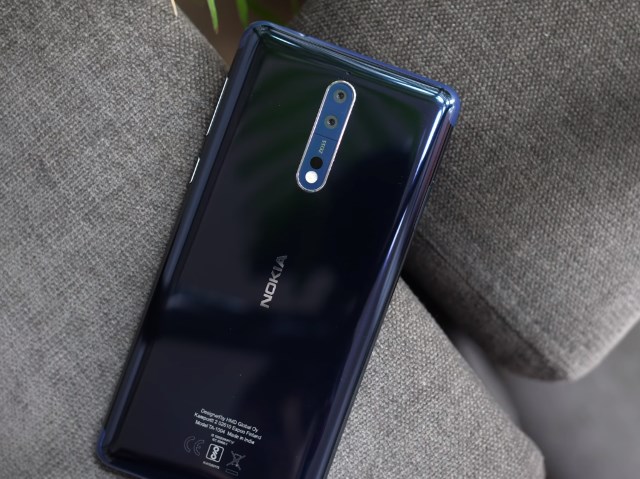 The Nokia 8 is a true flagship, and there is no other way to describe it. Launched originally at Rs. 36,999 (64 GB) which was not a bad price in itself considering the top-end hardware it offers, the Nokia 8's price has since dropped to just Rs. 27,749, which is a steal deal right now. For that price, the Nokia 8 offers a sleek metallic build topped off with a 5.3-inch QHD display with Corning Gorilla Glass 5 protection. The device has recently been upgraded to Android Oreo, so you are covered on the front of software updates.
The Nokia 8 packs a dual rear camera set-up (13MP + 13MP) backed by Zeiss optics, OIS and laser autofocus for superior photography and a 13MP front camera to handle selfies. And believe me, despite the Nokia 8's low-score on DXOMark, it's real life camera performance is awesome, and with the imminent arrival of the Nokia Pro Camera app, the Nokia 8's imaging output will only improve. The device is powered by Qualcomm's Snapdragon 835 SoC with 4GB of RAM ticking alongside and 64GB of internal storage (expandable up to 256GB), while the lights are kept on by a 3090 mAh battery.
All in all, the Nokia 8 is undoubtedly one of the best-specced device under the Rs. 30,000 mark and there is hardly any other device that can compete with it in terms of specs and raw performance.
Buy from Amazon: (Rs. 27,749)
SEE ALSO: 10 Best Dual Camera Phones Under 15,000 INR
The Best Phones Under 30000 INR You Can Buy
So, that sums up our list of the best phones under 30000 INR you can buy. While there are a lot of options to choose from, depending on which device suits you the most, there are only a handful of smartphones that can truly offer the best experience.
What do you think of the list we've compiled? Did we miss a smartphone that is truly worth buying in the sub-30K category? Do let us know in the comments section below and feel free to drop any recommendations you have in mind.