If you are a die-hard Nokia fan, and are out to buy a Nokia phone as of late, we are here to help you. We have shortlisted top Nokia mobiles in various price ranges.
Under INR 5K (Non-Touchscreen): Nokia 301 Dual SIM :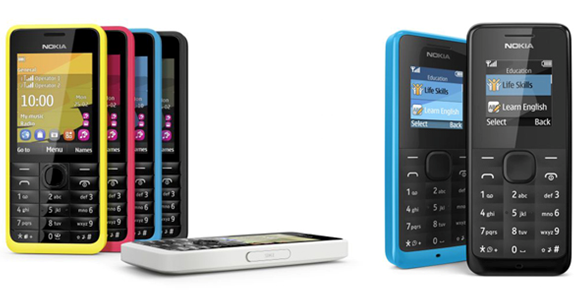 Nokia has introduced its new handset known as Nokia301 in Indian market, which is a Dual SIM phone. It has a 2.4-inch transmissive LCD with resolution of 320 x 240 pixels and an alphanumeric keypad. The Nokia 301 runs on Series 40 OS along with the Nokia Xpress browser. It supports 3G connectivity and noise cancellation. It also has 3.2 MP rear camera with some good features such as panorama shots and sequential shots. On the connectivity front, Nokia has done a commendable job with the inclusion of Bluetooth v3.0 with A2DP, 3.5G HSPA, GPRS, GPS & Micro-USB 2.0 port.
Moreover, the Nokia 301 comes with pre-loaded apps like Instant Messenger, Email Client, Twitter, Facebook Chat, Nokia Chat, and eBuddy IM. It has 256MB of internal memory, 64MB RAM and support up to 32GB external memory via microSD card and powerful 1200 mAh battery, which provides talk time of up to 20 hrs for 2G & 6 hrs for 3G and standby time of up to 888 hrs for 2G & 936 hrs for 3G.
Best phone for those who want a simple non-touchscreen phone with decent features.
Under INR 5K (Touchscreen): Nokia Asha 310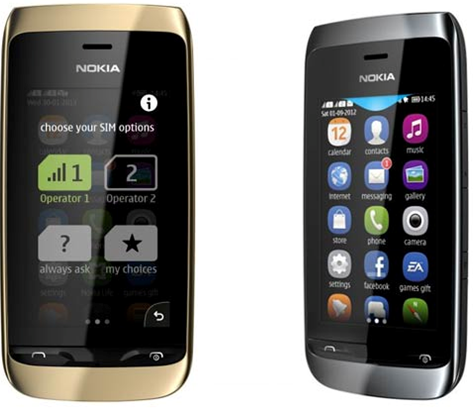 The Asha 310 is a dual-SIM device which features 'Easy Swap' and the secondary SIM slot is placed on the side of the phone, allowing users to put the second SIM without even the need to turn off the phone. It has a 3-inch capacitive LCD touchscreen with a resolution of 240 x 400 pixels. It has a basic 2 MP camera at the back and lacks a front-facing camera. The Asha 310 supports Internet connectivity through GPRS/EDGE, along with the other connectivity options include WiFi 802.11b/g, Bluetooth 3.0 with A2DP, Micro-USB 2.0 and USB. Nokia Asha 310has a 1,110 mAh battery giving 17 hours talk-time or up to 25 days on standby from a single charge.
Asha 310 comes with pre-installed Email, Facebook, Twitter and eBuddy apps, in addition to Nokia Maps, which works online and offline. The phone is also offering 40 free games from EA such as Tetris, Bejeweled, Need for Speed the Run and Fifa held in 2012.
This phone is retailing for around INR 5,000 and is a good buy who wants a good touchscreen phone without the burden of confusing Android operating system.
Under INR 10K (QWERTY Form Factor): Nokia Asha 303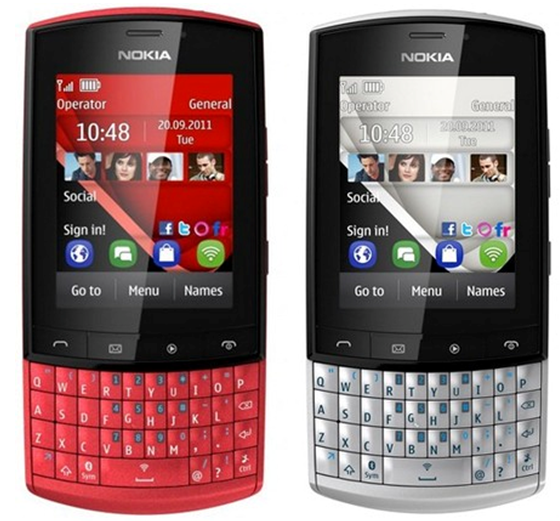 The Nokia Asha 303 is a touchscreen phone with a full QWERTY keypad that gives the user an advantage of using a touch or type input, to meet specific needs of the consumer. This Nokia phone, which is running on Series 40 operating system, is designed to assure smooth user experience. This Asha series phone has a 2.6-inch capacitive touchscreen that gives the user display while handling. The Nokia Asha 303 is loaded with a 1 GHz processor and has 3.2-megapixel camera with fixed focus that captures pictures and record videos. Asha 303 appears to be a kin of the X2-01. The Nokia Asha 303 uses an ARM 11 architecture based mobile processor, which is clocked at 1 GHz and coupled with 128 MB low power memory to support it.
For the operating system, Nokia has added a 256 MB ROM.Asha 303 features the most extravagant Symbian Series 40 mobile operating system that comes with usually a bunch of interesting preloaded apps including Angry Birds, Zenga TV and WhatsApp.
Under INR 15K: Nokia Lumia 620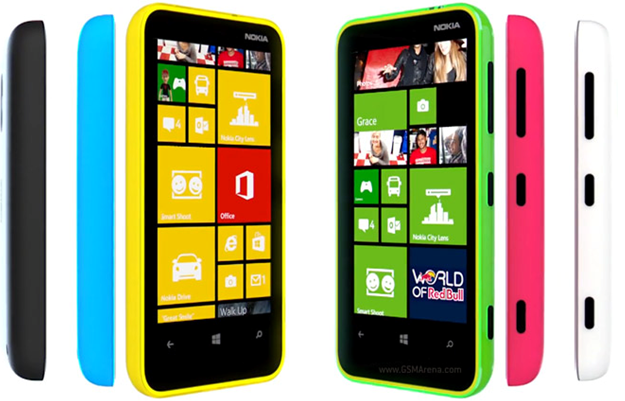 The recently released Nokia Lumia 620 has a 3.8-inch ClearBlack Display screen with 800×480 pixels resolution and also 246ppi pixel density. It comprises of 1GHz dual-core Qualcomm processor with Krait cores and 512MB RAM along with 1,300mAh battery to power the package. The phone comes with 8GB on-board storage, 7GB SkyDrive space and microSD expansion nearly up to 64GB. When speaking about Internet connectivity, the phone offers 2G, 3G, Wi-Fi, Bluetooth 3.0, NFC and microUSB 2.0. For imaging, 5MP camera with LED flash on the back and a VGA secondary camera in the front. At the end of the touchscreen of Nokia Lumia 620 are the three standard keys used on the WP platform – Home, Back and Search.
On the top of the screen are the sensors and secondary camera, while the earphone jack is on top. The 5MP camera is placed at backside with LED flash and speaker grille and the micro USB port is at the bottom. The volume rocker, Power/Lock and Camera key are on the right side of the display, while the left is barren.
Overall, the phone is easy to handle and fits in the palm easily, though it is quite small when compared to the phablets that are flooding the market nowadays. The Nokia Lumia 620 is the most value for money device in the price range of under INR 15K and is bound to be the best selling Nokia Lumia device in India. It is very attractive to look at and is very easy to hold as well.
Under INR 20K: Nokia Lumia 720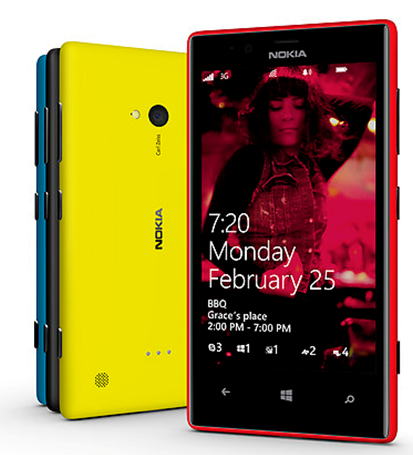 Nokia is expanding its range of Windows 8 Lumia series and has launched two more phones in the range. The phone comes with a 4.3-inch ClearBlack display screenwith Corning Gorilla Glass 2 protection. The most important and boast-worthy features of this Windows phone are its camera and screen. The 6.7 MP camera comes with autofocus, LED flash and Carl-Ziess lens. Nokia has also provided a HD 1.3 MP front-facing camera. Nokia Lumia 720 comes with a dual-core processor and runs on the Windows 8 platform. The RAM is, however, less than expected at 512 MB.  The phone supports 3G, NFC, EDGE and all the other regular connectivity options. Nokia Lumia 720 comes with an internal memory of 8 GB and is expandable up to 64 GB, which is via Micro SD card. The battery is standard at 2000 mAh though we're guessing it is excellent for a mid-range phone.
The Nokia Lumia 720 will be available in red, white, cyan, black and yellow colors and is expected to launch in India with a price tag of INR 17.5K in mid April.
Under INR 35K: Nokia Lumia 920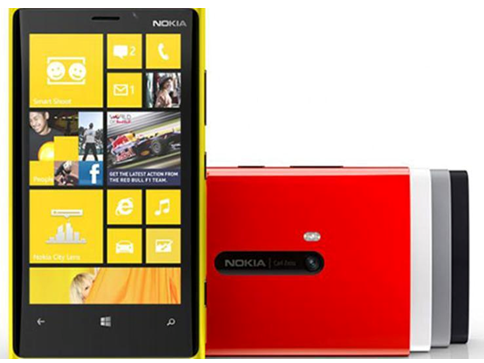 The Nokia Lumia 920 is solidly built out of a polycarbonate unibody shell that goes all around the device and offers a welcome change. The left side of the phone is completely bare, giving way to the Micro-SIM slot on the top left. The 3.5mm headphone/mic jack is at the centre of the top edge, adjacent to a noise-cancelling microphone. The right side of the phone is embedded with the volume rocker, power-button and the camera button, in a typical Windows Phone button arrangement. The camera carries the PureView moniker, made famous by the 41-megapixel Nokia 808.
But Nokia includes optical image stabilization in this phone to give you much smoother video recording and less shaky images even in low-light situations.
Nokia has ditched the AMOLED display found in the Lumia 900 and gone with a 4.5-inch IPS LCD with 768×1280 pixels, which can be operated with gloves on hands.
The Nokia Lumia 920 has been embedded with Windows Phone 8; Microsoft's latest mobile-OS that ships with multiple improvements like enhanced performance, multi-core processor support, NFC and more. Battery life is unlikely to be a problem even for heavy users, and you can expect to go by an entire day on a single recharge.
SEE ALSO:
Best 5 Budget Android Phones in 2013