Motorola announced their latest mid-range smartphone, the Moto G5 Plus, at the Mobile World Congress in February, this year. The latest iteration of the Moto G family of smartphones comes with a Snapdragon 625, 4 GB of RAM, with a 5.2″ Full HD IPS LCD display, 3000mAh battery, and a 12 MP rear camera, all packed inside a metal body. Needless to say, the phone looks good, and is one of the top contenders for the mid segment smartphone market. So, if you're planning on buying the Moto G5 Plus, and you want to keep it safe from the elements, here are the 10 best Moto G5 Plus cases and covers you can buy:
1. SPARIN Moto G5 Plus Clear Case
SPARIN probably realised that a lot of people would want to keep their phone safe, without wanting to compromise on the looks that Moto has bestowed upon the G5 Plus. This clear case from SPARIN is guaranteed to fulfil both of these requirements. Built with TPU, the case is soft to the touch, making it comfortable to hold. Plus, the air-cushioned corners in the case are sure to keep your phone safe from drops.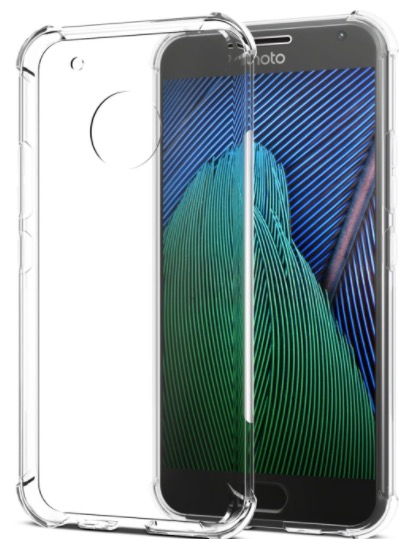 The case comes with precise cut-outs for the camera, speakers, buttons. Thanks to the TPU construction, and the soft, curved corners in the case, it is extremely comfortable to hold, and feels like a part of your brand new phone. At $7.99, SPARIN is offering a two pack of these cases, which is definitely a very reasonable price.
Buy ($7.99)
2. Yocco Soft Silicon Shockproof Case
Yocco has also come out with a case for the Moto G5 Plus, to add a bit more class to the phone, while also keeping it protected. The case is made out of soft silicon, and provides essential protection to your device. It also comes with a raised-lip design, to protect your device's screen if it ends up falling flat on its face. Plus, you can put your phone face down, to avoid getting distracted, and not worry about scratching the beautiful Full HD screen.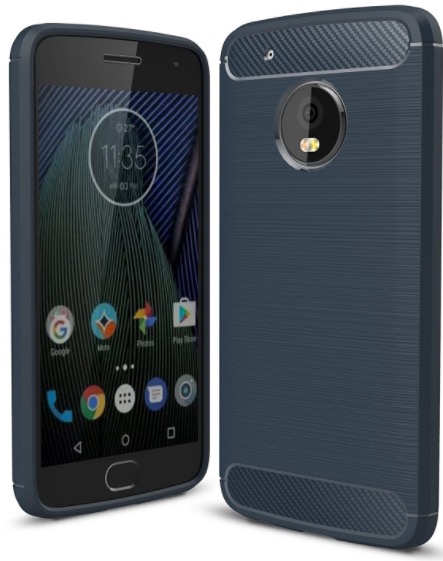 The case is by no means a rugged case, and will only be able to protect the Moto G5 Plus from short drops, scratches, and scrapes. Thanks to the case being made out of soft silicon, you can easily clean it with water, if it gets dirty. Yocco offers a lifetime warranty on their case, so you can rest easy, and use your phone the way you want to.
Buy ($8.95)
3. CoverON Hard Clear Back Cover for Moto G5 Plus
This cover from CoverON is made with a polycarbonate back, fused with bumpers made out of TPU. The case is completely transparent from the back, to show the original look of the Moto G5 Plus, while protecting the phone from dust, dirt, scratches, and drops. Thanks to the TPU bumpers, you can rest assured that even if you end up dropping your phone, it will be protected well enough. The case is designed to be a snug fit with the body of the Moto G5 Plus, and with the precise cut-outs for ports and buttons, you will never really have to take the case off your phone.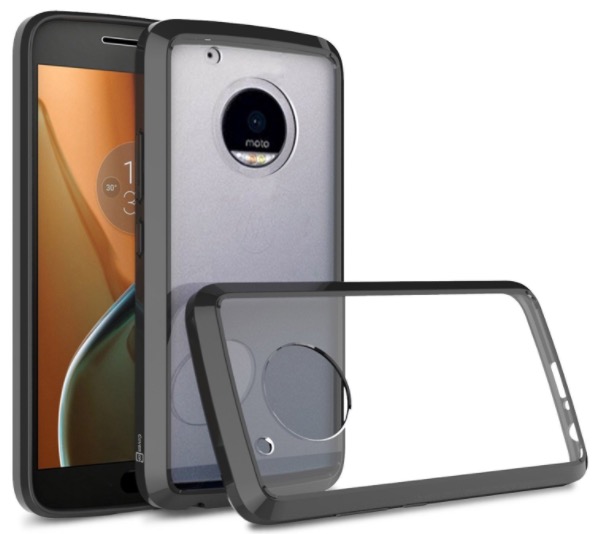 The CoverON hard clear back cover is a slim cover, weighing less than 2 ounces, which means that you will basically not even feel any difference in holding your phone with the cover on it. To make things even better, CoverON offers a 90 day warranty with the case.
Buy ($8.99)
4. Eflistone Armor Defender Protective Case
Another case you can consider getting for your brand new Moto G5 Plus, is the Armor Defender case from Eflistone. This case comes with a soft bumper, which makes for an easy (and comfortable) to hold case, while providing protection from falls, and shock absorption. The bumper also features an anti-slip finish, so you won't have to worry about it slipping out of your hand.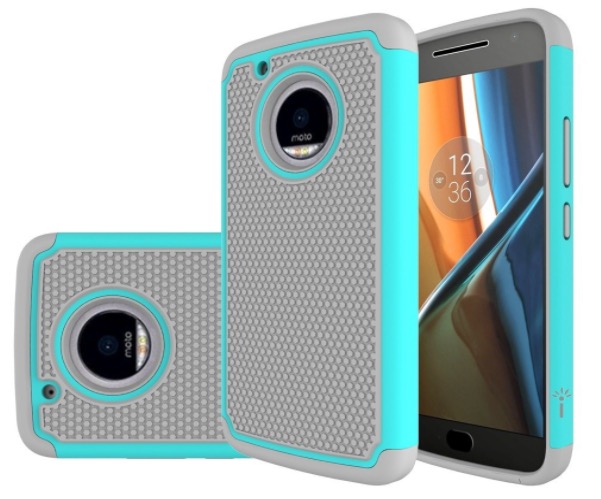 Even though this case from Eflistone is an Armor case, it is extremely slim fitting, and light weight. Designed with polycarbonate and Silicone, the case can easily protect your device from drops, bumps, scratches, and much more. Plus, with the easy snap-on/snap-off feature of the case, you can take it off anytime you want, and put it back whenever you think it's needed.
Buy ($7.88)
5. Wellci Ultra Slim Flip Cover Case
The Wellci Ultra Slim Flip cover case is kind of like a solution to two problems at once. With this case, you can simply put your Moto G5 Plus inside to keep it protected. Plus, it has pockets where you can keep your credit card, or some cash. So, you don't need to carry your wallet with you. The case provides a good level of protection against drops, scratches, bumps, and scrapes.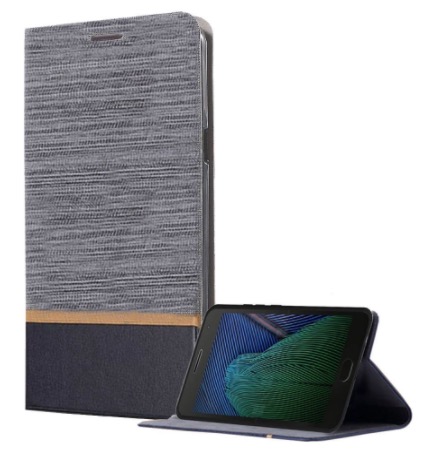 Do bear in mind that the flip-cover of this case is not magnetic, so it will not snap lock if that's something you prefer. The Wellci ultra slim flip cover case also features precise cut-outs for all the buttons, ports, and the camera on the Moto G5 Plus, so you will not have any issues with accessing any of the physical buttons on your Moto G5 Plus.
Buy ($8.99)
6. OMOTON Moto G5 Plus Case with Kickstand
This case from OMOTON is made out of a soft TPU material, and covers the Moto G5 Plus from corner to corner, allowing for maximum protection to the device. The case is completely scratch resistant, and is made out of a shock-absorbing material to provide maximum protection to your phone. With precise cut-outs for every port, button, and for the camera on your Moto G5 plus, the OMOTON case provides easy access to every physical button on your phone.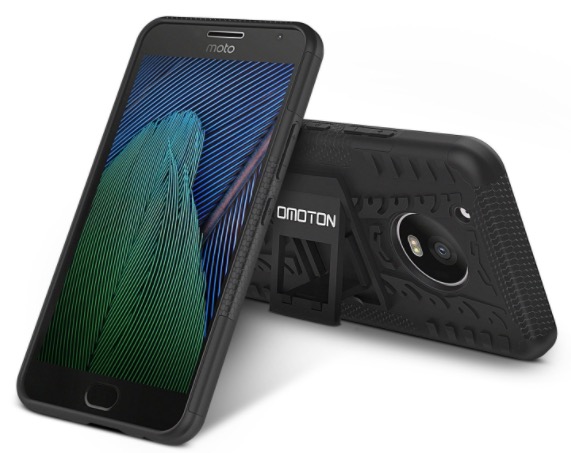 Plus, the case comes with a kickstand, so you can easily place the phone on a table in landscape mode, and watch movies, or take Skype calls, without having to hold the phone in your hand.
Buy ($7.99)
7. DGtle Slim Protective Moto G5 Plus Cover
This case from DGtle is another great slim protector for the Moto G5 Plus. The case is made from impact-resistant TPU material, and fits snugly onto the mobile, providing maximum protection to the phone from scratches, shocks, and drops. For added drop protection, especially if the phone drops on one of its corners, the case also comes with air-cushioned corners, along with a raised lip design, to protect the screen if the phone ends up falling flat on its face.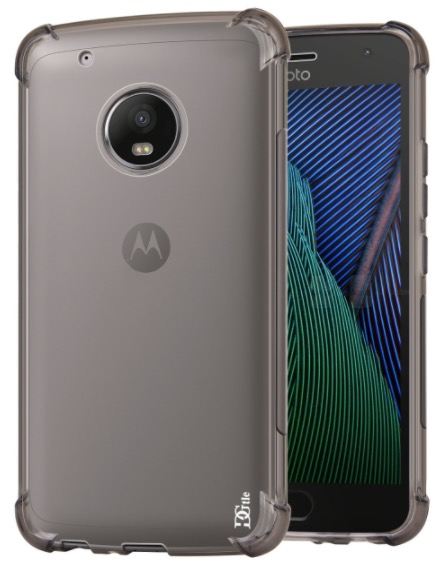 The finish on the back of the case is meant to be non-slip, and easy to grip. Plus, the ultra thin design of the case makes it "not-very-noticeable", which is definitely a plus. The case is also transparent (although colored), so the design of the Moto G5 Plus is not hidden by the case.
Buy ($7.99)
8. LK Slim Scratch Resistant Cover for Moto G5 Plus
The LK slim scratch resistant silicone cover is an extremely thin case with an exceptionally slim body that offers maximum protection without added weight, or bulk. The case offers a very high level of protection for the Moto G5 Plus, keeping it safe from accidental drops and falls. The case is made from a smooth, high quality, tough and flexible TPU that resists dirt and stains.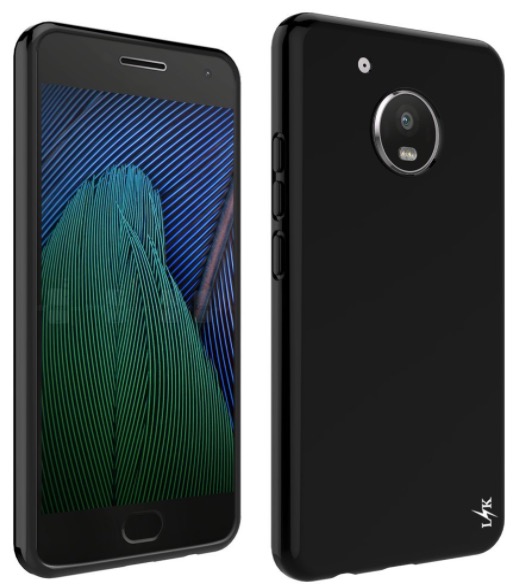 The LK silicone cover is shock absorbent, shatterproof, and scratch resistant. The case is sleek, and lightweight, designed with precision to fit the device perfectly. The case comes with buttons, which are designed to feel natural, and tactile enough. The cutout for the camera is made to protect your camera from scratches, while keeping the flash fully functional.
Buy ($7.99)
9. OEAGO Rugged Moto G5 Plus Case with Kickstand
If rugged cases are your thing, then this one from OEAGO is another one that you should definitely consider. The case is designed to fit the Moto G5 Plus perfectly, with precise cut-outs for the camera, and the ports. The buttons are covered for added protection, and are designed to be tactile, and still feel natural enough to allow for comfortable usage. The case has a TPU inner sleeve, and an impact resistant hard plastic shell to provide added protection against drops and impacts.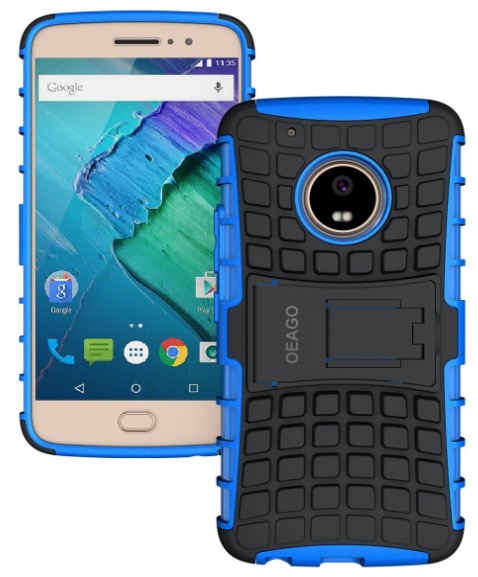 The corners of the case feature double-thick TPU for even more protection from drops. Also, the kickstand in the case will allow you to watch movies easily, and take Skype calls.
Buy ($7.99)
10. KuGi Wallet Case with Back Stand
The KuGi wallet case is made from PU leather, along with a high quality PC case. The case also comes with a large pocket where you can store your credit cards, along with some cash. The case provides easy access to all of the buttons and ports on the Moto G5 Plus, along with a cutout on the back for the camera.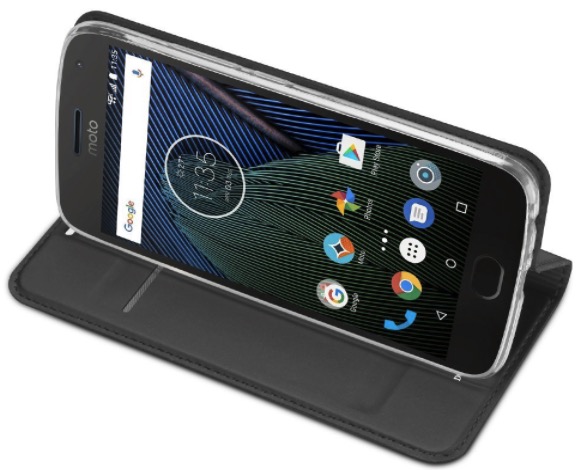 Inserting the phone inside the case is very easy, but once it has been attached, it stays in very snug and tight. The case uses leather, along with polycarbonate. Thanks to the well crafted design, and texture on the case, it is also very nice to look at. The case can easily protect your phone from scratches, dust, and damage.
Buy ($5.50)
SEE ALSO: 10 Cool IFTTT Recipes For Google Assistant 
Protect Your Moto G5 Plus with These Cases and Covers
The Moto G5 Plus is an absolutely great phone for the mid-range segment. It comes with some great feature, such as the "dual-autofocus pixel" technology that was previously only available on high end flagships like the Samsung Galaxy S7, and S7 Edge. Motorola has always done a fabulous job of capturing the mid-segment smartphone market, and it's -phones have always fared well, thanks to the great specs, and near stock Android experience that Moto offers. These cases are sure to keep your Moto G5 Plus safe from the elements, and protect it from scratches, scrapes, and drops. I have tried including cases of a wide variety in this list, so, no matter what kind of cases you prefer, you will definitely find at least one case to your liking.
As always, we would like to know your thoughts on the Moto G5 Plus, and whether or not you think that it's a good mid-segment smartphone. Also, if you know of any other cover for the Moto G5 Plus that you think deserves to be on this list, do let us know about in the comments section below.