Starting your own professional YouTube channel requires some investment, as you'll have to purchase a variety of different equipment that lets you make high quality videos for the world to see. These include cameras, rendering software, capture cards, high-end computers, microphones and even equipment for better lighting. Sure, a good camera is a must-buy for making high quality YouTube videos, but the built-in microphones that most of these cameras have, are probably the worst you could use for YouTube. Audio quality is equally important as video quality, and if you're looking forward to launch your new YouTube channel on a professional basis, a dedicated microphone is a much needed investment for ensuring great audio quality across all your future videos. Well, there are plenty of options that you can currently choose from, depending on your budget and quality requirements. However, if you're confused regarding which one to go for, here are the 10 best microphones for YouTube you can buy:
Best Budget Condenser Microphones For YouTube
1. Blue Yeti USB Microphone
If you want a great quality mic that's worth every single penny, the Blue Yeti is certainly the best one that you can go for. In fact, this is the mic we use for our YouTube videos. For the asking price of under 130 bucks, it's pretty hard to match the Yeti as far as USB microphones are concerned. First of all, it has a three condenser capsule array that lets you record high quality audio in almost any situation. Users can switch between cardioid, bidirectional, omnidirectional and stereo patterns for sound recording, which is a major plus.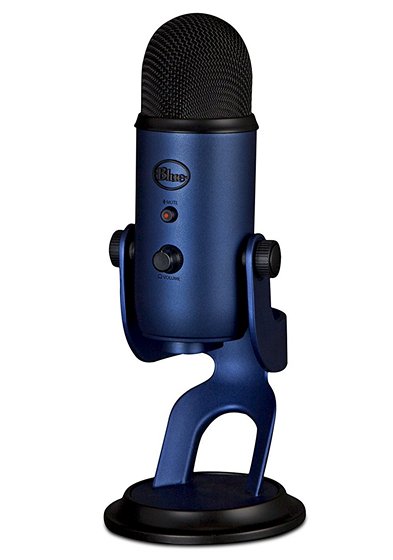 The Yeti has two ports, a USB port that powers the device, as well as a 3.5 mm headphone jack that lets you actively listen to what's being recorded. Additionally, it has a sampling rate of 16-bit at 48 KHz. The Blue Yeti is great for recording vocals, musical instruments, podcasts, voice-overs, interviews, field recordings and even conference calls. However, considering it's a pretty sensitive microphone, expect it pick up a fair bit of background noise as well. Regardless, it can be pretty much considered as a stellar all-round microphone, and you simply cannot go wrong by opting for it.
Buy from Amazon: ($128.39)
2. Blue Snowball USB Microphone
Consider this to be a much more affordable alternative to the hugely popular Blue Yeti. If you're pretty tight on budget, the Blue Snowball immediately becomes an obvious choice. The microphone is mostly built out of plastic with a metal grill, in a move to keep the costs down. There are three recording settings located at the back of the microphone. Users will be able to easily switch between Cardioid, Cardioid with -10dB pad and omnidirectional polar patterns. Additionally, the microphone has a sampling rate of 16-bit at 44.1 KHz, and a frequency response ranging from 40 Hz to 18 KHz.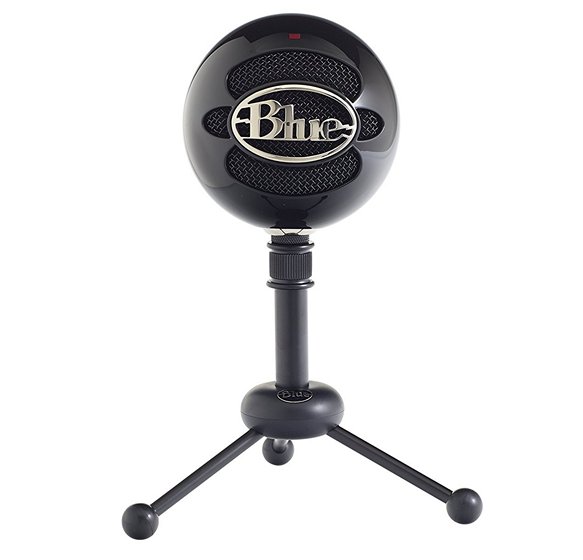 For an asking price of under 70 bucks, the Blue Snowball is an inexpensive microphone. While using the cardioid mode on this microphone, you seem to get the full frequency response. However, the omnidirectional mode seems pretty hard to recommend as the audio becomes tinny and unpleasant to the ear. If you're not planning to use the inferior omnidirectional mode, you could save 20 bucks by going for the lower-end Snowball iCE microphone. All in all, the Snowball manages to check most of the boxes expected from a microphone at this price point and it's well suited to podcasts, vocals, interviews and other voice work.
Buy from Amazon: ($69)
3. Audio Technica AT2020 USB Microphone
The AT2020 from Audio Technica was originally considered to be a studio microphone, and was later converted into a USB microphone. That being said, this is strictly a cardioid microphone unlike the similarly priced Blue Yeti, which offers 4 different patterns for audio recording. It has a frequency response of 20 Hz to 20 KHz, which is quite impressive as it offers plenty of bass extension. This microphone is much suited for home studio recording, field recording and voice-over use. It also has a custom engineered low-bass diaphragm that provides extended frequency response and superior transient response.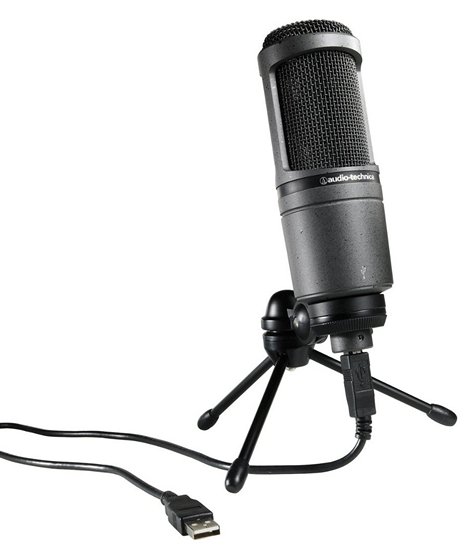 In terms of sound quality, the Audio Technica AT2020 certainly doesn't fail to impress us. Although the Blue Yeti might offer a fuller sound due to better balance between base and high frequencies, the AT2020 focus much more on the high frequences with lesser base. This results in a smoother detail in comparison to the Blue Yeti, but take this with a grain of salt, as sound quality preferences are highly subjective. The cardiod polar pattern reduces pickup of sounds from the sides and rear, thereby improving isolation of desired sound source. For a $128 price tag, you simply cannot go wrong with the AT2020, as it's one of the best microphones you can buy in this segment.
Buy from Amazon: ($128)
Best Professional Condenser Mics For YouTube
1. Sennheiser MKH 416 Shotgun Tube Condenser Microphone
Now that we've seen some of the best budget microphones that are out there on the market today, let's move on to high-end microphones that's used by professionals for the best possible audio quality. The Sennheiser MKH416 is considered to be the industry standard, as it's preferred by film producers, as well as some of the popular YouTubers for their videos. That's right, we're looking at you, Jonathan Morrison. That being said, the MKH 416 is a shotgun microphone, and like several other shotgun microphones, it's capable of picking up audio from the front very well, even at longer distances than traditional microphones.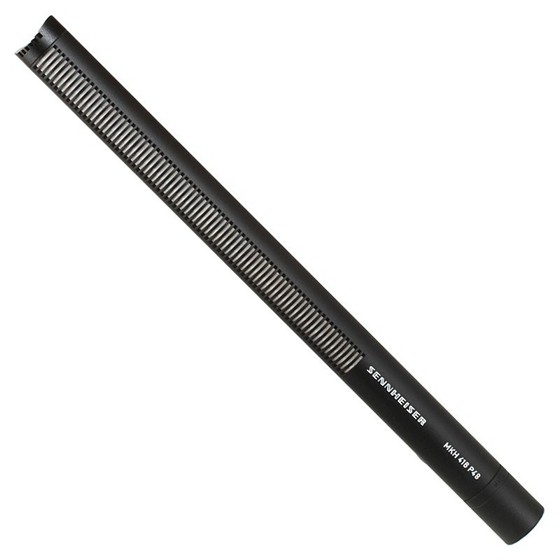 The Sennheiser MKH 416 makes use of RF biasing rather than DC biasing, unlike conventional microphones in the market. It's less susceptible to pop sounds and proximity, which is to be expected from a microphone at this price point. Sennheiser ensures high sensitivity and very low inherent self-noise, which is much needed for a production-grade microphone. If you want your voice to sound absolutely crispy and detailed, this is without doubt the best investment you'll make for your YouTube channel, in terms of audio equipment. However, be ready to burn a hole in your pocket, as it costs nearly 1000 bucks in order to get your hands on one of them.
Buy from Amazon: ($999.95)
2. AKG Pro Audio C214 Condenser Microphone
Although not quite as great as the production-grade Sennheiser MKH 416, the AKG Pro Audio C214 is definitely a worthy professional microphone that you can consider, thanks to the much more affordable price point. This microphone has the sonic character of its bigger brother, the C414 XLII which costs over thousand dollars. This results in a beautifully detailed recording of lead vocals and solo instruments. The C214 has an exceptional dynamic range and ultra-low noise for close-up recording of high output sources of up to 156 dB.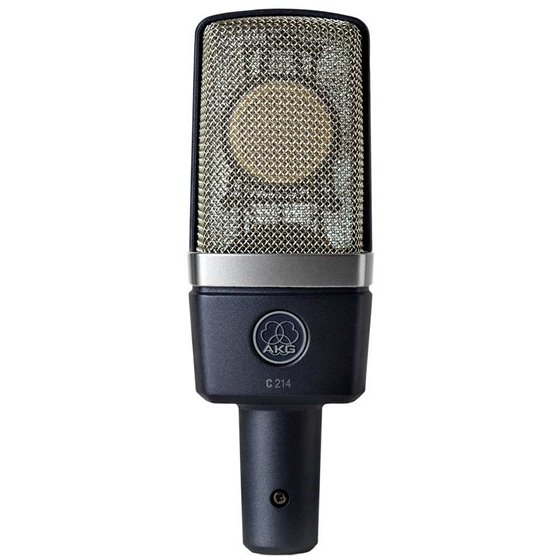 The AKG Pro Audio C214 also has a 20dB attenuator and bass-cut filter for reduction of proximity effect. In order to reduce mechanical noise and vibration from stage, the microphone features an integrated suspension. There are no complaints regarding the build quality of the microphone, as it features a shock-resistant all-metal finish. All in all, for a price tag approximately 350 bucks, the C214 is perfect for voice and acoustic recordings in home studios, as it offers a warm midrange quality that most of the users will enjoy.
Buy from Amazon: ($349)
3. Rode NT1-A Vocal Condenser Microphone
When it comes to microphones, we just cannot forget to mention about Rode, because that's the reputation this company has received over the years, thanks to their stellar product line-up. The Rode NT1-A is no exception on that regard as it delivers outstanding audio quality for the price. The NT1-A has a large 1-inch capsule with a gold plated diaphragm and offers cardioid polar pattern to the end user. It has a very low self-noise rated at 5 dB and also features a transformerless surface mount circuitry.
Since the Rode NT1-A is not a USB microphone, it requires an audio interface with preamps to work. When it comes to sound quality, the NT1-A offers a good presence bump, which makes the microphone a great choice for recording musical instruments. It has a neutral response as well, thereby making the recordings easy to equalize. It's well suited to users who're looking forward to record vocals, voice-overs, podcasts and musical instruments, and for a price tag of approximately $229, this is certainly a worthy investment.
Buy from Amazon: ($229)
Best Shotgun Microphones For YouTube Vlogging & Broadcasting
1. Rode VideoMic Pro
If you're looking forward to vlog on YouTube, you're probably interested in a getting a shotgun microphone that you can connect to your DSLR camera. Well, the Rode VideoMic Pro is one of the best shotgun microphones out there, and you'll certainly not be disappointed with the audio quality that this microphone has to offer in all your future vlogs. For a shotgun mic, the VideoMic Pro is pretty compact, which is much needed when you're shooting vlogs. There are two toggles located at the back of this microphone. One of them lets users switch between on, off and high-pass filter, and other one lets you adjust the gain between -10, 0 and +10 dB depending on your recording preferences.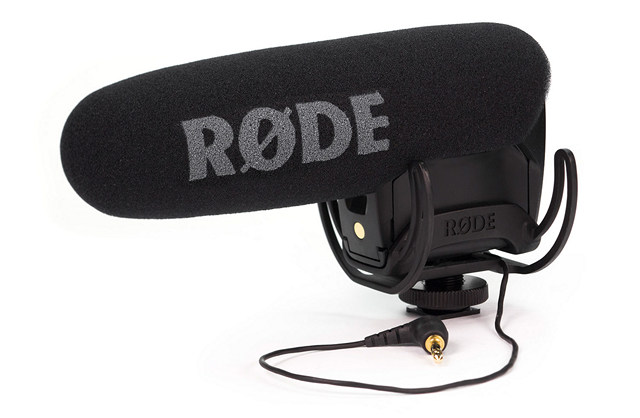 The Rode VideoMic Pro has a super-cardioid pickup pattern, which is essential in eliminating in a fair bit of background noise. When it comes to sound quality, you will receive the best possible sound when the subject is facing straight towards the mic. The mid-range tone offered by the microphone is pretty rich, with emphasis on vocal timbre. That being said, the VideoMic Pro is certainly a huge step up from the built-in microphone on a DSLR, as it delivers good audio quality when it comes to broadcasts, interviews and vlogs. For an asking price of $229, the Rode VideoMic Pro is a great affordable mic to record much better audio with your camera.
Buy from Amazon: ($229)
2. Sennheiser MKE 600 Shotgun Microphone
This is yet another shotgun microphone that you can use along with your DSLR camera for a recording much better audio. In comparison to the VideoMic Pro, this is slighly more expensive, priced at just over 300 bucks. The MKE 600 has pronounced directivity and maximum rejection of side noise, which is a welcome addition. It also has a switchable low-cut filter that reduces wind noise, which is particularly useful when you're vlogging with your camera. The frequency curve of this microphone is reasonably flat, and manages to peak quite a bit in the upper range.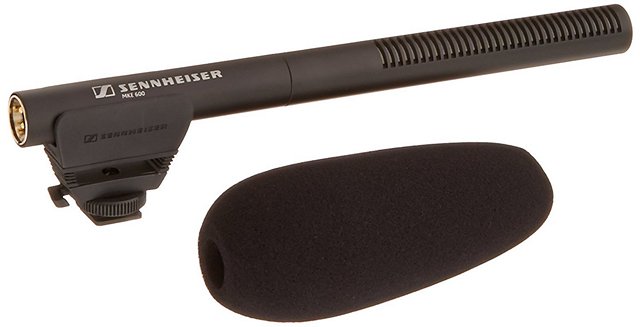 Moving on to the sound quality, since the MKE 600 is a neutral microphone, it manages to deliver broad and detailed sound. Overall, the audio tends to be a tad warmer and the directional range seems to be better in comparison to several other shotgun microphones out there. Well, consider the MKE 600 to be the little sibling to the legendary MKH 416 microphone as far as overall audio quality is concerned. If you think that the Rode VideoMic Pro will not make the cut for your professional work, the Sennheiser MKE 600 will certainly do the job, if you're willing to spend nearly a hundred dollars more.
Buy from Amazon: ($308.53)
Best Lavalier Microphones For YouTube
1. Audio Technica ATR 3350 Omnidirectional Microphone
Moving away from the plethora of condenser and shotgun microphones on the market, we've now got Lavalier microphones. Also know as lav mics or lapel mics, these microphones are more versatile and well suited to be used along with DSLRs for interviews, public-speaking and broadcasting purposes. They're also pretty affordable compared to other types of microphones. The Audio Technica ATR 3350 microphone seems to lead the pack in this department, and this one is an omnidirectional microphone. It has a frequency response ranging from 50 Hz to 18 KHz and has an open circuit sensitivity rated at 54 dB.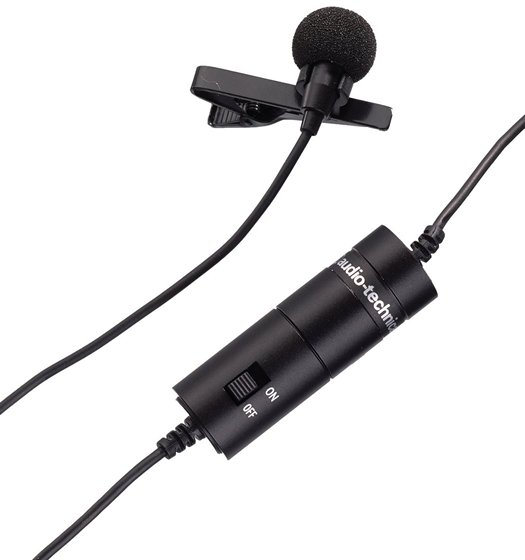 In terms of sound quality, the ATR 3350 delivers a flatter sound compared to several other lavalier microphones. However, the mic sensitivity is low, and thereby you need to boost up the signal before it sounds true to its potential. In addition to being used along with cameras, it can even be connected to your smartphone for much better audio, just in case you're planning to vlog. Lastly, what impresses us most is the ATR 3350's price tag, because at under 30 bucks, you just cannot go wrong by opting for this lavalier headphone.
Buy from Amazon: ($28.90)
2. Sony ECMCS3 Omnidirectional Stereo Microphone
Last on the list, we've got a lavalier microphone that's even considerably more affordable than the ATR 3350. Coming from Sony, the build quality is pretty mediocre, as it's made out of plastic and feels like you might actually break it. However, at this price point, this microphone is unmatched in terms of what it has to offer. The ECMCS3 has a frequency response ranging from 50 Hz to 15 KHz, which is good enough for a lavalier microphone. The mic's cord length is short at 3 feet, so you will have to make use of a recorder in order to plug it in, rather than directly connecting it to a DSLR.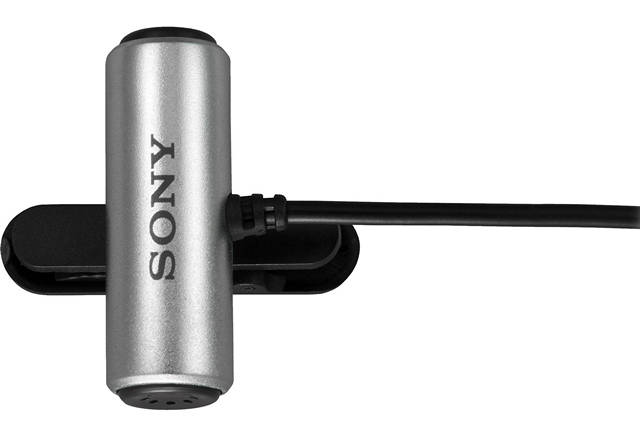 The Sony ECMCS3 microphone is very sensitive and unlike the Audio Technica ATR 3350, you don't have to turn up the gain for decent sound. It also features stereo audio which is a welcome addition. Thanks to the omnidirectional pattern, it's capable of picking up voices from multiple angles. That being said, this microphone is much suited to budding YouTubers who're looking forward to make vlogs with decent audio quality on a budget. Currently available for just $17, we're pretty much sure that the Sony ECMCS3 is the best sounding lavalier microphone at this price point.
Buy from Amazon: ($17)
           SEE ALSO: 15 Best Cameras for YouTube Videos You Can Buy
The Best Microphones For YouTube Videos You Can Buy
For launching a professional YouTube channel, good audio quality is equally important as the video quality, and that's exactly why we highly recommend you to purchase a dedicated microphone for recording high quality audio footage. Well, we're glad we could list out some of the best ones that are currently available on the market, and thereby make your decisions much more easier. If you're on a budget, but want audio quality that's nothing short of impressive, the Blue Yeti might be the obvious choice. However, if you're ready to shell out a chunk of cash for the best possible sound recording, the Sennheiser MKH 416 is pretty much the industry standard.
Apart from these, there are still plenty of options to choose from, like the inexpensive lavalier microphones for broadcasting purposes and even the shotgun microphones for a much better audio recording experience from your DSLR camera. Well, which one of these great microphones are you planning to get your hands on? Do let us know by simply dropping a few words in the comments section down below.