Over the course of their continued development, both the Internet, as well as the numerous ways, protocols etc. by which it helps us connect and communicate with others, have advanced a lot. Technologies that were revolutionary in the past, are commonplace today. And one of them is the Internet Relay Chat (IRC).
In the simplest of terms, the Internet Relay Chat (IRC) is a protocol that allows communication between multiple networked computers. It also includes numerous other features, such as private one-on-one messages, data transfer, and even chat rooms. And while it may not be as popular as it earlier used to be, IRC still has its following. Even better, thanks to the availability of numerous IRC clients across all (both desktop and mobile) platforms, you can chat anytime and anywhere. Sounds interesting? Well then let's jump in, and let's take a look at the 10 best IRC clients.
Best IRC Clients for Windows:
1. mIRC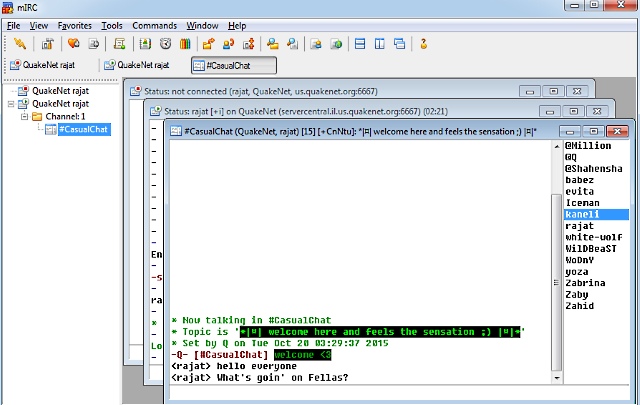 Arguably one of the most popular desktop IRC client out there, mIRC is bursting at the seams with powerhouse features. Getting started with mIRC is easy, and once you've entered some basic details (e.g. nickname, email), and server information, you're instantly connected. You can also connect to one of the many random global IRC servers pre-configured with mIRC, or specify your own.
mIRC's robust feature set includes goodies like multiple configurable buddy lists, simultaneous file transfers, connections to multiple servers, customizable notification sounds, system tray notifications, and much more. In addition to that, mIRC also has a powerful scripting language that can be used create custom scripts for automating tasks, as well as performing functions such as network communications. mIRC is a shareware program that comes with a (technically) 30 day trial. However, even after that, you can still keep on using it, but you just have to put up with a splash screen for a few seconds, every time you launch mIRC.
Platform Availability: Windows 10, 8, 7, Vista, and XP.
Price: Shareware with 30 day trial. Splash screen displayed for a few seconds on every startup, on further use. The screen can be removed by registering the program, and paying $20 for a single user license.
2. IceChat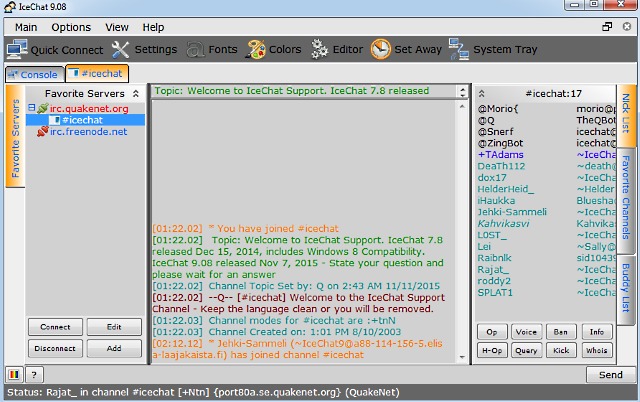 IceChat calls itself "The Chat Cool People Use," and it doesn't really sound like a tall claim after all. IceChat is an extremely lightweight yet pretty capable IRC client, and will have you chatting in a matter of seconds. Simply enter a nickname, choose an IRC server to connect to, and you're golden. There are numerous pre-configured global servers you can connect to. Apart from that, you can configure custom server settings too. Then there's the fact that it's totally free, so if you don't want to shell out anything, you can go for IceChat with closed eyes.
IceChat is heavily customizable, and you can tweak everything from the chat fonts and the background colors, to the nickname lists and the global application themes. All the other standard features such as multiple server & channel support, custom notifications, VBS (Visual Basic Scripting) based scripting for automating tasks etc. are also there. However, what differentiates IceChat from the previously discussed (and amazing nevertheless) are numerous plug-ins available for it. These plug-ins make it possible to do everything from running Google searches to following Twitter feeds, straight from IceChat. You can check and download all the plug-ins available for IceChat here.
Platform Availability: Windows 10, 8, 7, Vista and XP.
Price: Free
Best IRC Clients for Mac OS X:
3. Textual
One of the most powerful IRC client applications for Mac OS X, Textual is a breeze to use. Textual sports a stunningly designed multi-column UI, which, with its dark and light variants, is a sheer visual delight, especially on Retina devices.
But there's more to Textual than just eye candy. The fully loaded yet lightweight application packs in all the modern IRC related features, such as native IPv6 support, full compatibility with IRCv3 specifications, and client-side certificate authentication. And that's not all. Textual's feature set also includes stuff like a diverse range of keyboard shortcuts, iCloud synchronization of preferences, auto-completion for nicknames and commands, full text formatting, and ZNC integration. One of the highlights of Textual is its stress on user privacy, as evinced by its use of Off the Record Messaging technologies.
Platform Availability: Mac OS X 10.8.3 and later.
Price: $4.99; 30 day trial available.
4. XChat Azure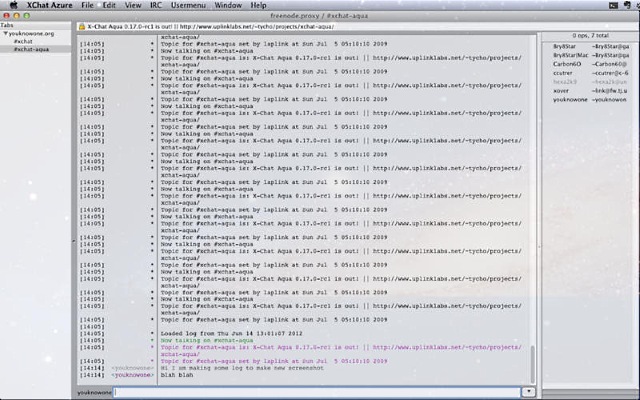 Easy to use yet decently feature laden, XChat Azure provides a well rounded way of connecting via the IRC networks on OS X devices. It's a pretty good IRC client application, and certainly one you should check out if you use a Mac. And best of all, it's free. How cool is that?
Having a fairly nice feature list, XChat Azure allows you to easily connect to multiple IRC servers and channels, making both general and private conversations effortless. There's full support for file transfers as well. Add to it regular goodies like robust SSL support and an array of useful keyboard shortcuts, and XChat Azure makes a really good case of being a nice IRC client application for Mac OS X running computers. Oh, and it's also an open source application, with the full source code hosted on GitHub. Pretty cool, right?
Platform Availability: Mac OS X 10.6.6 and later.
Price: Free.
Best IRC Clients for Linux:
5. WeeChat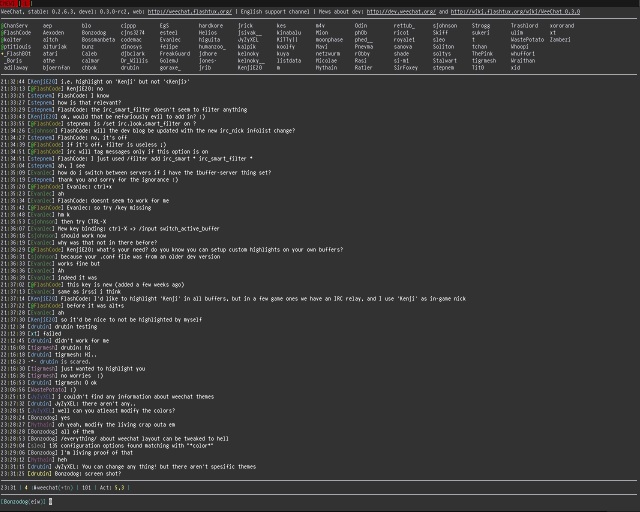 Looking for a powerful and fast IRC client for Linux? Look no further than WeeChat. It's a feather light chat client whose capabilities can be extended as per your requirements, thanks to the numerous plug-ins and scripts available for it. In fact, WeeChat in itself consists of just the core features, and all of its power comes from the many plug-ins and scripts that it supports, all of which can be loaded/unloaded dynamically to the program in real-time.
WeeChat's extensive feature set includes goodies such as full multi-server capabilities, built-in support for 7 scripting languages, incremental text search, dynamic line filtering, robust script manager, and then some more. And that's just the tip of the iceberg. On the customization front, you can tweak colors for nicknames based on status, backgrounds, and stuff like that. Round it off with IPv6, SSL, and proxy support, and WeeChat gets even better.
Platform Availability: Linux, FreeBSD, OpenBSD, NetBSD, Unix, GNU Hard, Mac OS X, and Windows (via Cygwin)
Price: Free
6. HexChat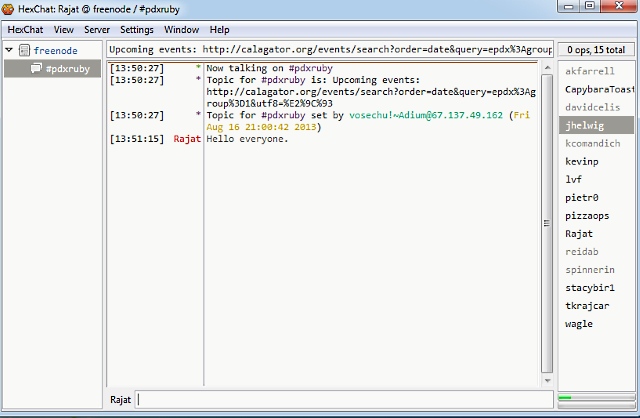 Don't want the twenty thousand features and confusing multiple windows and would rather prefer something simpler? HexChat is just the Linux IRC client you need. Sporting an extremely minimal dual column UI, HexChat makes communicating over IRC a walk in the park.
Once you've connected to a server, you can retrieve the channel list via the Server menu option, and connect to any of the available channels. In addition, the list of active users can be accessed to trigger individual operations such as file transfer, check user info, and more. It's important to note here that HexChat is fully open source, and its active development ensures that you can always expect continued improvements. HexChat is pretty customizable too, and thanks to the built-in Python and Perl scripting support, you can do lots of cool stuff on it. Other standard features include spell checker, proxy support, direct file transfers, network meters, and keyboard shortcuts.
Platform Availability: Linux, Mac OS X, Windows 7, 8, and 10.
Price: Free
Best IRC Clients for iOS:
7. Palaver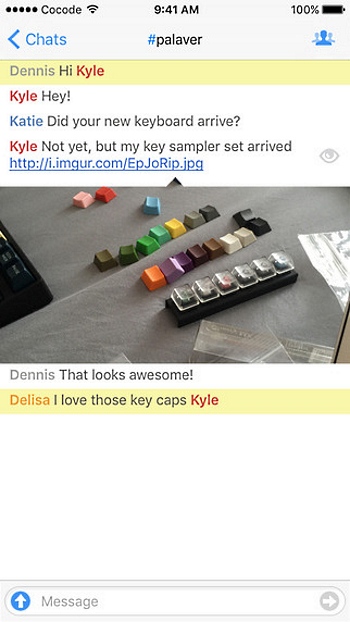 If you're on the hunt for a simple and intuitive IRC client app for your iOS device, look no further than Palaver. Having loads of useful features, it makes connecting over IRC using iOS devices effortlessly easy.
Palaver's includes all modern IRC features and functionalities such as IRCv3 capabilities, ZNC integration, as well as full support for push notifications. And that's just the beginning. You can quickly search for everything from nicknames to channels to even user commands, because of the powerful auto-completion goodness. Other than that, you can also customize highlights and user mention notices with custom alerts and vibrations. Palaver also has SASL support that lets you identify securely to IRC networks such as Freenode. Other goodies include a healthy range of themes and styles, as well as synchronization of user preferences via iCloud.
Platform Availability: iOS 8.0 and later.
Price: $2.99
8. Colloquy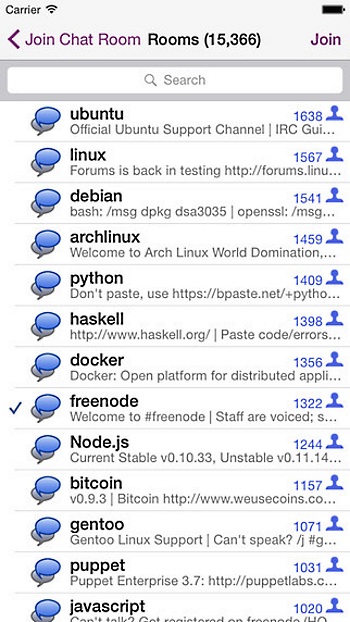 One of the more popular and well known IRC client apps for iOS devices, Colloquy has quite a bagload of impressive features that make it the perfect solution for communicating over IRC, if you're using an iOS device.
Colloquy is fully compatible with the Retina devices, and supports iOS multitasking with both local and push notifications. Regardless of whether you're entering nicknames or even emoticons, auto-completion has your back. And that extends to nearly all of the IRC commands as well. It includes an organized Colloquies view that shows all your conversations in a glance, and can be configured to highlight messages (combined with vibration alerts) whenever your nickname or some specific words are mentioned during conversations. Not only that, Colloquy has a handy collection of unique features, such as the ability to ignore certain users, searchable member list, and per user information display, which really make it one of the best IRC client apps for iOS out there.
Platform Availability: iOS 8.0 and later; Mac OS X
Price: $1.99 (iOS app)
Best IRC Clients for Android:
9. AndroIRC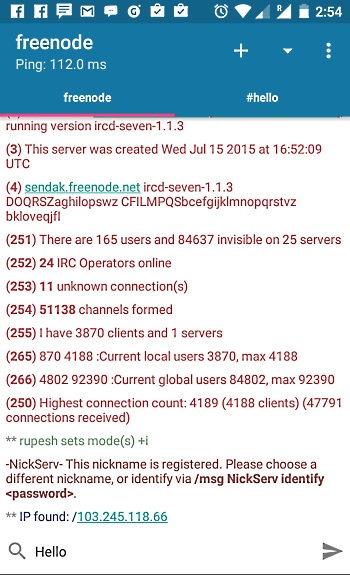 Probably one of the best IRC client apps for Android out there, AndroIRC includes a whole bunch of solid features that make it a must have app for those wanting to connect over IRC via Android devices.
Getting started with AndroIRC is fairly easy, and the quick start wizard makes things even simpler. Once you're connected to a server, joining a channel is simply a matter of tapping the Plus icon on the top right, and specifying the target channel. The dual column UI lets you juggle between channels and servers with just a swipe. AndroIRC's expansive feature set includes auto joining of channels on startup, multiple server connections, proxy and SSL support, logging, copy/paste functionality, file transfers, as well as some unique goodies like a compact mode to reduce screen usage, granular user privilege configurations, and then some more.
Platform Availability: Android (minimum version requirement varies with device).
Price: Free; $2.65 In-app purchases.
10. AndChat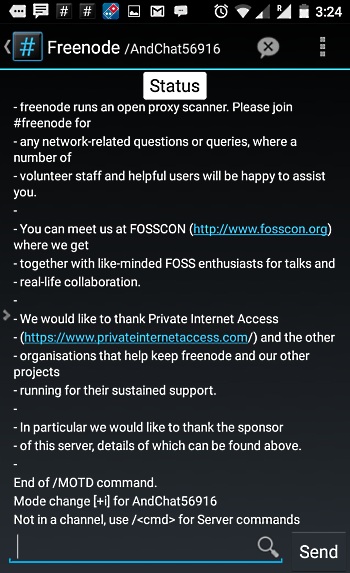 Although the UI might make it seem a little outdated and clunky, but AndChat is still a very capable IRC Client app for Android devices, and definitely worth checking out if you want to connect over IRC networks through your Android device.
Once connection to a server has been established, you can easily add channels to start chatting. AndChat supports just about everything you'd expect from a mobile IRC client, including multiple server connections, SASL compatibility, and notifications. Other than that, there are also unique goodies like multiple nickname highlighting, chat logs, and things like that.
Note: There's one downer with AndChat, and it's that it is no longer being maintained, with the last update going back to 2013. And although it still works with the latest Android version(s), there is no guarantee that it will continue doing so with future updates to the OS.
Platform Availability: Android 2.1 and above.
Price: Free; Donation version worth $3.22 also available.
SEE ALSO: 7 Messaging Apps for Secured and Private Conversations
Ready To Get Chatting over IRC?
Although IRC isn't as popular as it once used to be, this channel based pre-cursor to chatrooms is still going strong, with a dedicated fan base. And given the fact that there are numerous feature laden IRC clients available across all desktop and mobile platforms, you can stay connected wherever you are. Looking for the best Desktop IRC clients? Go for mIRC, Textual, or WeeChat. Fancy chatting via your iOS or Android device? Try Palaver or AndroIRC. Know some other IRC clients that could've made the cut above? Feel free to mention in the comments below.
---
Load More