Though the standard iPad had always been quite good, it had never looked so solid before. With A12 Bionic with Neural Engine, much-improved cameras, and all-day battery life, the iPad 8 looks nothing less than a steal at $329 price tag. Not to mention, the 10.2″ Retina display is equally appreciable as it's fully capable to deliver a pleasing media watching or video-conferencing experience. But bear in mind, the beautiful display demands extra protection from impact just like any other display out there. And this is where our roundup of the best iPad 8 screen protectors comes into the play.
Best iPad 8 Screen Protectors You Can Buy in 2020
Considering the high screen repair cost, it's always better to slap a solid screen guard to offer the full-coverage to the display. Though most screen protectors claim to deliver up to 99% clarity, not all of them are able to live up to the claim.
So, we have ensured that the screen protectors are not only durable but also offer maximum transparency. Besides, we have also made sure that they fully support Apple Pencil, allowing you to carry out all the tasks without any pain. With that said, let's explore the lineup of the top screen guards for the 8th-gen iPad!
1. ESR
ESR tempered glass screen protector is fully equipped to keep the 10.2″ Retina display of your iPad 8. The screen guard is made of tempered glass and features maximum hardness to take on scratches.
With the precise cutouts, the tempered glass doesn't interfere with the selfie camera or the microphone. As for clarity, it delivers high transparency to get the most out of the beautiful display.
Besides, it's also quite responsive and has got the ability to keep fingerprints and sweat at bay. As a result, it remains crystal clear and responsive. Priced at $15 for two-pack, ESR is definitely among the best screen guards for iPad 8 in the market right now.
Buy from Amazon: $14.99 (2-pack)
2. apiker
apiker is designed to deliver full-coverage to the 10.2″ Retina display of your iPad. So, just in case you don't want to give any chance to scratches to hurt the display, this one could be worth checking out.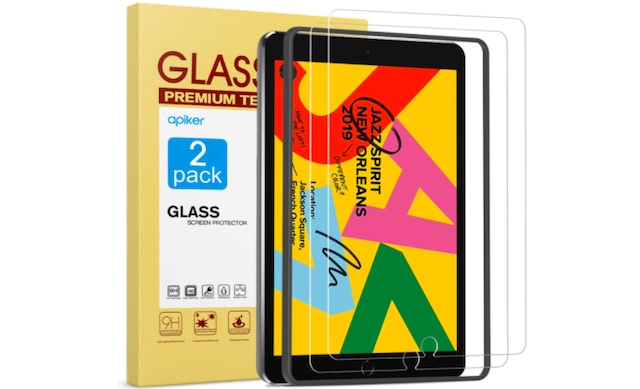 The tempered glass screen defender features 0.3mm thickness which may be a bit thin but it's strong enough to withstand impact. Beyond safeguard against scratches, the screen guard offers 99% clarity which can get the most out of the display.
What's more, apiker is equally efficient in terms of fighting out sweat and dust to ensure the display remains sensitive. Priced at $9.99, apiker comes in two-pack which makes it one of the cheapest iPad 8 screen protectors in the market.
Buy from Amazon: $9.99 (2-pack)
3. Ailun
For keeping the iPad 8 screen fully protected from accidental bumps and scuffs,  you can count on Ailun screen guard to live up to the task. The high-quality tempered glass coupled with the 9H hardness is the reason why it can survive even nasty scratches.
The screen protector features laser-cut dimensions that enable it to get installed precisely on the screen. Thanks to the presence of oleophobic coating, it doesn't allow oil, smudge, and dust to destroy the clarity and smoothness of the screen. So, you can expect it to keep both the clarity and touch sensitivity intact for a long period of time.
Buy from Amazon: $9.89 (2-pack)
4. Supershieldz
If high-clarity is on top of your top demand, Supershieldz can be a great pick. Made of high-grade tempered glass, the screen guard delivers maximum clarity. Thus, the Retina display can look at its very best.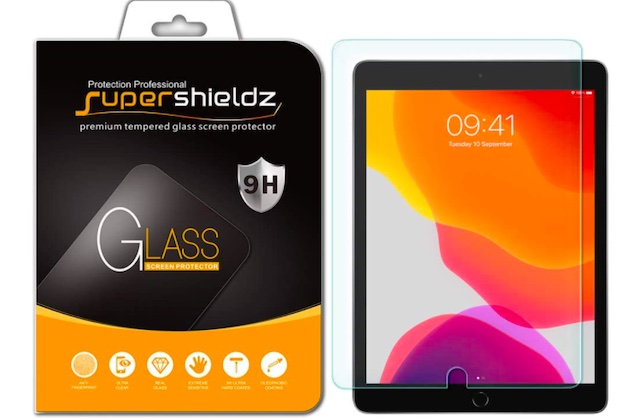 Apart from delivering high-transparency, the screen guard is also anti-glare which can play a vital role in enhancing your overall viewing experience. Being pretty smooth, it works seamlessly with Apple Pencil and supports all the gestures.
Notably, Supershieldz can also take on dust and offer the needed protection to the screen against scuffs. Priced at $8, it can easily stake the claim of being one of the most affordable screen protectors for iPad 8.
Buy from Amazon: $7.99
5. IVSO
Sporting a 2.5D round edge, IVSO screen guard gets installed on the iPad 8 screen perfectly, ensuring the display has complete safeguards against threats like a shock. Though 0.3mm thickness may seem a bit thin, it packs a solid punch thanks to the industry standard hardness.
Another feature that makes IVSO stand out is the hydrophobic and oleophobic coating that shields the screen against sweat and oil. Hence, it neither loses the clarity nor becomes unresponsive when faced with a real-like test.
With the high sensitivity, IVSO screen defender also works well with Apple Pencil, allowing you to draw and take note with the needed flair. Considering these qualities, you can't go wrong with it.
Buy from Amazon: $9.99 (2-pack)
6. OMOTON
Promising to deliver 99% HD Retina clarity, OMOTON is a reliable screen defender for your iPad. The tempered glass construction not only strengthens its durability but also enables it to offer better transparency. So, you get the best of both worlds.
For extra safeguard against dust and fingerprints, it features hydrophobic and oleophobic coating. Therefore, it remains unaffected by these unwanted things by ensuring they stay away from the screen.
Moreover, OMOTON tempered glass is completely bubble-free, which makes installation a breeze. With these notable features, the $11 price tag for three-packs puts it in the affordable category.
Buy from Amazon: $10.99 (3-pack)
7. amFilm
amFilm has long been one of the leading manufacturers of screen guards. So, there is no question of missing out on this noted accessory maker. Just like all of its counterparts mentioned in this roundup, it's also made of tempered glass and boasts 9H hardness.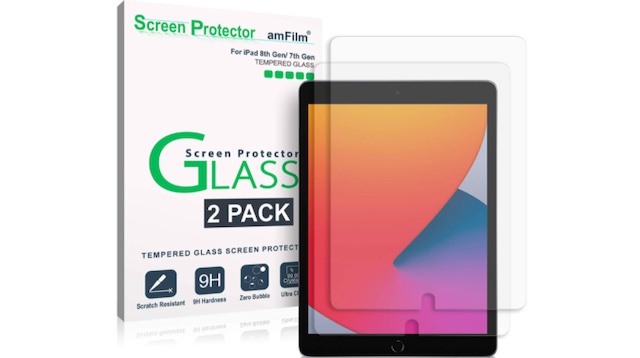 Being durable glass, the screen guard is scratch-proof, which offers the needed assurance that it can keep even the ugliest of scratches away. Protection aside, amFilm is equally efficient when it comes to offering enhanced clarity.
Besides, you can also count on it to work reliably with Apple Pencil as well. Featuring oleophobic coating, it's fully equipped to defend itself against things like smudge and dust. Overall, amFilm is a great screen guard for the 8th-gen iPad.
Buy from Amazon: $10.99 (2-pack)
Choose the Top Screen Guards for 8th-Gen iPad
There you go! So, these are the top screen protectors that you can buy for your iPad 8. Made of top-grade tempered glass, they are equipped to shield the Retina display against scratches. Besides, they are also capable of delivering high-clarity and fight out unwanted things like smudge, dust, and fingerprints.
As we are talking about iPad 8, I would recommend you to check out our extensive roundup of the iPad 8 cases and covers as well. From top-notch keyboard case to incredibly slim folio, the lineup has got you covered.
By the way, which one of these screen guards is going to guard the display of your 8th-gen iPad? Be sure to let us know its name. And also tell us about the ones which deserve to get included in this roundup.
---
Load More