Apple recently unveiled its new iPad 2018 in the recent educational event that the company held a few weeks back. The new iPad is a great addition to the iPad lineups as it is the first normal iPad to bring the support for Apple Pencil. I am quite impressed with the new iPad 2018 and considering to buy it. If you too are thinking of buying the new iPad, you will need to buy good cases and covers which cannot only protect your new device but also bring extra features such as built-in stand or keyboard. With that thought in mind, in this article, we are bringing you the 10 best cases and covers that you can buy for the new iPad 2018:
Best iPad 6th Gen Cases and Covers
1. ProCase iPad 9.7 2018 Case
The first case on our list is from a company called ProCase which brings a premium composition leather exterior and soft interior to provide not only protection to your device but also maintain its premium in hand feel. The cover is a stand folio case which means that you can fold the case to keep your iPad in a standing position. This is best if want to enjoy media on your device hands-free. The cover comes in multiple colors and designs including black, grey, brown, blue, print patterns, and more.
Buy From Amazon: $22.99
2. iPad 2018 Case from ESR
The ESR case for iPad 2018 is one of the cheapest  premium folio covers that you can buy for your new iPad. If you are really price conscious and are looking for a good case for the new iPad 2018, this might be just the one for you. The case will not only protect both the back and the display of the iPad 2018 but it will also act as a stand if you need it to. The front flap of the case has powerful magnets which keep it securely attached to the iPad and protects its display from scratches and scuffs. Just like the previous cover on the list, this one also comes in multiple colors allowing buyers to customize their iPads.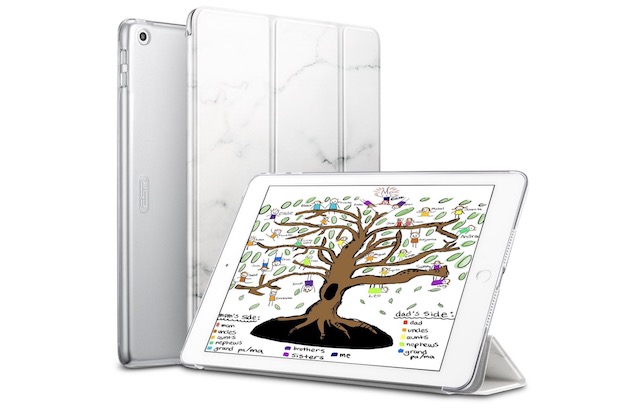 Buy From Amazon: $15.99
3. Logitech iPad Slim Folio Case
Although Logitech has especially released a new keyboard case for the new 2018 iPad, it is too bulky for my test. Of course, if you are buying the new iPad for your kids, you should be buying the new Logitech Rugged Combo 2 when it releases, however, if you are looking for a relatively light keyboard case for your new 2018 iPad, the iPad slim folio case with keyboard from Logitech is a better option for you. The case brings comfortable typing experience thanks to the laptop-like keyboard with a familiar layout and well-spaced keys. The outer shell of the keyboard case is also sturdy enough to protect your new iPad in case of falls and drops.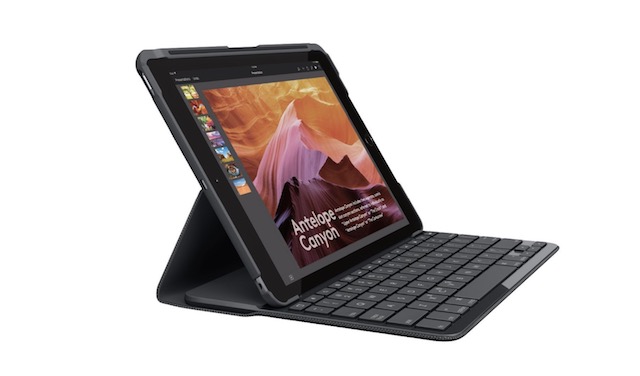 Buy From Amazon: $89.99
4. Clayco Clear Back Protector Case for iPad 2018
While many people prefer folio cases, there are users who don't want to deal with the bulk that comes with them. If that's the case with you, this case from Clayo is just for you. The case is made from polycarbonate casing which can protect your device from scratches and scuffs. The case is also transparent which means that you can display your iPad in all its glory. The case is so light that you won't even notice the weight difference when you put it on. That said, the lightness comes with some compromise which in this case means that your iPad will be less protected against drops.
Buy From Amazon: $10.99
5. Veamor iPad 2018 Silicone Back Case Cover
The Veamor iPad 2018 silicone back case strikes the perfect balance between bulk and protection. While the case is not as light as the Clayco transparent case, it is also not as bulky as the other cases on the list. The extra bulk this case brings over the Clayco is not without any reason. The case is made from food grade shock-absorbing silicone materials and has strengthened corners which can easily protect your device in case of falls. The back features a prismatic non-slip texture and treated surface which provides a comfortable grip and lower the chances of the iPad falling in the first place. With this case, you are getting the best protection for the least bulk.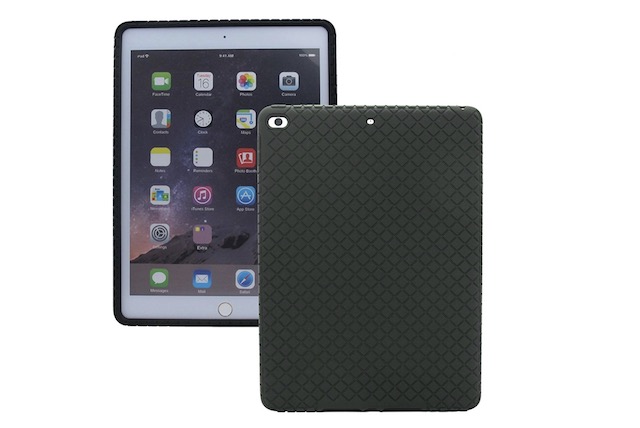 Buy From Amazon: $11.99
6. HDE iPad 9.7-inch 2018 Bumper Case
The HDE bumper case for the new iPad 2018 is exactly the opposite of the thin and light cases which are mentioned above. Instead, the case brings a rugged design with dual layer protection with extra foam around corners which will protect your device even against major bumps and drops. The case is perfect for someone who is buying the new iPad 2018 for their kids. Doesn't matter how your kid uses the iPad, with this case on, you can be sure that nothing is going to happen to it.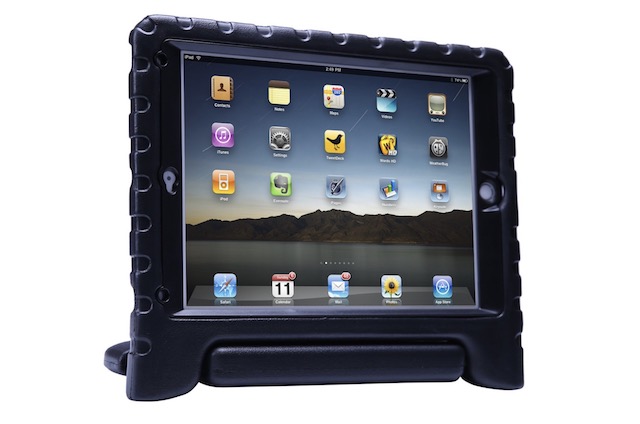 Buy From Amazon: $14.95
7. MoKo Slim Smart Shell Cover for iPad 2018
MoKo slim smart shell cover for the iPad 2018 is another great folio case for your new iPad. The smart shell cover case can automatically wake up and sleep the iPad when the lid is opened and closed. The case is also pretty slim as far as folio cases are concerned and adds minimum bulk to the iPad. The case is also constructed in such a way that there are no bezels around the screen, allowing for unobstructed gesture swipes. It is one of the best smart cover cases you can get for your new iPad.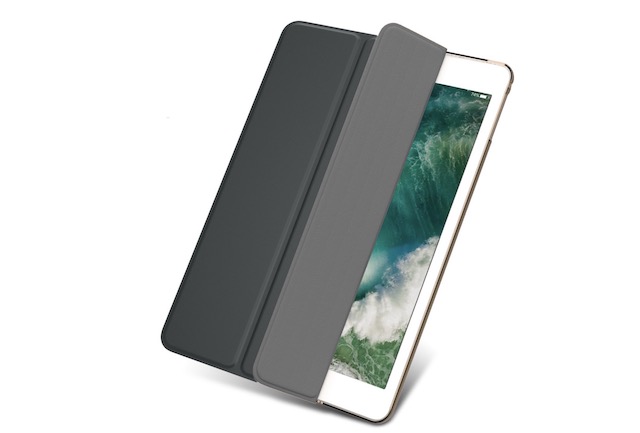 Buy From Amazon: $11.99
8. Temdan iPad 6th Gen Waterproof Case
The Temdan case for iPad 2018 is pretty unique as not only it provides protection to your device but it also makes it waterproof by completing sealing off all the ports. Once you have sealed your iPad with this case, it can survive under 6.6 feet or 2 meters of water or snow for more than 60 minutes. Apart from the waterproof feature, the case brings raised edges around the front and the camera bump to protect them from getting scratched. The case also has a built-in screen protector. It is a bit bulky, but the features that it brings are worth the trade-off.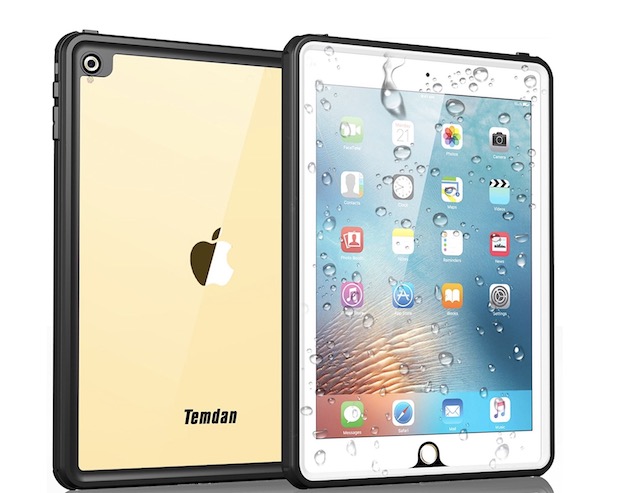 Buy From Amazon: $38.99
9. DTTO New iPad 2018 Case
The DTTO iPad case is a slim and lightweight case designed specifically for the new Apple 2018 iPad. The case brings a premium synthetic leather exterior, and soft and color-matched microfiber lining with soft flexible TPU back cover. Like other folio cases, the top lid can be folded to dual standing positions which is great for video chatting, media consumption, and keyboard typing. Lastly, it also brings air cushion technology with honeycomb pattern which provides better shock absorption and thermal dissipation.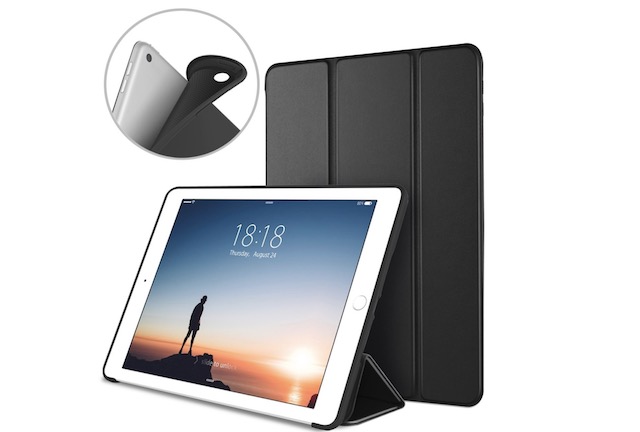 Buy From Amazon: $11.99
10. Ztotop Premium Leather Case for iPad 6th Gen
The last case on the list is from Ztotop which brings synthetic leather exterior with soft microfiber interior lining. Not only the case will protect your iPad but it will also look good while doing it. The rest of the features of this case are similar to features which we expect from a folio case. If you want a premium looking folio case for your new iPad, this is the one for you.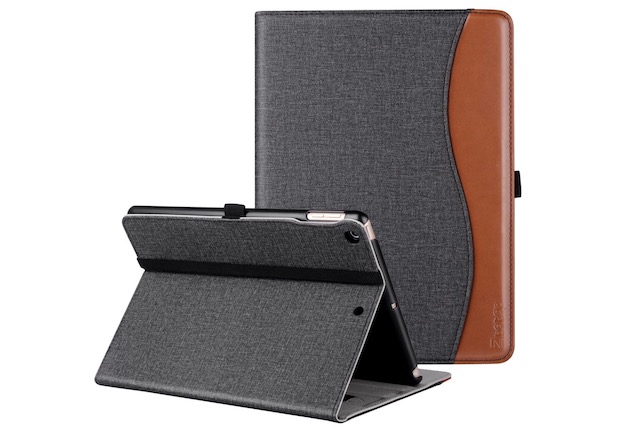 Buy From Amazon: $19.99
SEE ALSO: 10 Best iPad 2018 Screen Protectors You Can Buy
Protect Your Brand New 2018 iPad with These Amazing Cases
That ends our list of the best cases and covers that you can buy for the brand new iPad 2018. The list contains folio cases, back cases, waterproof cases, extra protective cases, and more. Do tell us which one is your favorite case amongst them all by writing in the comments section below.
---
Load More