HTC recently unveiled its U11 flagship with much fanfare and deservedly so. The U11 is a great flagship smartphone from HTC and while it might lack the wow factor that one associates with the S8, it's certainly is a solid product from the Taiwanese manufacturer. There's the new "squeeze" aka Edge Sense feature, a 12 MP f/1.7 camera that received a DxOMark of 90 and shiny metal-glass design that is IP67 water & dust resistant. Also, at $650, the U11 is priced more affordably than the likes of the S8 and G6. Having said that, it's still a pretty costly phone and if you have gotten it or plan to get it, you should get a screen protector for the device. Sure, the U11 comes with the latest Gorilla Glass 5 but we will still you recommend you to get it protected. Thus, we are listing down the 7 best HTC U11 screen protectors you can buy:
1. Wimaha Curved Tempered Glass for HTC U11
The HTC U11 might not pack in a edge-to-edge curved display, like its competitors, but it still features a gorgeous QHD display that is slightly curved on the edges. The Wimaha screen protector is here to protect those curves. The tempered glass screen protector features 9H hardness, which makes sure the U11's display is well protected from scratches and bumps. The full coverage screen protector features 2.5D curved edges to to avoid chipping on the sides.
Other than that, the screen protector is anti-fingerprint and water resistant, thanks to the hydrophobic & oleophobic coating and brings 99% transparency.
Buy from Amazon: ($7.99)
2. Olixar HTC U11 Screen Protector 2-in-1 Pack
If you want a ultra thin screen protector to protect your U11's display, you should definitely consider the Olixar Screen Protector for the U11. The screen protector is as thin as it gets but it brings ample protection for the U11 display. It's a tough anti-scratch film that should keep scratches and scrapes at bay. Plus, it has a matte finish, which means it should do well against fingerprints and smudges. The screen protector also brings great clarity and Olixar offers two years of warranty on it, so it should be safe bet. That's not all, it's available in a 2-in-1 pack, so what's not to like.
Buy from MobileFun: ($5.95)
3. OMOTION Anti-Scratch HTC U11 Screen Protector [2 Pack]
The OMOTION Tempered Glass protector for the HTC U11 is the one to get if you want to make sure the U11's display stays protected in tough conditions. The screen protector offers 9H hardness, which should protect the display from knives, keys, coins and any other hard things. It also features hydrophobic and oleophobic coatings, to keep away the fingerprints, smudges, dirt, oil, etc. Other than that, the screen protector maintains the high responsiveness of the touch screen and does not hamper the clarity of the display at all.
Buy from Amazon: ($7.99)
4. TopAce Full Coverage HTC U11 Screen Protector
Full coverage aka edge-to-edge screen protectors are all the rage these days, because they protect the full front of a device. The TopAce Screen Protector brings exactly that for the HTC U11. It's a tempered glass with 9H hardness and is highly durable, coupled with an oleophobic coating to reduce fingerprint smudges. The scratch resistant screen protector also offers high clarity. The full coverage screen protector is available in White, Black and a transparent variant, so you can choose the one that suits you best.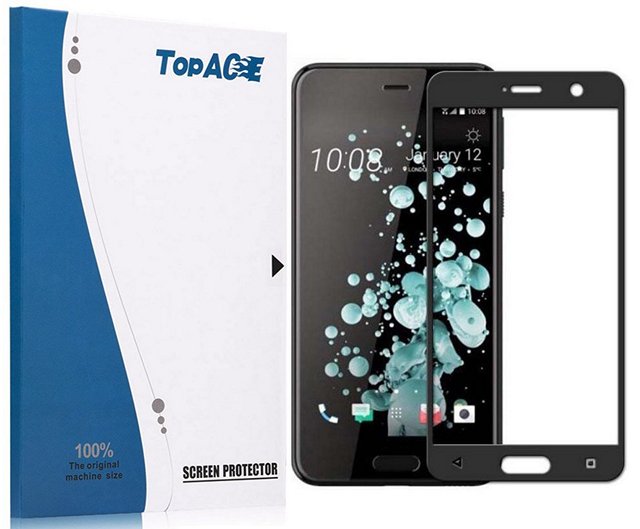 Buy from Amazon: ($9.99)
5. Mangix Ultra Clarity Tempered Glass for HTC U11
If you are someone who also plans on using a case on the HTC U11, then you should consider Mangix's Ultra Clarity Tempered Glass for the U11 because it's compatible with most cases. While most screen protectors don't really create a problem when it comes to cases, the Mangix case leaves the curved edges open to play well with all the HTC U11 cases out there. The tempered glass features 9H hardness and properties like anti-scratch, and anti-shatter. It's also pretty thin and claims to bring protection against scratches, while also maintaining great clarity.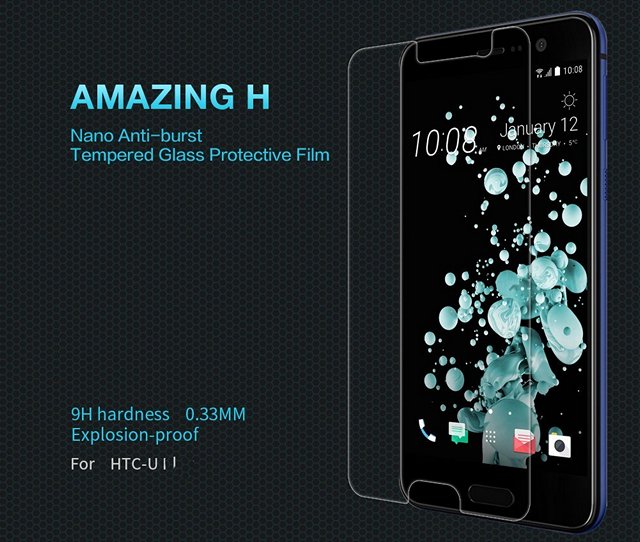 Buy from Amazon: ($6.99)
6. Olixar Full Cover HTC U11 Screen Protector
The Olixar Full Cover HTC U11 Screen Protector is a high quality tempered glass for the device that brings edge-to-edge coverage. It's a high tension 9H tempered glass is only 0.3mm thick and brings great surface hardness that should protect the U11's display against scratches and shock. The screen protector maintains great clarity and covers the front of the device fully, with Black edges to match the U11 perfectly. That's not all, the tempered glass also features a matte finish, which keeps the fingerprints, smudges, oil and other dirt away from the glass.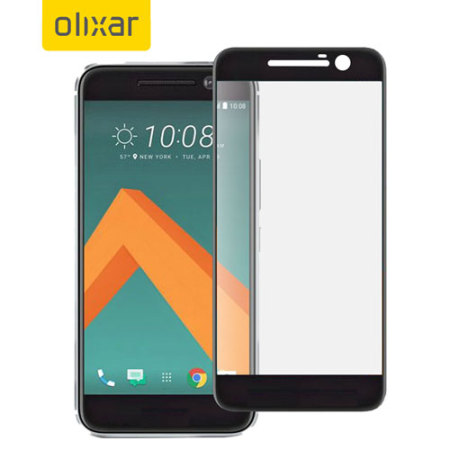 Buy from MobileFun: ($16.49)
7. Supershieldz Anti-Fingerprint Tempered Glass Protector for U11
Supershieldz is one company that offers some great durable screen protectors and while they are yet to bring all their offerings for the U11, they have a tempered glass protector, which is pretty good. The Supershielz screen protector is said to be made with the highest quality of tempered glass. The tempered glass offers 9H hardness, is 0.3mm thick and features anti-scratch and anti-fingerprint properties. It also claims to bring 99% clarity and features hydrophobic & oleophobic coatings to keep fingerprints, smudges, oil residues, and other dirt at bay. Supershieldz offers lifetime warranty on this screen protector, which makes it a much better deal.
Buy from Amazon: ($7.99)
SEE ALSO: 7 Best HTC U11 Cases and Covers You Can Buy
Protect The HTC U11's Display With The Best Screen Protectors
The HTC U11 is certainly a great offering from HTC and we hope it does well, considering HTC's dwindling market share. So, if you have just bought an HTC U11, and you are looking to get a screen protector for it, you can get one of the aforementioned ones. Also, we will keep updating this list to add new HTC U11 screen protectors as they arrive. So, which HTC U11 screen protector you are going to buy? Let me know in the comments section below.