Genshin Impact is often ranked among the best games on Android and iOS, and rightly so. It has a diverse range of characters, a unique combat system, and beautiful visuals that take the game to the next level. So if you love playing Genshin Impact and are looking for similar games, you have come to the right place. In this article, we bring you the 9 best games like Genshin Impact on Android and iOS. They share the Gacha system, puzzling storyline, immersive visual experience, diverse characters, and more. So without any delay, let's jump in.
1. Honkai Impact 3rd
If you are looking for the best game like Genshin Impact, then Honkai Impact 3rd would be my top recommendation. It is an intense RPG game in a fantasyland, and it also offers a Gacha system where you can get weapons, and outfits and transform yourself into powerful characters. The game revolves around three unique characters, known as Valkyries. Each Valkyrie has unique skills and attacking capabilities. You can switch between characters and fulfill the team roles with various weapons and equipment.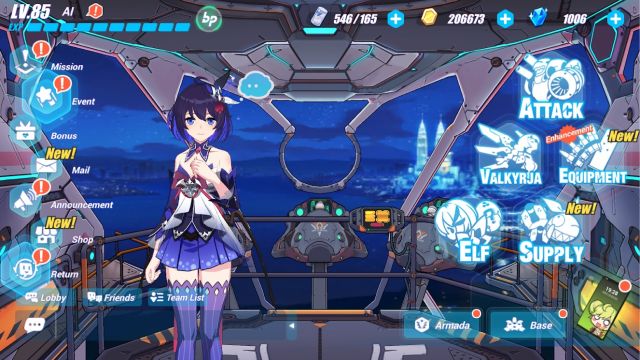 You can get new weapons by either crafting or through the Gacha system. The more victories you have, the more in-game resources you will earn. As a result, you will be able to obtain powerful weapons called Stigmata, just like the Elemental powers you have in Genshin Impact. Recently, the developer added many unique characters and armor, that are great for players. All in all, I would say Honkai Impact 3rd is an action-packed RPG game like Genshin Impact, and you should try it out right away.
Install: Android / iOS (Free, Offers in-app purchases)
2. Tales of Wind
Tales of Wind is one of my favorite games that has a similar theme to Genshin Impact. It also comes with a Gacha system, and if that's what you want, Tales of Wind is for you. The game has everything from RPG action to drama, tactical gameplay, and fantasy. Tales of Wind has a peculiar storyline of La Place where you need to find the truth to bring light to the world. While that sounds exciting, there is more to unpack. You have anime-styled scenes, music that gels well with the gaming ambiance, and superb voice acting by the characters.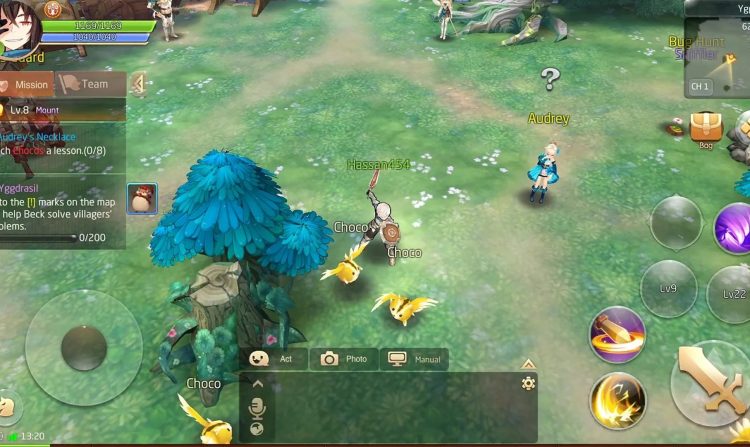 Not to mention, Tales of Wind features more than 80 different characters that you can collect through the Gacha system. You will have to master the power of Divinity and create a new world order. In addition, the game has got some great graphics, like Genshin Impact with 3D animations and intense visuals. If you want to enjoy an anime-styled RPG game on your iPhone or Android device, Tales of Wind packs a punch.
Install: Android / iOS (Free, Offers in-app purchases)
3. Sdorica
Sdorica is one of the popular games similar to Genshin Impact, and it's available on both Android and iOS. The game does not have the Gacha mechanic, but other than that, you get almost everything with Sdorica. For one, the storyline is quite enticing and sees you go on a quest to find one giant dragon that rules the kingdom.
Much like the seven Gods of Genshin Impact, Sdorica has a mystical and puzzling story that makes the gameplay interesting. Not to mention, just like Genshin Impact's elemental combat system, here you have magical spells that you can use to save the world. I won't say the game is graphically rich, but it comes with all the essentials, and you are definitely going to love it.
Install: Android / iOS (Free, Offers in-app purchases)
4. Wuthering Waves
Wuthering Waves is an upcoming gacha game that just finished its closed beta testing, and from the looks of the trailer and the overall imagery, the attention to detail in the game looks second to none. It's made by Kuro Games, the makers of Punishing: Gray Raven, a game known for its great fighting animations, and Wuthering Waves should be no different, if not, it should be better.
We don't have news about the availability of the game globally, but judging by the circumstances and since the closed beta testing just ended, it should be released in a couple of months, or at max, by the end of this year. Overall, we love what Kuro Games has created and it'll definitely be tough for Hoyoverse to stop players from switching to Wuthering Waves from Genshin.
Install/Pre-register here (Free)
5. Tower of Fantasy
Tower of Fantasy is a new game that is built on Genshin Impact's theme. Gamers say that Tower of Fantasy is one of the few games that can match Genshin Impact in terms of action, visuals, and overall gameplay, and it does, for the most part.
The best part about Tower of Fantasy is that it's an open-world game similar to Genshin Impact, and the engine is good at creating a seamless and dynamic world in seconds. The game visual has a touch of science fiction, with the main theme being exploration and rescuing people in a post-apocalyptic world. What I love is that the game has some interactive puzzle elements too. To sum up, Tower of Fantasy is one of the best games like Genshin Impact on Android and iOS.
6. One Piece Fighting Path
One Piece Fighting Path is an upcoming game like Genshin Impact that is gaining traction among mobile gamers. While the game has officially been made available on iOS, you need to download the Android version from TapTap. Similar to Genshin Impact, One Piece Fighting Path is an action-packed 3D game with RPG gameplay.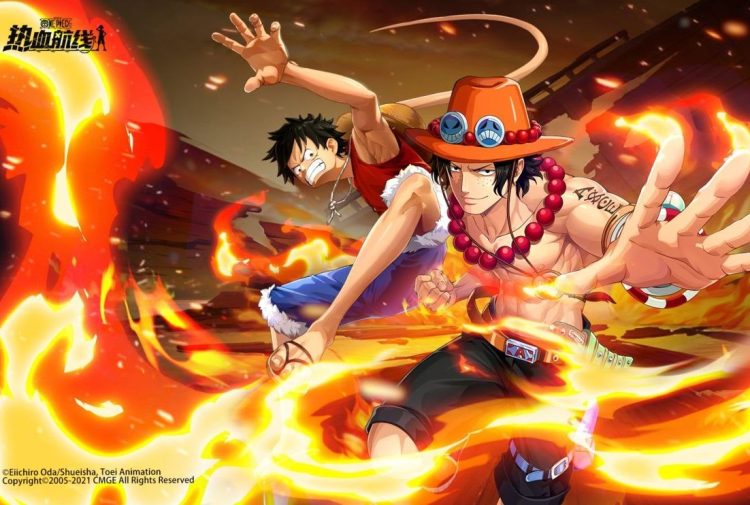 In addition, you can team up with other players and defeat the opponents. The highlight of the game is its real-time combat which we love on Genshin Impact. Not to mention, the game's performance has also improved a lot over the last few months. Apart from that, you can explore the sea world and collect treasures to go on a nautical fantasy adventure.
Install: Android / iOS (Free, offers in-app purchases)
7. RPG Toram
As the name tells, RPG Toram is all about fictional role-playing, and that's the central theme of Genshin Impact. It's also an MMORPG game, so you can also connect and play with thousands of players online and go on an adventure together. In this game, you can customize your character in whichever way you want. Also, you can use magic elements, build your skills, collect weapons, solve puzzles to earn rewards and explore the beautiful vast lands with your friends.
There is also an engaging story of a post-catastrophic world where you find all four separate worlds. If all you seek is a thrill in a traditional RPG fashion, then RPG Toram is a pretty good choice.
Install: Android / iOS (Free, offers in-app purchases)
8. Honkai: Star Rail
The latest offering by HoyoVerse, Honkai: Star Rail is a gacha RPG game that features distinct worlds, tactical combat that are simplistic yet strategic controls, and fully voice-acted characters. Each action in the game is animated, and HoyoVerse's cutting-edge engine renders high-quality cinematics in real time.
Furthermore, the game features HOYO-MiX's original score, and numerous characters to add to your team. This is a great game for players who have played Honkai Impact 3rd and want to enjoy another RPG experience.
Install: Android / iOS (Free, offers in-app purchases)
9. Ni No Kuni: Crossworlds
Released in May last year, Ni No Kuni is an action, adventure MMORPG RPG like Genshin Impact that looks visually stunning. One of the selling points of the game is that it features animation from Studio Ghibli, one of Japan's most popular animation studios, and music from Joe Hisaish, one of the most reputed Japanese music composers.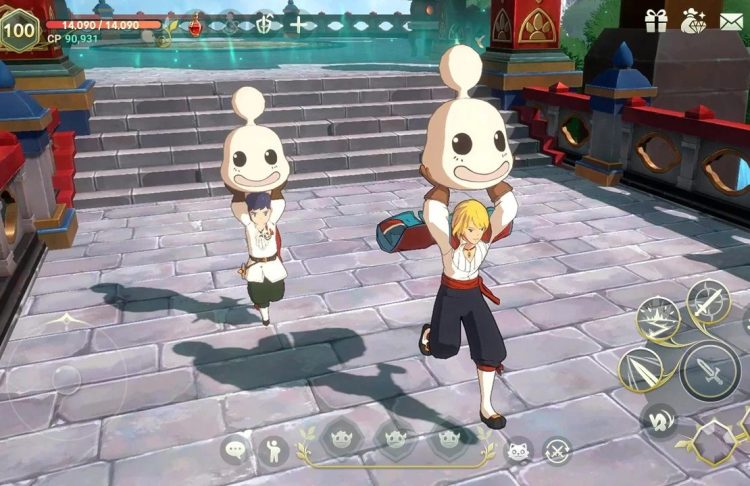 The game has a rich lore, fighting mechanics, and storyline. However, it's not very well rated on the Play Store due to bugs that supposedly make the game lose your progress; it's a different story on iOS, though. Since it's made in collaboration with Ghibli, it has some of the best animations, which alone is enough reason for you to try the game. People on Android also complained about the lack of personalization and flawed mechanics here and there.
Install: Android / iOS (Free, offers in-app purchases)
10. Tower of God
Tower of God is yet another Genshin Impact-like game that has gained lots of popularity since its launch. The game's publisher is the same as Ni No Kuni, i.e., Netmarble but the game supposedly has way cooler physics than Ni No Kuni and is more geared toward fighting and story while keeping the overall look still Anime-esque, since it's based on one of the most popular webtoons in the world.
Tower of God launched as a Genshin competitor, and while the game did manage to attract lots of Genshin players in the beginning, it wasn't able to pull the masses, but enough players still play it for the game to be considered one of the most popular Genshin Impact-like games in existence.
Install: Android / iOS (Free, offers in-app purchases)